Ryan Tannehill's Kids Have Changed How the Tennessee Titans Quarterback Views the World: 'It Definitely Makes You Take a Step Back'
It must have felt like a career downgrade for Ryan Tannehill when the Miami Dolphins traded him to the Tennessee Titans. He went from starting NFL quarterback in the Sunshine State to backup for Marcus Mariota in Tennessee.
However, that changed in Week 6 of the 2019 season as the Titans, trailing the Denver Broncos, benched Mariota in the third quarter and sent Tannehill out on the field. The switch didn't alter the game's outcome, but it was the beginning of the Tannehill era as starting quarterback. And he assumed the role impressively, helping the team to an impressive playoff run.
One person has journeyed with Ryan Tannehill through all the ups and downs of his sports career and beyond. His wife, Lauren Tannehill, has been by his side since his days donning an Aggies jersey.
Ryan Tannehill and his wife Lauren have been together for more than a decade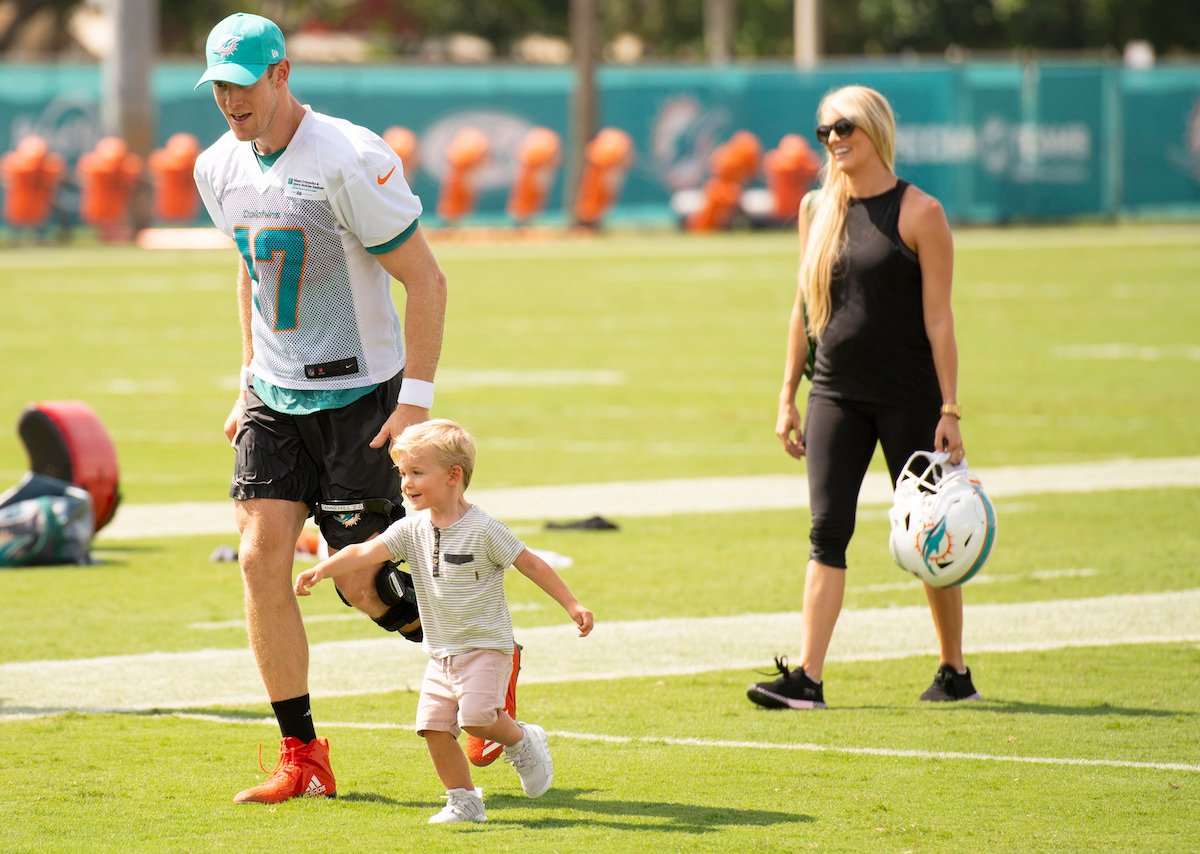 Lauren and Ryan Tannehill were students at Texas A&M University and even attended the same church. But they didn't meet until they were on a spring break trip in Panama City, Florida, in 2009. They had an instant connection.
Apart from their shared Christian beliefs, Lauren recounts their first conversation as hilarious and profound. She could not believe their connection and told her mother that it was too good to be true, NFL.com reports.
But three months into the relationship, she was sure he was the one. They got engaged in 2011 before marrying the following year in Mexico.
The couple, who were born a day apart, were relatively young at the time. Lauren still received marriage proposals on social media because some people thought she was single.
Nine years and two children later, the Tannehills are still happy together. Their decision seems to have been vindicated.
How Ryan Tannehill's kids have changed the NFL quarterback's worldview
Being a first-time parent is a life-changing experience that often alters one's perspectives and view of life. And for Ryan Tannehill, it was no different. Although the 33-year-old is grounded by his Christian beliefs and Lauren, with whom he shares the same values, fatherhood added a layer of responsibility.
In a 2017 interview with The Palm Beach Post, Tannehill revealed that parenthood comes with the lack of spontaneity he and Lauren once enjoyed. In his view, being a father means that one must plan everything because parents cannot afford to be erratic.
But he also experienced firsthand a different kind of love. It has helped him reprioritize what once seemed significant.
Having a baby "makes you take a step back and see what's really important in the world and what's periphery and what matters," he said. "So I would definitely say my worldview changed a little bit. And what matters changed a little bit."
Their son has an interesting name 
Their first child, Steel Ryan, was born in 2016. The name captured many people's attention. Tannehill jokingly told The Palm Beach Post he hoped the name would inspire his son to grow into a tough kid. And Sports Illustrated mused that it would make perfect sense for Steel to play for the Pittsburgh Steelers one day. 
Steel weighed 9 pounds 8 ounces at birth and by 10 months was nearly 24 pounds and wearing 18-to-24-month clothing. Not bad for the son of a football player. Perhaps he will emulate his father's career path; after all, they are doing an excellent job at training him, as shown in Tannehill's social media posts.
The couple welcomed their second child, Stella Rose, in 2018, and Steel adjusted well to his role as a big brother.  
"He's doing good. He's handling it better than I thought he would," Tannehill joked, according to the Sun Sentinel. "I thought he would be a little more jealous and maybe a little mean to her, but he's doing great. He's been really sweet to her and helping us out. It's been a good adjustment so far."
Now 5 and 3, Steel and Stella are as adorable as ever, and their parents are not shy about sharing their cute photos.