SAG Awards 2022: Michael Keaton Triggers Salma Hayek's Stage Fright in Viral Moment of the Night
Salma Hayek is an icon of cinema and the star didn't miss out on celebrating her craft at the SAG Awards 2022. The actor was not only nominated in the category of Outstanding Performance by a Cast in a Motion Picture for House of Gucci but she was also a presenter at the gala. Hayek became a viral moment when she took the stage to present an award that went to Michael Keaton who was seemingly nowhere to be found.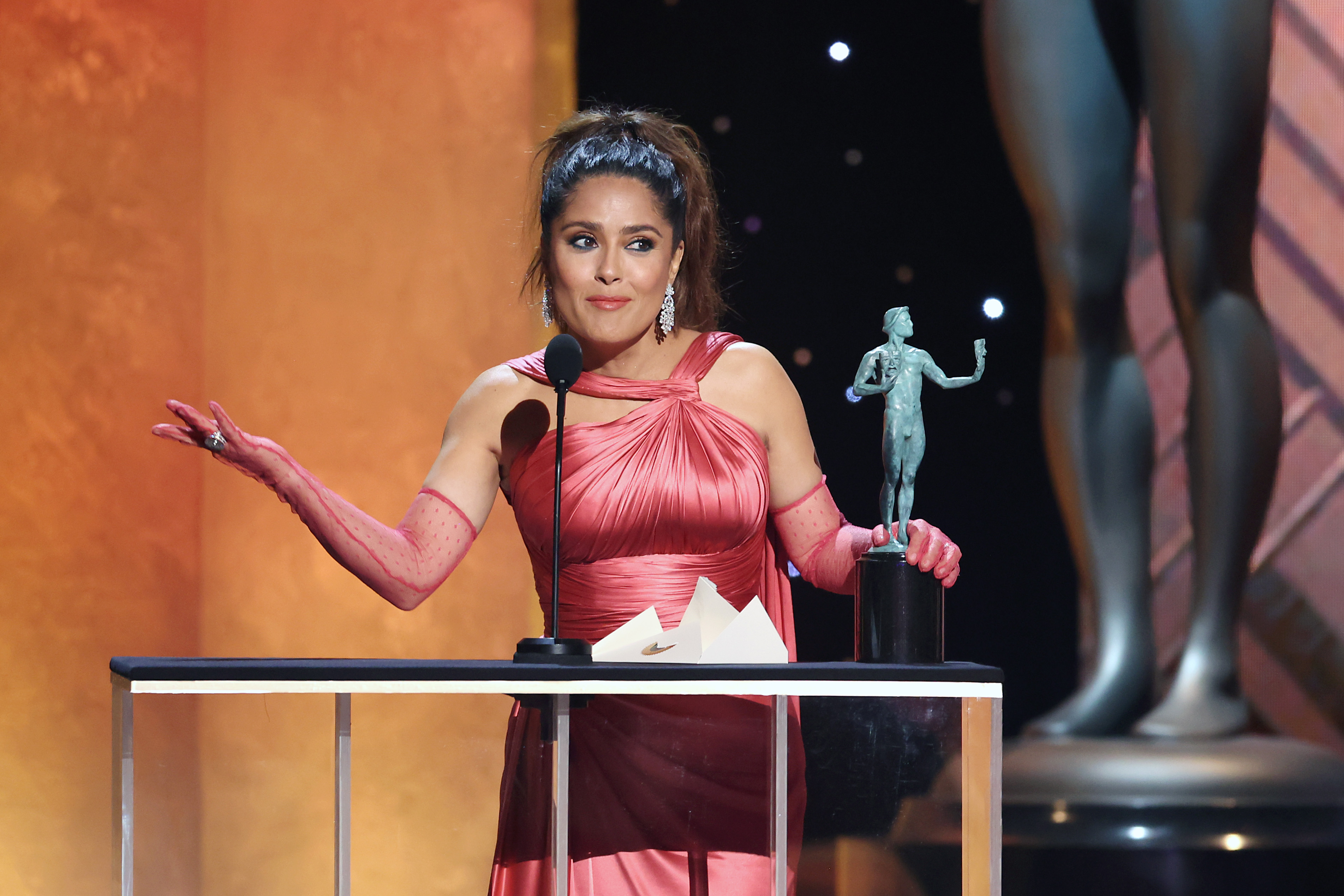 Salma Hayek becomes a meme
Hayek is one of the Hollywood stars with a great sense of humor and is never afraid of laughing at herself. The House of Gucci star was in attendance at the SAG Awards 2022 and presented the category for Male Actor in a TV Movie or Limited Series. Keaton ultimately was named as the winner of the category but there was a slight problem, the actor was nowhere to be found which made Hayek seemingly panic.
"And the actor goes to… Michael Keaton," Hayek said reading the winner from the envelope she had.
This is when things took an awkward turn as Hayek is seen looking around the room to see where Keaton was. The Dopesick star was at the venue but Hayek couldn't see any movement of him walking up the stage. A wide shot of the venue was displayed as Hayek stood with the trophy in her hand waiting for Keaton to accept the award.
When it was apparent that Keaton was not there, Hayek said, "Are you kidding me? I have stage fright. Come on Michael! Come on Michael."
The audience burst into laughter and the next shot showed Keaton running up the stage as everyone cheered him on, including Hayek. Keaton finally made it to the stage and Hayek was able to give him the trophy to ease up on her anxiety.
RELATED: 'Eternals' Star Salma Hayek Reflects on Her NYT Essay About Harvey Weinstein — 'A Lot of People Were Upset With Me'
Fans react to the viral moment on social media
The moment of Hayek expressing she had "stage fright" became relatable to audiences watching at home and commenting on social media. After the official SAG Awards Instagram profile shared the funny moment, it wasn't long before fans swarmed the comments and gave their thoughts.
"Her facial expression was precious!" a fan replied.
"That was…a Lil awkward," a follower noted.
"So confident and graceful Salma," an Instagram user said.
"She was adorable," another fan commented.
"You did great @salmahayek. So beautifully cute," another follower mentioned.
"So funnnny," another Instagram user said.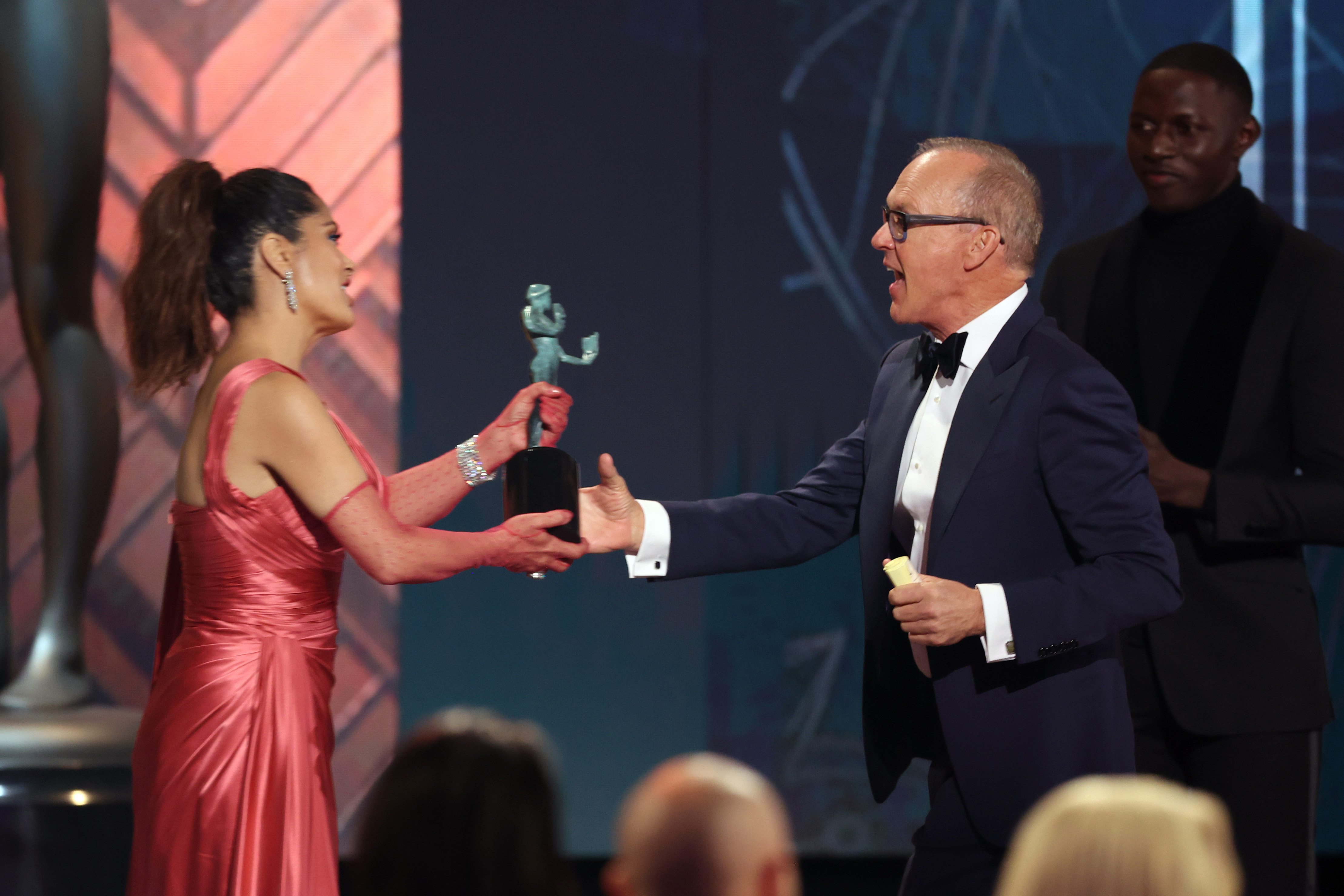 RELATED: Why Salma Hayek Turned Down 'Selena' and What She Really Thinks of Jennifer Lopez's Performance In the Movie
Where was Michael Keaton?
Many fans asked where Keaton was and why he took so long to get on the SAG Awards stage. Once he made it up on stage, he had another very relatable explanation — nature called.
"Thank you very much, sorry, quick trip to the men's room," Keaton said after finally getting on the stage to accept his award.
After the awkward moment, Keaton was able to give his acceptance speech for his award on the series Dopesick. As far as Hayek goes, she was able to take a step back and ease up on her stage fright.
RELATED: Michael Keaton Finally Reveals Who He Thinks is the Best Batman, But Refused to Confirm His Return to the DCEU