Salma Hayek Had to Overcome Her Snake Phobia for 'From Dusk Till Dawn' or She Would Have Been Fired
Salma Hayek famously danced with a snake in the movie From Dusk Till Dawn, written by Quentin Tarantino, but a pretty big fear of snakes almost got her fired from the movie. Hayek needed the paycheck so she sorted out how to overcome her phobia in a hurry.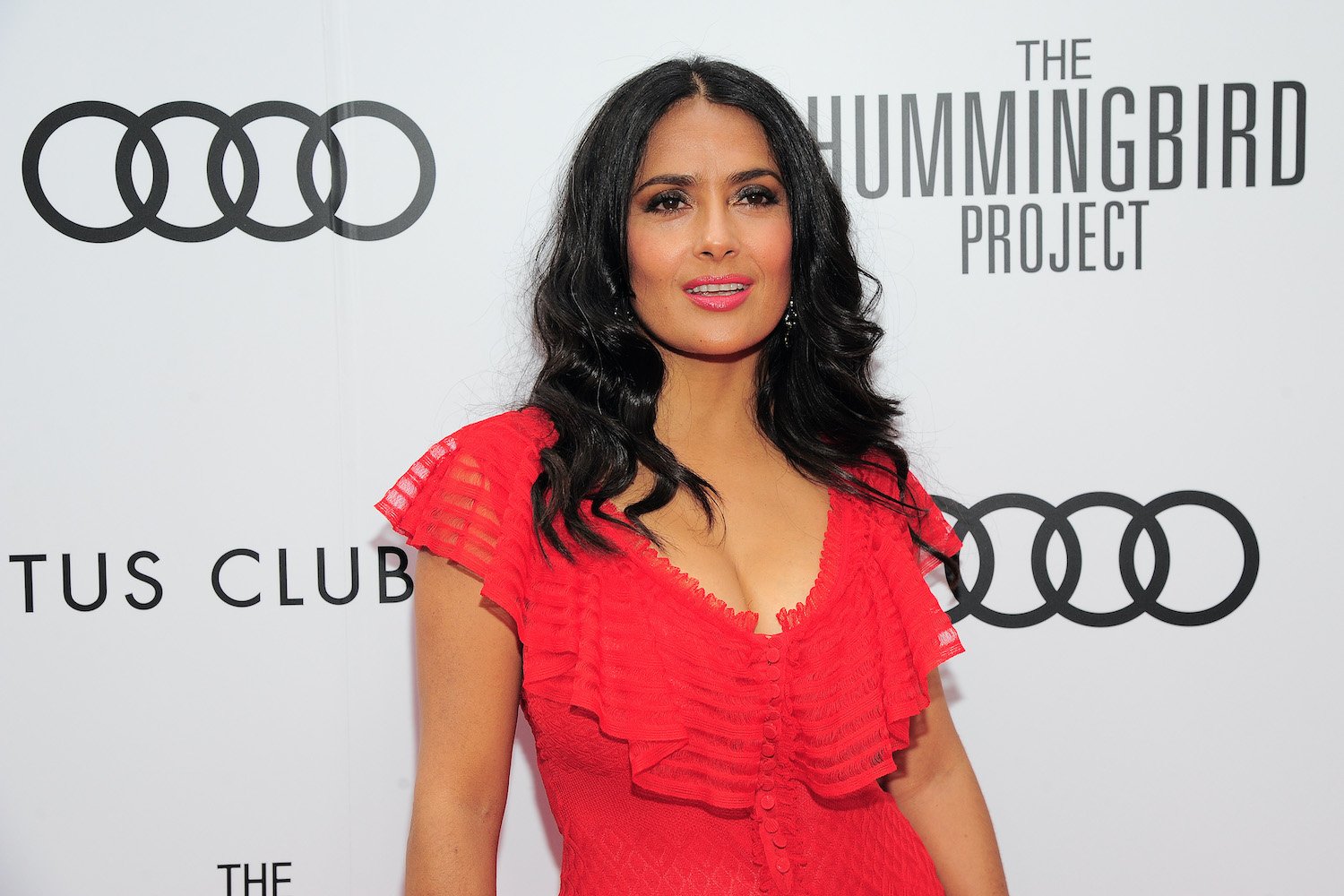 'From Dusk Till Dawn' stars George Clooney and Quentin Tarantino
From Dusk Till Dawn is a 1996 film written by Tarantino and directed by Robert Rodriguez. It stars Tarantino, George Clooney, Harvey Keitel, and Juliette Lewis.
In the movie, Hayek plays stripper Santanico Pandemonium who dances at a club called the T*tty Twister. Her act involves a sultry dance with a giant snake, a scene that wasn't in the original script but was added before shooting.
Hayek was not initially on board with the snake dance, given her fear of snakes, but had to change her tune or lose the job.
During a 2017 interview with Yahoo's Role Recall, Hayek shared some of her memories about playing the part. "Quentin told me, 'Oh, by the way, you're dancing with a snake,'" she recalled. "I said, 'I can't do that, I can't do that. It's my greatest fear.'"
He told her that Madonna could take the part instead, so she had to work through the fear quickly.
"It was good because I had to overcome my greatest fear. I had to go on trance to do the dance," she explained. "It was improvised. There was no choreography … because you can't choreograph a snake, we don't know what she's going to do!"
Hayek got the role after working with Rodriguez and Tarantino on Four Rooms in 1994. They needed to cast a stripper, so Rodriguez asked Hayek, who starred in his film Desperado. "He said, 'Just put a bathing suit on and we won't see your face,'" she shared.
"So I did it and from that dance, Quentin wrote me the part in From Dusk Till Dawn," she added. "Where of course he makes me dance only for him. George Clooney was like, 'How come she doesn't look at us?' [Quentin said], 'Because I'm the writer.'"
Salma Hayek may have been fired if she didn't do the snake dance
Hayek mentioned in that interview that they threatened to replace her if she didn't do the snake dance. In a February 2021 interview with E! News Daily Pop, Hayek shared more details from the film.
"[The snake dance] was not on the script," she said. "I agreed to the movie and then, Robert Rodriguez and Quentin Tarantino decided that the dance is with the snake on me."
Refusing the role, she said, was not an option. When she told them she didn't want to dance with the snake, she recalled, "They said, 'OK then, we'll just go to another actress that wants your part.'"
"Frankly, I really needed to pay the rent," she added.
The actor was able to "brainwash" herself into getting through the scene. "In some cultures, the snake represented — I started doing research — your inner power," she explained. "And my whole thing that I brainwashed myself into doing this was about dancing with my own inner power."
A snake freaked Salma Hayek out during an interview
Hayek might have had mind over matter doing that scene, but years later she was caught on camera freaking out over a snake during an interview.
"How can I ever forget?," she said of the moment. She explained why the snake during the interview was so different from her movie dance scene.
"Because the snake on the deck was not expected," the actor noted. "Her head was up and everybody ran, OK? Bodyguards, cameramen, everybody ran and left us with this snake except, thank God, one of the hairdressers with his little bag."
"And by the way, all these machos ran and the gay hairdresser was the real man in the room," she added.