Samuel L. Jackson Recalls Giving Will Smith His Oscar After the Slap, 'We Were Kind of Oblivious'
When Will Smith slapped Chris Rock at the 2022 Oscars, it became the only thing that anyone could talk about for the rest of the night. This was unfortunate as there were still many awards that needed to be announced, including Best Actor. Samuel L. Jackson, who presented the Best Actor Oscar to Will Smith, shares his experience of what the night was like after the slap. 
Will Smith slapping Chris Rock became one of the most shocking Oscars moments ever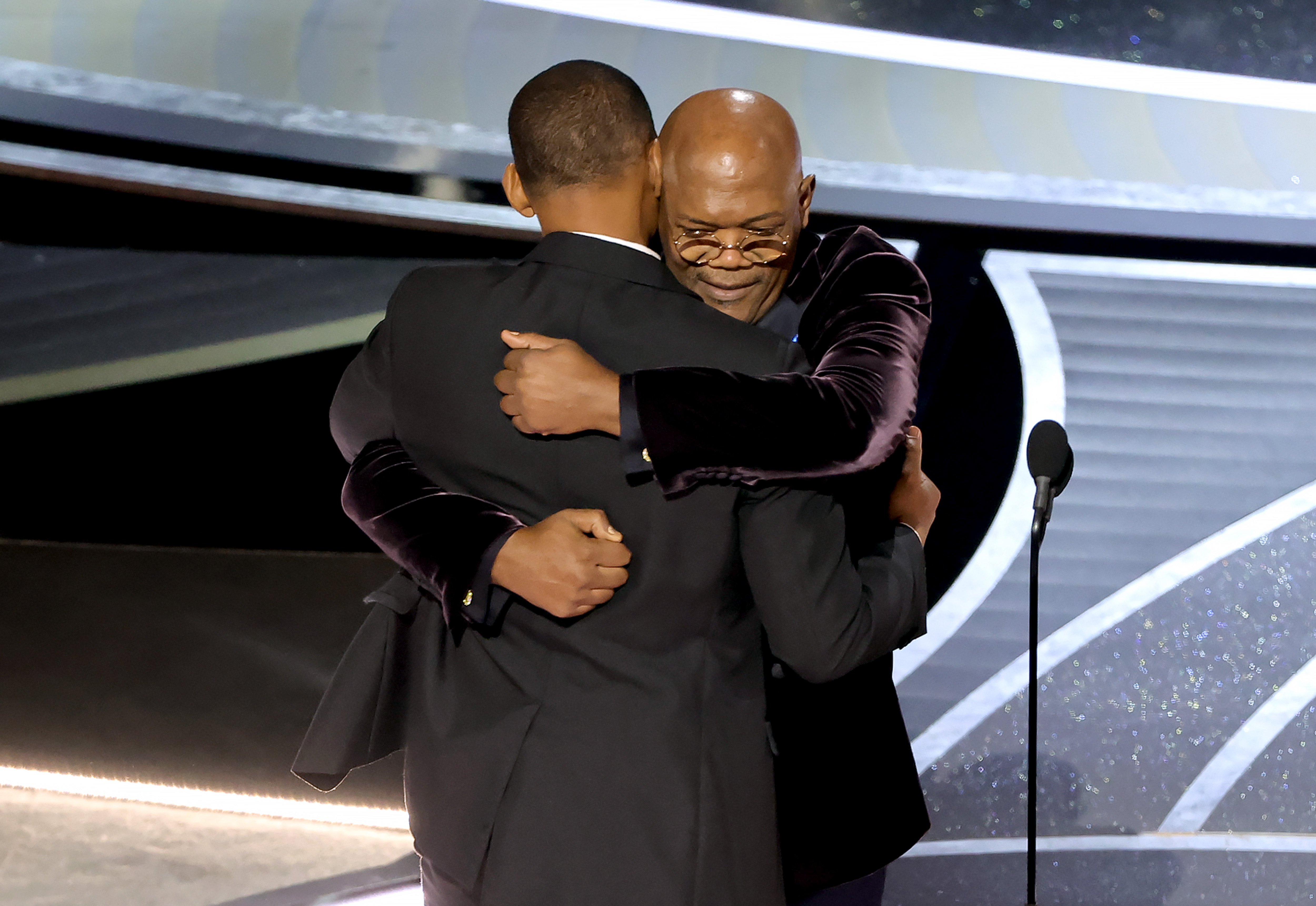 Everyone around the world had no idea how to react after the infamous slap. The 2022 Oscars, hosted by Amy Schumer, Wanda Sykes, and Regina Hall, was going smoothly until Chris Rock came out to present Best Documentary. Rock made a joke regarding Will's wife, Jada Pinkett Smith, which led to Will walking onto the stage, slapping Rock, and cursing him out.
What made the event even more awkward was when Will Smith won the Oscar for Best Actor for his performance in King Richard. The Best Actor award began with a fun Pulp Fiction reunion with Jackson, Uma Thurman, and John Travolta. Unfortunately, nobody could get their minds off what had just happened moments ago. 
Samuel L. Jackson details what the Oscars were like after the slap happened
In an interview with the Los Angeles Times, Jackson shared details of what the night was like before he went to go present the Best Actor award. From his comments, it seems like no one could really figure out what was going on and it almost didn't seem real. 
"When the big incident happened, I was like, 'Whoa!' My wife asked me, 'Is this a bit?' And I said, 'No, Will just slapped the s— out of Chris,'" Jackson said. "My wife and I were sitting next to Liv Ullman and her husband. and Liv's asking my wife, 'What's happening?' My wife said, 'Nothing. Don't worry about it. It's all fine.' So that happened, and they came and got me."
"I kind of saw Quest[love]'s speech, which nobody was listening to because everybody was trying to figure out what the f— just happened," Jackson continued. "And I went backstage and saw Chris against the wall. 'You OK?' 'Yeah.' And so I get to Uma and John, and John says, 'So … can we rehearse?' I'm like, 'You know what just happened?' He's like, 'What?' He was backstage not looking at the monitor, looking at his lines because that's who John is. So we rehearsed, Uma and John danced, and we were kind of oblivious to what was going on."
Jackson was more upset by the in memoriam section
Jackson told the LA Times that he was more frustrated by something else about the show. The in memoriam section of the 2022 Oscars honored Sydney Poitier, who died in January 2022. Poitier was an influential figure in Hollywood who broke boundaries for black actors and filmmakers. Jackson believes that the Oscars didn't do enough to focus on his legacy and was more concerned about this than the Will Smith slap.
"I didn't really care about that, so much as I'm still a little ticked that the greatest actor we had in Hollywood died and they gave him, what, 10 f— seconds," Jackson said. "It should have been a whole Sidney Poitier section. The reason Will Packer is producing this show is because of this guy. The reason Will Smith won an Oscar is because of this guy. The reason for Denzel, the reason for me, the reason for Danny [Glover], the reason for everybody is that guy, and he deserves more than 10 f— seconds of your time, especially for what he meant, not just to us, but to Hollywood period. He gave dignity to Hollywood. He was Hollywood f— royalty. And he did not get what he deserved out of that f— show."
Jackson is currently starring in The Last Days of Ptolemy Grey on Apple TV+. 
RELATED: Oscars 2022: Samuel L. Jackson Receives His First Academy Award from Denzel Washington