Samuel L. Jackson Wants to Return to 'Star Wars' as Mace Windu, 'Put me in, Coach'
Samuel L. Jackson wants to return to the 'Star Wars' universe as Mace Windu.
The return of Emperor Palpatine (Ian McDiarmid) in Star Wars Episode IX: The Rise of Skywalker shows that almost anyone can come back in the Star Wars universe. One character that fans have wanted to see again is Mace Windu, who Samuel L. Jackson plays in the prequel trilogy. It appears that even Jackson wants to reprise the role, despite the character's ultimate demise. 
Mace Windu supposedly died at the hands of the Emperor in 'Revenge of the Sith'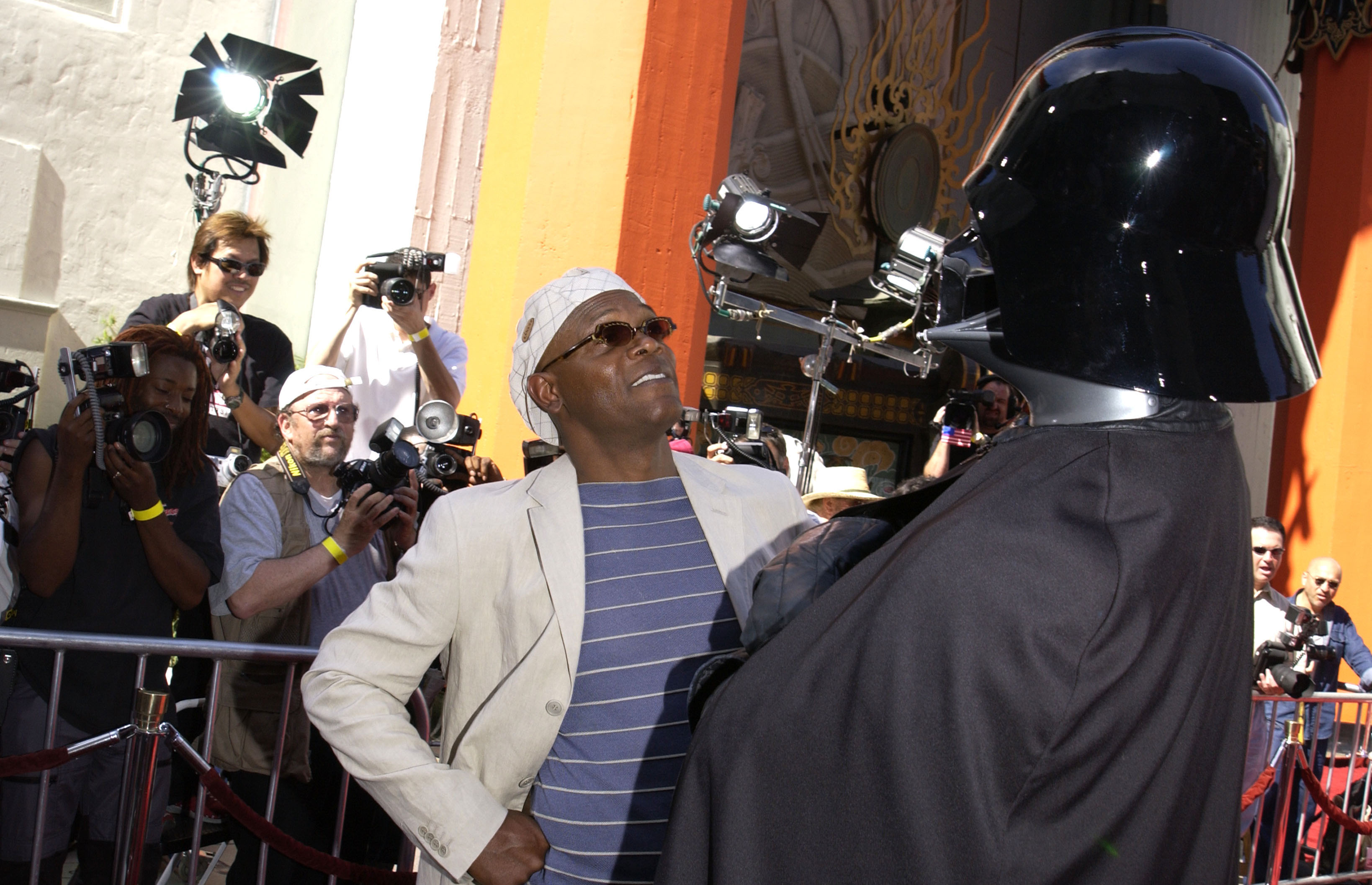 In Star Wars Episode III: Revenge of the Sith, Windu and a few other Jedi confront Palpatine once they realize he is a Sith lord. After Palpatine kills the other Jedi, Windu has Palpatine on the ropes but is stopped by Anakin Skywalker (Hayden Christensen). Skywalker cuts off Windu's hand before Palpatine launches him out the window with a lightning bolt. 
Now, Jackson believes that Windu could have survived getting his hand cut off because characters in Star Wars get their hands cut off all the time. 
"There's a huge history of people with one hand returning in Star Wars," Jackson said in an interview with Josh Horowitz on the Happy Sad Confused podcast.
The bigger question becomes whether Windu could survive that fall. Jedi can survive falls from significant heights; however, Windu's fall looks like one that would require a miracle. 
Samuel L. Jackson wants to return to the 'Star Wars' universe
Speaking with the Happy Sad Confused podcast, Jackson said he wants to return to the Star Wars universe somehow. While Jackson himself hasn't had any official discussions about it, he did talk to Bryce Dallas Howard about returning in The Mandalorian. Howard has directed episodes for The Mandalorian and The Book of Boba Fett.
"The only person I've ever said that to about coming back was Bryce Dallas Howard," he said, "I just did a movie with her, and she directs episodes of The Mandalorian. So, I go, 'So, you think you might be able to hook a brother up? I mean, you like me, right?' And she's like 'I love you, you're amazing.' So put me back in, I'm ready. Put me in, coach. I'll learn lightsaber left-handed."
Some fans theorized that Windu was the Jedi coming to pick up Grogu. However, in the season 2 finale of The Mandalorian, that turned out to be Luke Skywalker (Mark Hamill), which makes sense canonically. 
Could Mace Windu actually still be alive?
In the overall timeline of the Skywalker saga, Mace Windu is dead. Jackson's voice can be heard in The Rise of Skywalker as one of the Jedi reaching out to Rey (Daisy Ridley). However, it is possible that he survived his fall and went into hiding after the events of Order 66. Maybe Windu died from old age or at some other point in the future.
So, Jackson could return at some point in the timeline, but the explanation would have to make sense. If Boba Fett (Temuera Morrison) can survive the Sarlacc Pit, then maybe Windu can survive an incredible fall.
The Star Wars franchise is streaming on Disney+.