Samuel L. Jackson Would've Played a Stormtrooper in 'Star Wars,' but George Lucas Had Other Plans
Star Wars is one of the most popular movie franchises to date. Following the original trilogy, the prequels debuted around the turn of the century, introducing characters like Samuel L. Jackson's Mace Windu. However, he almost didn't end up in the role. Jackson says he would've played a Stormtrooper, but George Lucas had other plans for him.
Samuel L. Jackson's acting career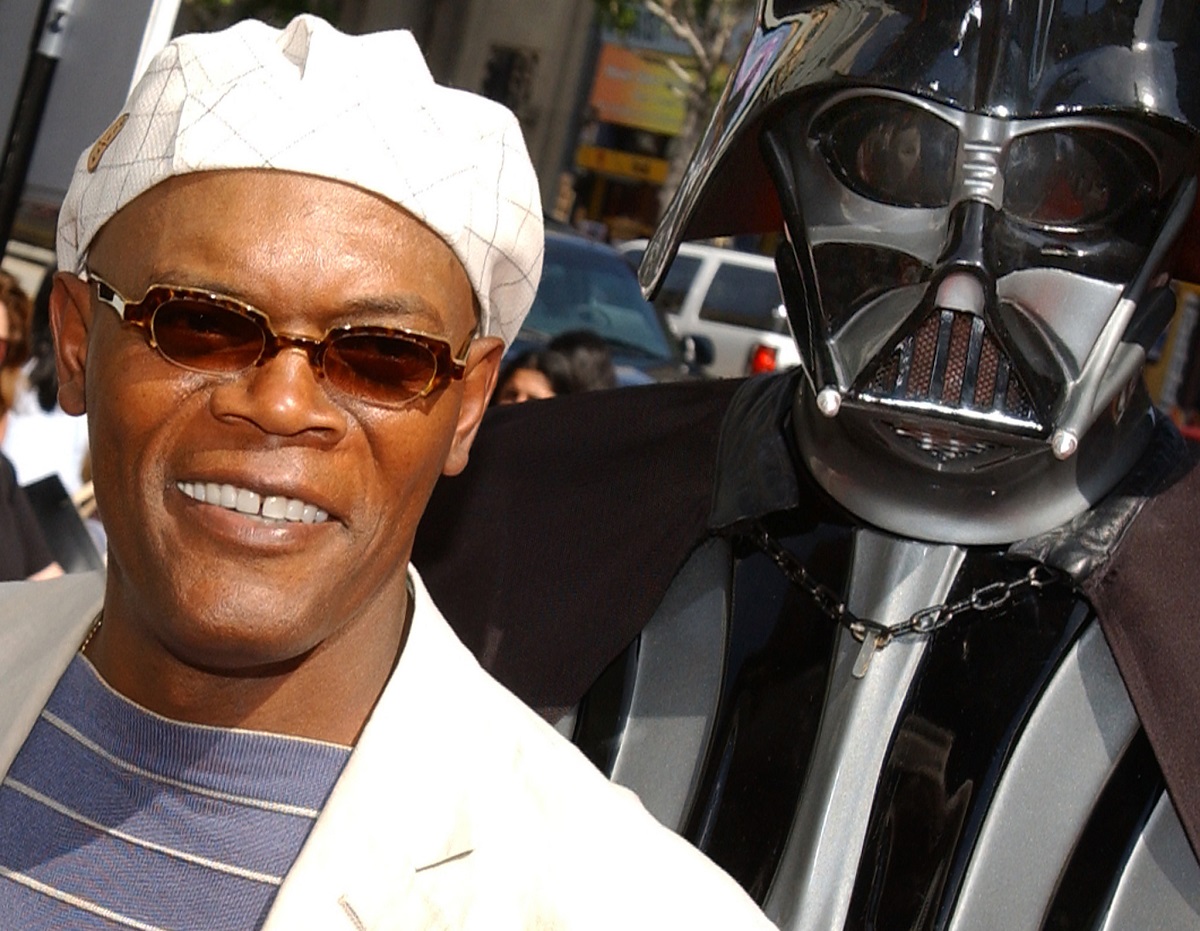 According to IMDb, Jackson started acting in 1981. But it wasn't until 1991's Jungle Fever that he broke out. He then starred in Jurassic Park in 1993, quickly followed by Pulp Fiction. The release of the Quentin Tarantino flick catapulted Jackson into a household name. His career picked up from there.
In 1999, the release of The Phantom Menace, Jackson's first Star Wars film, further solidified his success. Now, he's known for roles in big-budget movies in Marvel Cinematic Universe and beyond.
Samuel L. Jackson got himself a bigger 'Star Wars' role than he planned
According to a clip from The Graham Norton Show on YouTube, Jackson approached Lucas about a role in the then-upcoming Star Wars film. At first, he had only asked to be a Stormtrooper, but Lucas decided that wasn't a significant enough role for such a well-known actor. Instead, Lucas wanted to see Jackson play Jedi Master Mace Windu.
"I was pleased," Jackson confirmed. But the actor landed more than just a notable character name and title in one film — he came back for Attack of the Clones. And now, he wanted to see what else he could get out of the deal.
Mace Windu is also known for his purple lightsaber. It turns out that Jackson requested the color himself. At first, Lucas declined the request, stating that there were no purple lightsabers. Eventually, Jackson got his wish and used his preferred color anyway. This allowed the actor to find himself on screen during a large Jedi fight scene in the movie.
What is Jackson working on now?
Jackson rarely stops working. In 2019 alone, he appeared in eight projects, including a documentary and a voice role in Star Wars: The Rise of Skywalker. He has even more action on the horizon in the coming years, including two more Marvel movies: The Marvels and Ant-Man and the Wasp: Quantumania. Jackson also heads to the small screen as Nick Fury with the Disney+ miniseries Secret Invasion later this year.
Outside of his usual fare, Jackson's trying out some other avenues. He stars alongside an ensemble cast in the spy flick Argylle on Apple TV+. Speaking of the streaming service, Jackson starred in the drama miniseries The Last Days of Ptolemy Grey. And, in September 2022, he returns to Broadway for the first time in a decade, starring in a revival of The Piano Lesson.
While Star Wars was once a big deal for Jackson, he's moved on to other major roles. Still, he'd be interested in returning if the opportunity came about. Despite his character's death, with the ever-expanding sci-fi universe, anything is possible.
RELATED: Samuel L. Jackson Once Felt That Actors Who Couldn't Watch Themselves in Films Should Find Another Job