Is San Francisco 49ers' Quarterback Jimmy Garoppolo Close to His Family?
Jimmy Garoppolo likes to keep his private life away from prying eyes, a move that is difficult for a starting quarterback in the NFL. But with his San Francisco 49ers squaring off against the Kansas City Chiefs in the Super Bowl, Garoppolo is finally opening up about his parents and siblings. Garoppolo's family hails from Italy and he could not be more proud of his Italian roots on the eve of the biggest game of his career.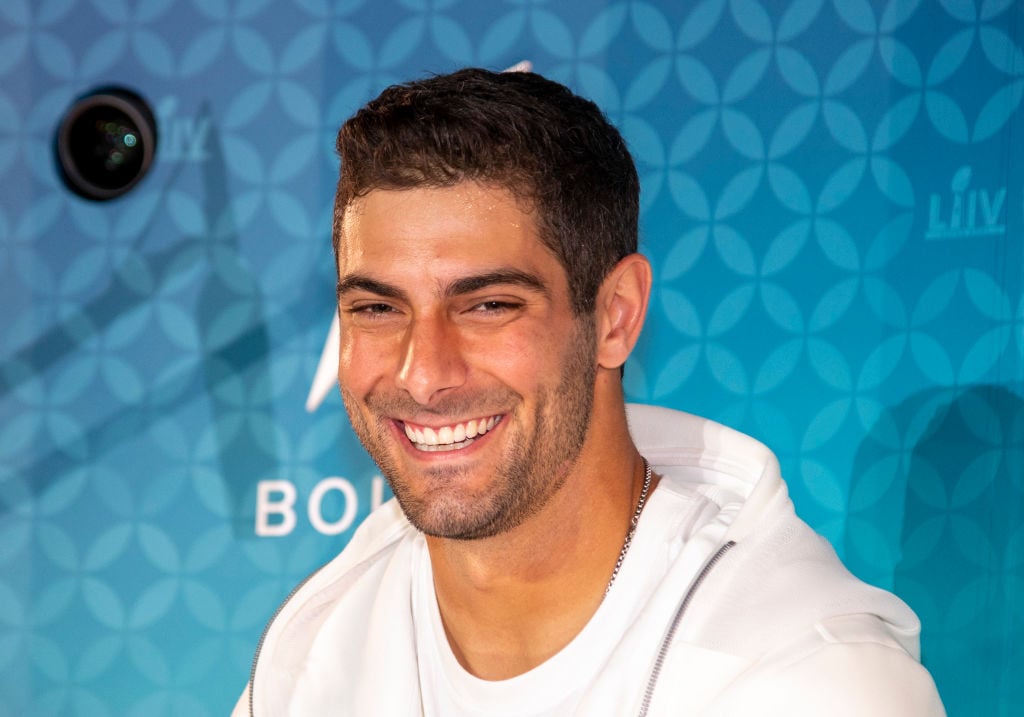 Garoppolo opens up about his Italian roots
While Garoppolo has always been a private man, he previously talked about his family's roots in an interview in 2014.
According to Heavy, Jimmy Garoppolo revealed that his grandmother, Jane Garoppolo, is the first generation of his family to live in the United States. Her parents were born and raised in Italy and were very family oriented.
"My Nana – we call her Nana, actually, it's Italian – was texting me right before this wishing me luck," he shared.
Garoppolo has three brothers – Mike, Tony Jr., and Bill Garoppolo – all of whom his parents say are much more boisterous. The quarterback's father, meanwhile, earned a living as an electrician and worked hard so that he could coach his sons in sports.
The 49ers star learned a lot from his father, including what it really meant to work hard. One of his father's favorite sayings is that there is "always someone working harder than you," something that has motivated him through the years.
Did Jimmy Garoppolo's brothers play sports?
Growing up, all of the men in the Garoppolo family adored sports, yet none of them played the quarterback position. In fact, Garoppolo explained how he had to learn a lot on his own when he tried out to play quarterback and had zero experience to lean on.
"I didn't know about quarterbacking," Garoppolo stated. "Nobody in my family had ever done it."
Luckily, things worked out for Jimmy Garoppolo and he got the chance of a lifetime when he was picked up as the backup quarterback to Tom Brady. We do not know if Brady and Garoppolo were ever close, but there was some controversy when he was traded to the 49ers.
The two quarterbacks have never commented about the trade, which actually worked out for both of them. Brady went on to enjoy a few more successful seasons in New England while Garoppolo just punched his ticket to the Super Bowl.
It is also evident that Garoppolo learned a lot from Brady during his time in New England, and he will probably put some of that knowledge to good use in Super Bowl LIV.
Garoppolo handles criticism like a champ
Jimmy Garoppolo led the 49ers to the Super Bowl, but he recently came under fire for breaking the record for the fewest passing attempts in an NFL playoff game.
Ahead of the Super Bowl, Garoppolo admitted that he probably isn't considered much of a threat after only passing the ball eight times in the NFC Championship game. But at the end of the day, Garoppolo uses the criticism as motivation for the next time he suits up.
"Everyone has different ways to get motivated, and very similar to Sherm, I do the same thing," Jimmy Garoppolo stated. "I hear all the stuff and everything, but you can't put that all out there all the time. You have to do with it what you will and take it for what it is."
The 49ers are playing an explosive offensive team in the Chiefs, and there is little doubt that Garoppolo will need to throw the ball more if they want a chance to win. After all, the Chiefs have scored a combined 86 points in their last two playoff games.
How will Jimmy Garoppolo handle the Super Bowl?
During the regular season, Garoppolo shined as the quarterback of the 49ers. He passed for nearly 4,000 yards, the fourth highest in the history of the franchise. He also completed 69 percent of his throws and finished at the top of his class in yards per attempt, passing percentage, and touchdowns.
Considering his performance, it is clear that Garoppolo can provide more offense if his team needs it. The only reason he didn't pass more in the last game is that the 49ers did not need him to.
He has also been to the Super Bowl twice with the Patriots. He may not have started in those games, but he certainly knows what it takes to win a championship. He can also use that past experience to help his teammates prepare for the big game.
Fans can watch Jimmy Garoppolo take on the Kansas City Chiefs when Super Bowl LIV airs on February 2 on Fox.