'Sanford and Son' Star Redd Foxx's Real Name Might Surprise You
Redd Foxx might not be the household name to a 2020 audience that it was in the 1970s. Still, it's safe to say that anyone who has enjoyed television recently can thank him for his service.
The late actor and comedian was well-known for his no-holds-barred approach to comedy when standards were often puritanical. However, while Redd Foxx is his stage name, his real name harkens to the sitcom that made him famous. 
Redd Foxx has a successful career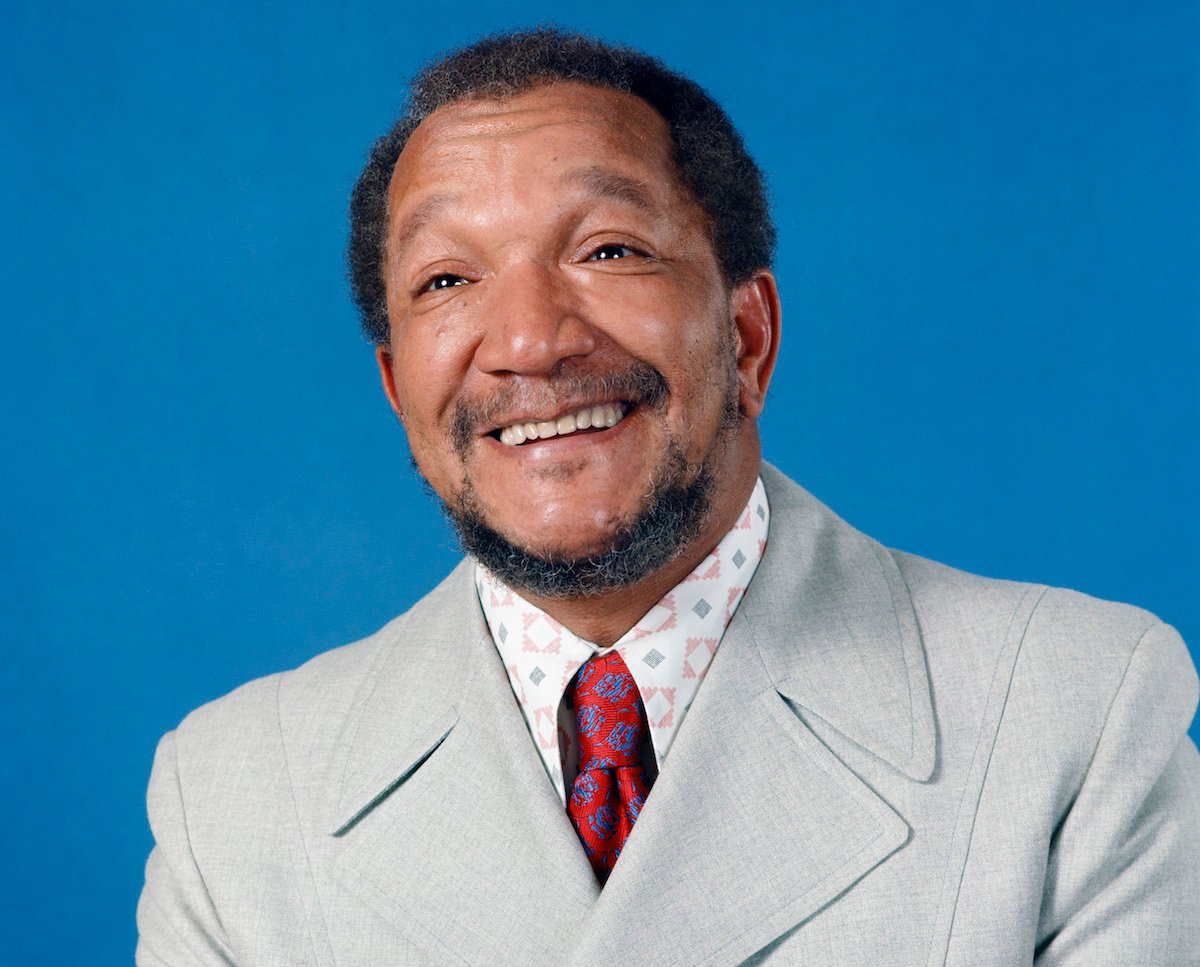 According to his website, Foxx was John Elroy Sanford in 1922. Named after baseball player Jimmie Foxx, the future comedian left home at 13 and played washboard with a Chicago band to pay rent.
After the band broke up, however, he moved to New York City. On the train to his new destination, he met a man named Malcolm Little. While saying that John Sanford met Malcolm Little might get lost on people, saying Foxx met Malcolm X, Little's more famous name, seems too good to be true. 
In New York, Foxx started to perform in nightclubs on the Chitlin Circuit, a comedy circuit known for being more inclusive to black comedians like himself. He made his name as one of the most successful stand-up comics in America.
He started to appear on television and sell records at a steady pace. After making his on-screen acting debut in Cotton Comes to Harlem, Norman Lear signed Foxx to his new sitcom Sanford and Son. 
Sanford and Son ran made Foxx a household name. He appeared on the show until 1977 after a reported contract dispute about a windowed dressing room caused him to leave. He kept on working for the rest of his life.
After leaving Sanford and Son, he pursued a career in film, appearing in such hit as Eddie Murphy's Harlem Nights alongside his good Della Reese. After seeing the pair on the big screen, CBS reunited Reese and Foxx in The Royal Family. It was meant to be his big comeback, but now it's known as one of the last things he ever did. 
Foxx's death
Foxx was on The Royal Family set, making cast and crewmates laugh between their rehearsals when tragedy struck. He fell to the ground while clenching his chest. It was a gesture that became a staple of his act during Sanford and Son.
This time, however, it was real. Studio spokeswoman Rachel McCallister spoke about his tragic death. 
"They were rehearsing on the set and clowning around, and Redd was sort of breaking people up when he collapsed," she told the LA Times at the time. "They all thought he was joking around at first, and then they called the paramedics."
It was too late. A comedy and television icon was dead. However, thirty years after his death, Foxx remains one of the most essential names in comedy. While the name we all know him as may have been a stage name, it's one that brings gravitas and reverence no matter where it is mentioned.
It's all in a name
Foxx had several names before landing on the one that made him famous. According to Get.TV, Malcolm X called him Chicago Red, a nickname that Malcolm X gave him on account of their matching reddish hair. Others started calling him Foxy. Eventually, he combined these two nicknames into the name that people now know him for. 
It's a name that carries significant weight. Even Jamie Foxx harkened back to it when he chose his own name out of fear of being misgendered. However, Foxx's legacy goes beyond any name. He changed television and comedy forever. While the end was tragic, the journey there helped blaze paths thirty years after he clinched his chest for the final time.