Sara Haines of 'Strahan, Sara & Keke' and 'The View' Talks About Marriage and Parenting Later in Life
Sara Haines is keeping quite busy these days. A frequent contributor on Good Morning America, co-host of Strahan, Sara & Keke, and subbing panelist on The View, the television personality has a busy schedule balancing her career and full family life with husband Max Shifrin and their three kids – Alec, 4, Sandra, 2, and Caleb, 9 months.
Not meeting her husband until she was in her late 30s, Haines has previously shared on the benefits and challenges of starting a family a little later than expected.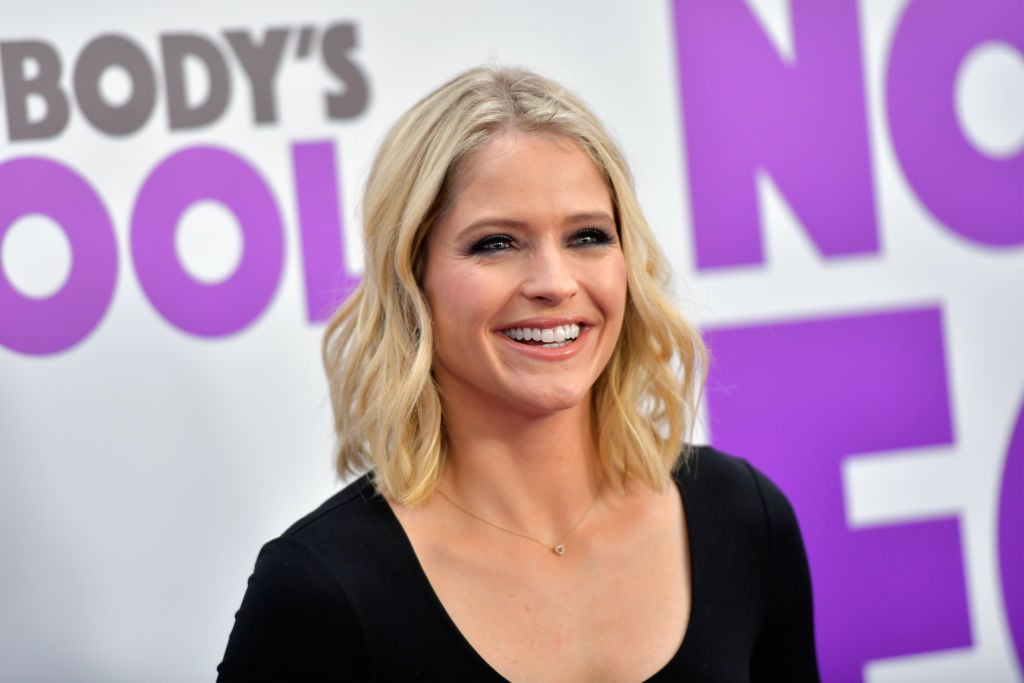 Meeting Max
When Haines met Shifrin through an online dating platform, she had a very realistic view on relationships. "It's so funny, but when you do have one good date with someone, people are like, 'Do you think he's The One?'" Haines said, according to Glamour.
The GMA reporter admits she doesn't identify with this line of thinking. "When I married Max, I still [didn't] know if he was The One. I mean that in an open way," Haines explained. 'I tell Max, "There's no one person.' We both agree on this and laugh all the time…  It's The One you decide to commit to. It wasn't as romantic or fairy-tale-ish as 'I've been looking for you my whole life.' It wasn't any of that. We laugh at that." 
With her trademark humor, Haines expressed that she rarely gets an epiphany while on life's journey. "The pressure people put on you to have this big aha moment and 'I just knew' moment," she noted, adding, "I don't even know what I'm going to eat for dinner! You think I'm going to know my life partner when I see him? Hells no!"
Haines keeps it real in marriage
The guest co-host of The View feels that her marriage to Shifrin, who is five years her junior, may have benefitted from her tying the knot later in life.
"Max and I always make an effort—and I think this maturity came from getting married later, because I don't think I would have been this way at 30, but we're more realistic about what marriage is," Haines shared. 
Haines credits a shared view of and plan for marriage that makes her union with Shifrin successful.
"For me, it was never an option to settle, because my biggest mission in life is to evolve as far as I can to be the best I can be," she explained. "I wanted someone that also recognizes they are a work in progress, and will keep making each other better, and will always keep aiming for that… I found that in Max, and not because he all the sudden came along on a horse, but we had a common vision."
Mom of three
Having her first child at 38, Haines acknowledged the difficulties of caring for a newborn while also dealing with an aging parent with health issues.
"I was in the throes of postpartum, and my mom is 73 and has Parkinson's," the Strahan, Sara & Keke co-host shared. "I went into 'I want to take care of my mom' gear, but I also had a newborn I don't know what the hell to do with. So it was really hard… You take a lot of the 'This is what it should look like,' and apply it to a life that looks very different from what you thought."
Haines knows that she may have traveled a different path than other women, and she's just fine with that.
"My mom can say to me, 'Well, we all had kids younger,' and I say, 'Bravo. I'm part of a different club. Your ID needs to be a little bit bigger in numbers to get in,'" she quipped. "Also, this is just what I know. You don't know the difference. I don't know how much more energy I had at 25. I also had 20 more pounds on me. I prefer my body now. So there's give-and-take. This is just how my life looks."
It's clear that the popular television personality is right where she wants to be. "Even with all the uncertainty and difficulties, I'm loving my life," Haines said. "And I'm excited to have my own people now."