Sara Ramírez Experienced a Dark Time During the Pandemic and Made a Call for Help: 'I Was Particularly Vulnerable'
The pandemic and its long periods of isolation took a mental health toll on most of us. And Just Like That… actor Sara Ramírez decided to open up about their own dark times during the early stages of the coronavirus.
In doing so, the former Grey's Anatomy star provides more awareness around the importance of mental health care, especially the crucial role the suicide prevention hotline can serve in keeping people safe in vulnerable moments. Ramírez credits the hotline with helping them gain some perspective at a time when they needed it most. 
Sara Ramírez had a groundbreaking role on 'Grey's Anatomy'
These days, Ramírez has been making headlines for playing Che Diaz on the Sex and the City reboot And Just Like That…. But fans likely know them best known for their long-running role on the medical drama Grey's Anatomy. Debuting in the popular show's second season, Ramírez played Callie Torres. 
Ramírez made the unexpected decision to leave the series after the Season 12 finale. Fans mourned the loss of a favorite character who had served as a groundbreaking representation of bisexuality in the primetime drama. Citing the need for "welcome time off," Ramírez said they left the show in good spirits and on friendly terms with creator Shonda Rhimes.
Following the departure from Grey's, Ramírez has stuck with work on the small-screen. They voiced a character on the popular children's show Sofia the First and had a recurring part in the political drama Madam Secretary. 
Sara Ramírez reached out for mental health help during pandemic
In a feature story for Variety, Ramírez opened up about their more recent work and the sometimes rocky path they experienced in life. The actor found themselves in a particularly dark place in the early months of the pandemic.
Realizing they needed help as they struggled with suicidal thoughts, they ended up reaching out to the National Suicide Hotline: "I called some folks, but their phones were off, and I thought, 'Well, there's this hotline…'" The call served its purpose and provided Ramírez with the help they needed. They reflected:
"This person really talked me off a ledge, and got me back into my body. I could acknowledge my feelings without becoming them, and it was really helpful. I was particularly vulnerable at that time, and I sought out support. I got that support, but it was a really rough year where, for the most part, I had to release all attachments to permanence in every direction."
Sara Ramírez came out as nonbinary and landed the Che Diaz role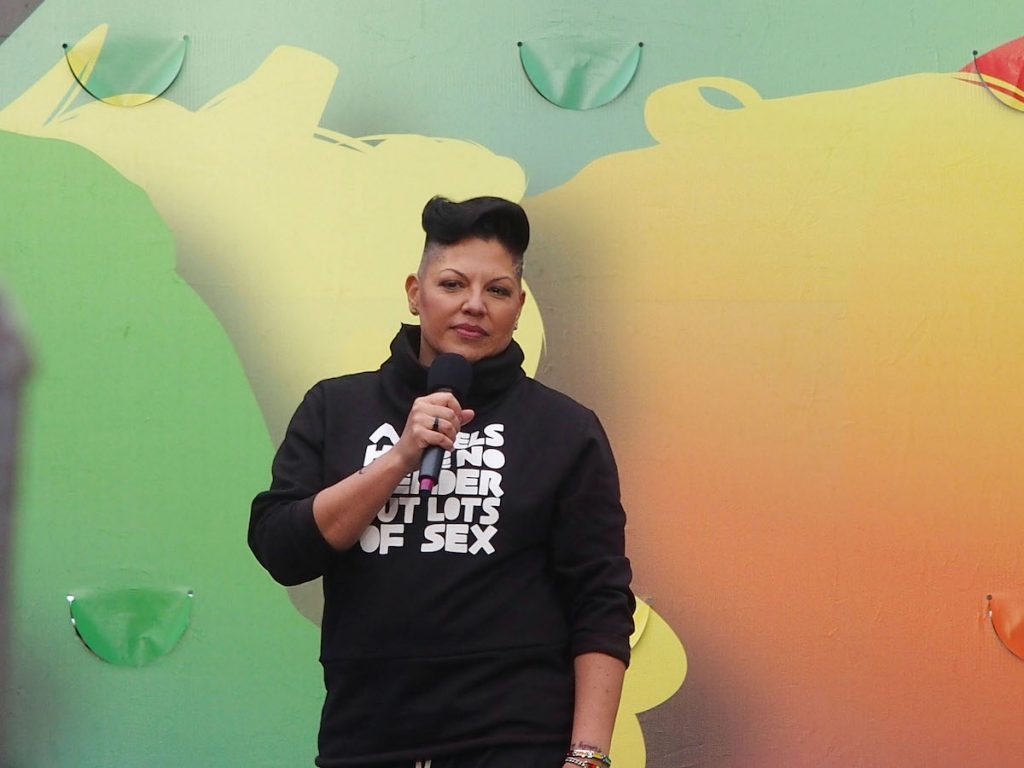 Just a few months after that private struggle with mental health, Ramírez took to social media to go public with their nonbinary status. Privately, Ramírez had been using they/them pronouns with friends and family, but it wasn't until August 2020 that they used Instagram to share that identity with fans and the public at large.
That step into the public eye led to landing the role of Che Diaz on And Just Like That… Playing Che Diaz as a character has been a fraught experience for Ramírez. While many have praised the visibility that nonbinary Che brings to something as mainstream as Sex and the City, Ramírez isn't so sure. "Visibility isn't justice," they told Variety. "Because visibility without action and consideration for real people that exist means nothing."
While some fans of the series have taken issue with Che as a character, the creators have been clear to expect much more from Che in the next season. 
RELATED: 'Grey's Anatomy' Helped Sara Ramirez Find Their True Self: 'I've Caught up With Myself in a Lot of Ways'