Sarah Ferguson Accidentally Confirms Meghan Markle and Kate Middleton's Feud
Sarah Ferguson made comments that allude to confirming Meghan and Kate's royal feud.
It isn't too often that we hear from Sarah Ferguson, but when we do, all of the focus is on whatever she says. Although the Duchess of York, more commonly known as "Fergie," is no longer married to Prince Andrew, she remains very close to her ex-husband and likely has the inside scoop on just about everything that goes on behind palace doors.
While it is true that the royals put on a united front when they are in front of the cameras, there has been speculation for quite some time that Kate, Duchess of Cambridge and Meghan, Duchess of Sussex aren't exactly the best of friends. Fans, as well as the media, have all formed their own opinions regarding the situation since neither duchess has actually said whether the rumors of friction between them were true or not.
Now, people are more convinced that there is some tension between Meghan and Kate. Why is this? Well, as it turns out, Fergie accidentally confirmed Meghan and Kate's feud with her recent comments.
Kate's relationship with Meghan was said to be tense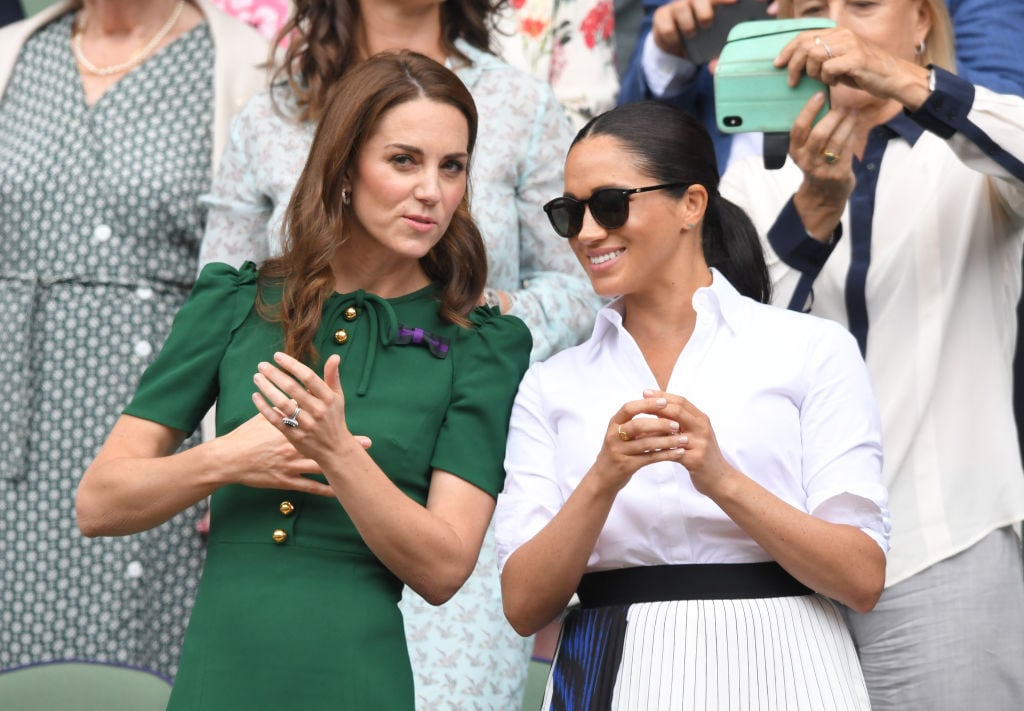 Although we have seen Meghan and Kate acting cordial to one another, it has long been said that they are involved in a major rift. According to Her, it all started when Kate and her daughter, Princess Charlotte, attended a dress fitting for Meghan's wedding to Prince Harry, and things didn't go well.
Princess Charlotte was a bridesmaid in the royal wedding, and apparently Meghan was being somewhat difficult. Kate apparently left in tears, and they had supposedly been on bad terms for quite a long time.
Rumors of friction between the sisters-in-law were circulating for months on end before the focus shifted to their husbands: Prince William and Prince Harry. Suddenly, it was thought that the actual rift was between the brothers and that all was good between Meghan and Kate.
Rumors of a royal duchess feud are back
For a while, speculation of tension between the duchesses had been put to rest. Most people assumed that although they weren't super-tight with each other, that everything was fine between them and there was actually no feud at all.
Now that Meghan and Prince Harry have officially split from the royal family, it seems that the reports are back. International Business Times reports that Kate and Meghan are definitely feuding with each other and that the Duchess of Cambridge actually ignored Meghan at one of her final royal duties.
Things are certainly difficult for the royals right now, especially considering the major changes that are being made now that Meghan and Prince Harry will no longer be senior working royals. However, it seems that Meghan and Kate are not putting the past behind them and that things aren't going well at all.
Sarah Ferguson alludes to a rift between Kate and Meghan
During all of the months that Meghan and Kate are said to have been feuding, it was never actually confirmed by any members of the royal family — until now. So, what did Fergie say that leads everyone to believe that the rumors are true?
Ferguson spoke out about how the media treats women and told Australian Women's Weekly: 'Women are pitted against other women. Trolling online is vicious and hurtful. We have to stand against it.'
According to Daily Mail, the Duchess of York told Australian Women's Weekly there was a "wedge" between Meghan and Kate that had been put there by the media. By saying this, she inadvertently admitted that there is tension, and she seems to know exactly what is going on between the two.
That said, neither Meghan nor Kate have alluded to or confirmed a feud.