Sarah Ferguson and Queen Elizabeth Used to Be Really Close
It seems hard to imagine now, but Sarah Ferguson was once a beloved member of the British royal family. The fiery red-head married Prince Andrew in 1986 and though she was colorful and outgoing, she fit right in with the royal family.
The Duchess of York was very close to the late Princess Diana who truly struggled to fit in with the royals and often felt that their love for the duchess made her look even worse. However, by the early '90s, Ferguson's relationship with Prince Andrew had taken a turn for the worse. Things soured even further when she was caught in a rather compromising position with another man in 1992.
Though Queen Elizabeth II and Prince Philip reportedly just tolerate the duchess for the sake of their granddaughters, Princess Eugenie, and Princess Beatrice, Ferguson was once very close with the queen.
The British royal family used to adore Sarah Ferguson
Sarah Ferguson and Princess Diana grew up together and they reconnected just before the princess wed Prince Charles in 1981. Though they would often lunch together, in 1985, the princess invited the duchess to one of the queen's "dine and sleep" events at Windsor Castle during Ascot week. The duchess was seated next to Prince Andrew and sparks flew.
The pair wed on July 23, 1986, and it seemed like the perfect match. Princess Diana later remarked on how much Fergie was adored by the royals while she could never seem to please them.
Princess Diana told biographer Andrew Morton, that the Duchess of York "wooed everybody in this family and did it so well. She left me looking like dirt." She even said that her ex-husband Prince Charles told her "I wish you would be like Fergie—all jolly."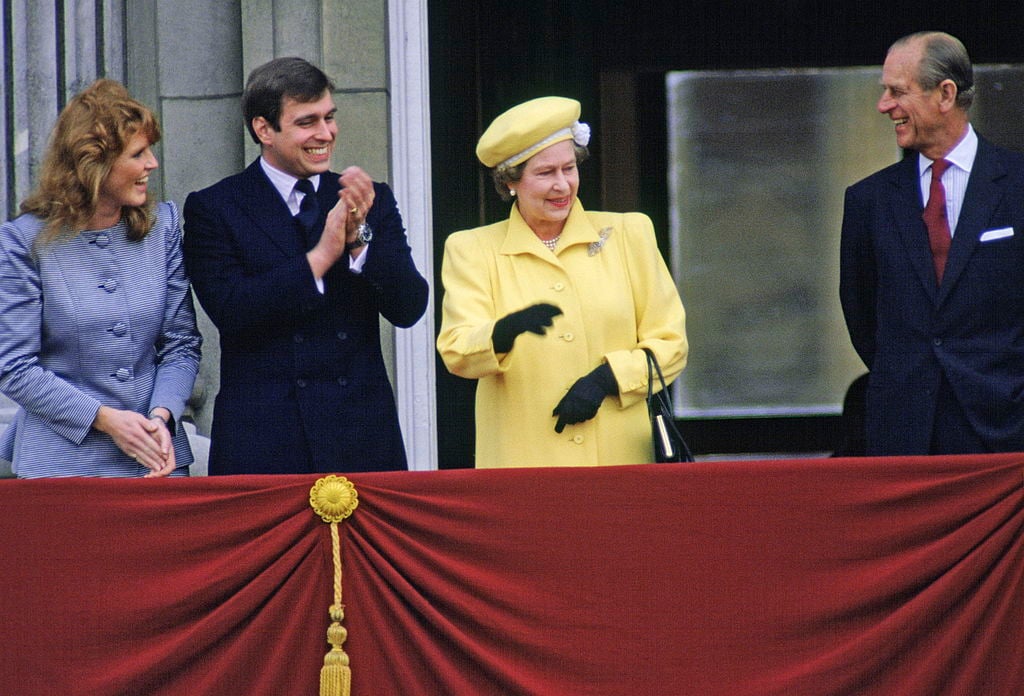 Queen Elizabeth II and Sarah Ferguson used to be very close
Though Fergie was not born into an aristocratic family like Princess Diana, she and the queen bonded over one thing, their love of horses. The queen adores horses and riding. Meanwhile, the duchess is the daughter of a polo manager. She grew up around horses on a farm in Hampshire and learned to ride at an early age.
"The Queen loved Fergie, who took part in everything ‒ maybe wearing bright pink pants but loving it," a royal insider told Daily Mail. The duchess even learned carriage-driving which Prince Philip adored. The queen often invited Fergie to dinner when Prince Andrew was away on his naval duties.
"I got terribly jealous and she got jealous of me," Princess Diana once admitted. "She kept saying to me: 'You mustn't worry, everything is going to be fine.' I couldn't understand it, she was actually enjoying herself, whereas I was fighting to survive.
Sarah Ferguson's relationship with the British royal family will never be the same
In 1992, the Duchess of York lost the British royal family's support when she was photographed topless with oil tycoon, John Bryan. The photographs were all over the newspaper when the royals came down for breakfast one morning.
By 1996, the Duke and Duchess of York were divorced, but the royals were further enraged by Fergie in 2010 when she was caught by an undercover journalist who offered her $500,000 for access to the royal family.
Though the queen and Prince Philip are officially past the drama, Prince Charles may still be harboring resentment towards her. "It's stupid to say that the Duke of Edinburgh has any issue with Andrew and Fergie's relationship," an insider told The Sun. "He really doesn't care anymore, on any level. He stands in for Prince Philip every now and then since his retirement but the truth is his official role as the Duke of York is severely limited. The Queen is relaxed because of her personal affection towards Fergie, despite the Duchess's previous bad behavior. Charles is not OK with Fergie. He can't stand her in reality."