Sarah Ferguson Sparks Prince Andrew Reunion Rumors With Her Latest Instagram Post
For those of us old enough to remember, there was a time before Kate Middleton and Meghan Markle dominated the royal headlines. Back in the 1980s, the most popular royal women were Princess Diana and Sarah Ferguson, the wives of Prince Charles and his younger brother, Prince Andrew.
Sarah Ferguson married Prince Andrew at Westminster Abbey in 1986 in front of 2,000 guests and 500 million television viewers, but after welcoming two daughters – Princess Beatrice and Princess Eugenie – the couple separated in 1992 and officially divorced in 1996.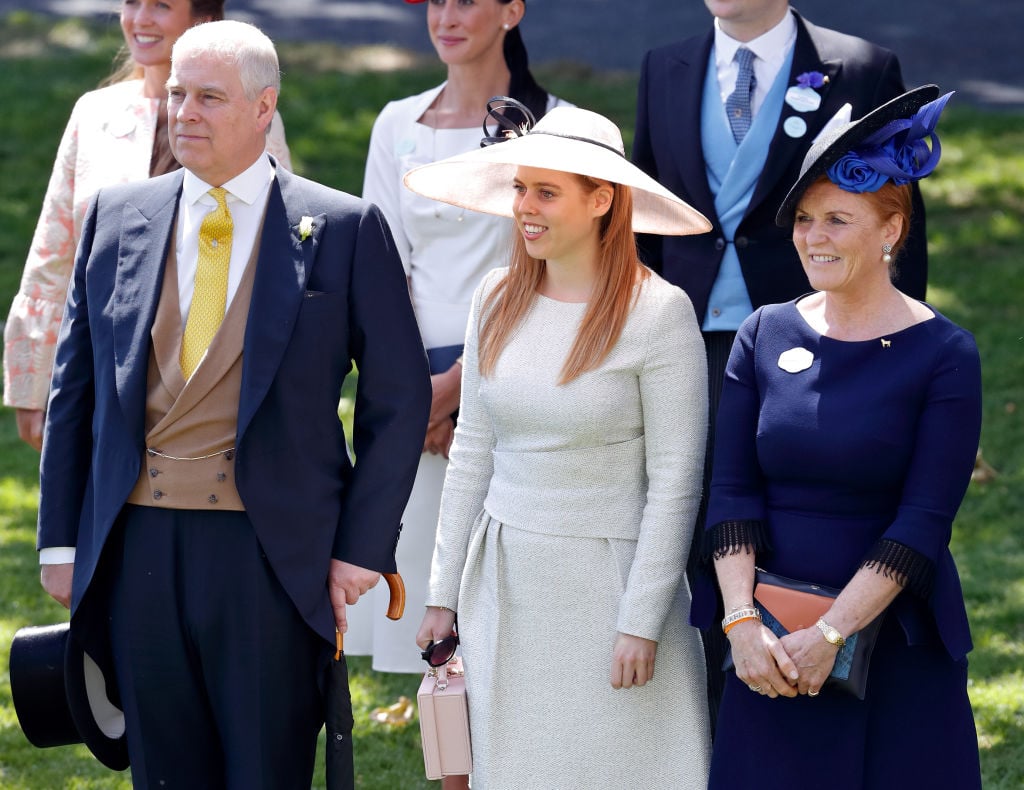 Now, more than two decades later, a new Instagram post from Ferguson – known as Fergie to her friends – has fans wondering if she and Prince Andrew are back together and planning to remarry.
A unique post-divorce arrangement
Despite their split in the 1990s, Prince Andrew and Sarah Ferguson remained amicable, and from 2008 to 2015 they actually lived together in the Royal Lodge at Windsor with their daughters before she moved into a Swiss ski chalet that the former spouses purchased together.
According to Harper's Bazaar, they transitioned from spouses to close friends, and have made several public appearances together at everything from royal events to vacations. In 1997, just one year after their divorce, they attended a dinner at Wentworth Golf Club, and in 2000 they appeared at the Serpentine Gallery 30th anniversary gala dinner.
They have made numerous appearances at the Royal Ascot, and the former couple has also made appearances with their daughters – most notably at Princess Eugenie's 2018 wedding to Jack Brooksbank.
"Andrew and I, we're the happiest divorced couple in the world, extraordinary, really, isn't it," Ferguson said in 2015. "We live in the same house, but then, it's a big house, so that's ok. But I think it's really good that we believe in compromise and communication and compassion. And family."
The Duke of York seems to agree, telling CNBC in 2014, "It's just part of life's rich tapestry if you've been married to somebody. I just see it as illogical not to be a friend at the end of the day, regardless of what your set of circumstances are. But it's meant a whole heap to the family."
A rekindled romance?
Prince Andrew and Sarah Ferguson recently attended Lady Gabriella's wedding together, as well as the Bahrain Grand Prix Formula One Championship race, and she is posting family pictures on her Instagram page. Prince Andrew appeared in photos she posted from the Chelsea Flower Show, and she has also congratulated her ex-husband on social media for various achievements.
However, it was the posts from the trip to Bahrain that really caught the media's attention because it was the first time in 25 years that Ferguson had joined Prince Andrew for official royal business. When a member of the family is on a working trip – as Prince Andrew was in Bahrain – they don't usually mix in a personal vacation.
All of Fergie's recent social media activity has fans calling for the duo to get married again because as one fan wrote, "You're still clearly in love with each other."
Many believe it's just a matter of time before Andrew and Fergie announce a second engagement, while others admit it may be a long shot, but they are "desperately hoping" it will happen.
Sarah Ferguson's spokesperson has denied that she and Prince Andrew are more than friends, saying "nothing has changed in their relationship." However, ITV reporter Chris Ship recently tweeted that the couple is "unofficially…back on."
They don't need the Queen's permission
When Prince Andrew and Sarah Ferguson separated in the early 1990s, she was on the outs with the royal family. She was always a bit of rebel when it came to royal traditions and behavior, but when she decided to start vacationing without her husband – and spending time with other men – she became incredibly unpopular.
When someone leaked the news of Andrew and Fergie's separation, the palace pointed fingers at Ferguson.
"I had been tagged 'unsuitable' for royal life, and the charge stuck," Fergie wrote in her 1996 memoir, My Story. "I was frozen out and not just in the Palace; the wind from all the doors slamming in my face might have knocked me over."
The biggest scandal of them all
Then came the infamous "toe-sucking scandal" of 1992. Since she was still the mother of Princess Beatrice and Princess Eugenie, Ferguson got an invite to the family's annual August holiday at Balmoral. But, while she was with the royal family on vacation, the Mirror published a cover story featuring photos of a topless Sarah Ferguson at a villa in the South of France with American businessman John Bryan.
In one of the pics, Bryan is nuzzling Fergie's foot, and once the Queen saw the morning papers, Ferguson was sent back to London along with her daughters and had officially been kicked out of The Firm.
However, over the next 25 years, Ferguson managed to work her way back into the hearts of royal fans, thanks to her impressive career that includes writing numerous children's books, charity work, and becoming a Weight Watchers spokeswoman after losing 80 pounds on the popular weight-loss plan.
If Prince Andrew and Sarah Ferguson do decide to remarry, it doesn't matter if she is back in the family's good graces or not. When Prince Louis was born last year, it pushed Prince Andrew down to number seven in the line of succession. And, only numbers one through six require the Queen's consent to marry.