What Was Sarah Ferguson's Royal Title and How Did It Change After She Divorced Prince Andrew?
Although she still attends family events, Sarah Ferguson is technically no longer part of the royal family. What was her royal title and how did it change after she divorced Prince Andrew? Find out, here.
Sarah Ferguson might no longer be married to Prince Andrew, but she's still woven into the royal family. And, she has a royal title to prove it — although, her official status has changed quite a bit.

How did Sarah Ferguson keep her title after splitting from the Duke of York in 1996? Find out, ahead.

What was Sarah Ferguson's royal title when she married Prince Andrew?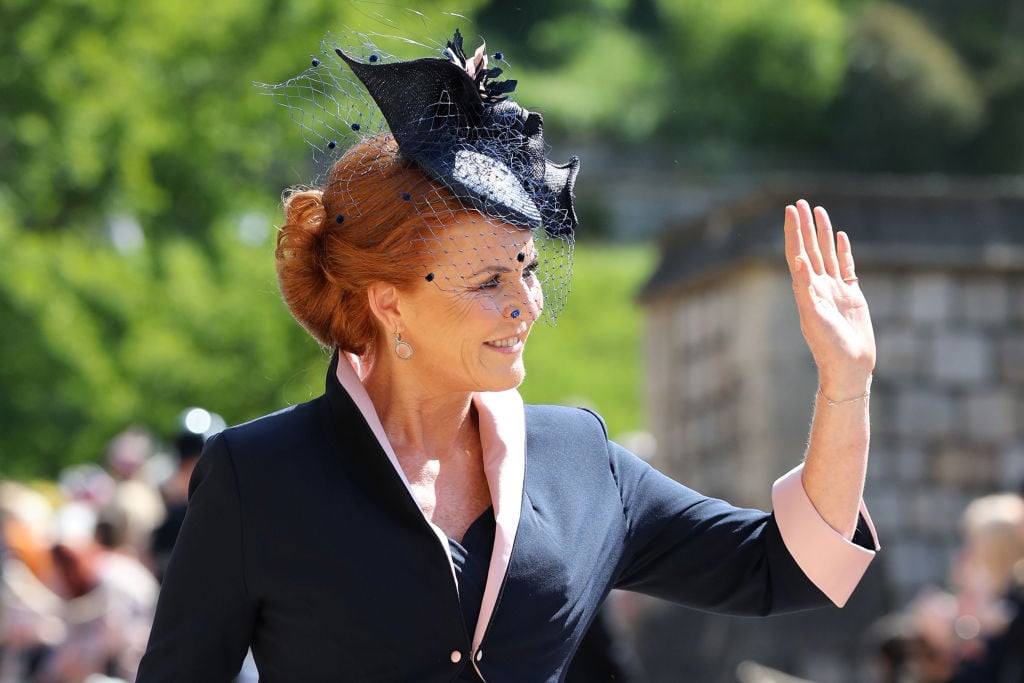 When Prince Andrew and Sarah "Fergie" Ferguson married in July 1986, the royal couple became the Duke and Duchess of York. And while a dukedom is one of the highest ranking titles within the royal family, it was their His and Her Royal Highness status that really held the weight of their status.

Because of their dukedom — and position in the royal family at the time — their daughters also held high-ranking status. Upon birth, Princess Beatrice's royal title was (and still is), Her Royal Highness Princess Beatrice of York. And, Princess Eugenie was (and remains) Her Royal Highness Princess Eugenie of York.

Did Sarah Ferguson keep her royal title after she and Prince Andrew divorced?

Although Sarah Ferguson is no longer married into the royal family — and doesn't serve as a full-time member, either — Queen Elizabeth II still allowed her to keep her royal title upon her divorce to Prince Andrew. However, instead of being Her Royal Highness Sarah, Duchess of York she is now Sarah, Duchess of York. Losing Her Royal Highness status signifies that, although she still has a royal title, she is no longer a prominent member of the royal family. And, if she were to remarry, she would lose her duchess title.

Why did Sarah Ferguson keep her royal title?

It's unclear why Queen Elizabeth allowed Sarah Ferguson to keep her duchess status. Even though they had a close relationship, things blew up between the mother- and daughter-in-law towards the end of her marriage to Prince Andrew after photographs of Sarah's boyfriend, John Bryan sucking on her toes while vacationing in St. Tropez were published in the paper. Needless to say, the queen — who was appalled by Sarah's behavior — was furious.

With or without scandal, it appears that divorcing a royal duke doesn't strip you of your title, it strips you of your status, which is exactly what happened to both Sarah Ferguson and Princess Diana after they divorced their royal princes.

Princess Diana was allowed to keep her title, Princess of Wales after she and Prince Charles divorced in 1996. However, just like Sarah Ferguson, upon the signing of court documents, Diana went from Her Royal Highness Diana, Princess of Wales to just Diana, Princess of Wales. When Diana passed away, her royal title went back to the crown. And, when Prince Charles remarried, his wife, Camilla Parker Bowles became Her Royal Highness Camilla, Princess of Wales. In the royal family, the Prince or Princess of Wales title ranks higher than a dukedom, which is why Prince Charles predominantly uses the title. However, he is also the Duke of Cornwall, which makes Camilla the Duchess of Cornwall. Because Princess of Wales is widely associated with Diana, Camilla chose to go by her duchess status full-time, out of respect for the late princess.

Check out Showbiz Cheat Sheet on Facebook!