Sarah Hyland And Wells Adams: From Sliding Into DMs to Getting Engaged
The story of how Sarah Hyland and Wells Adams got together.
On Tuesday evening, Sarah Hyland and Wells Adams announced that they're engaged on social media. 
The couple's been dating for about two years. Relationship rumors first started circulating when the couple dressed in coordinating Stranger Things Halloween costumes (Adams as Eleven, Hyland as Dustin, naturally). 
How did Sarah Hyland and Wells Adams meet?
It all started in Hyland's Twitter DMs. She had been watching JoJo Fletcher's season of The Bachelorette when she first noticed Adams.  
"I was rooting for him," she told E! News in November 2017. She especially loved how he handled the season villain, Chad Johnson, during the Men Tell All episode. 
"Also @WellsAdams compared Chad to Voldemort. #potterheadsarethebest," she tweeted on July 27, 2016.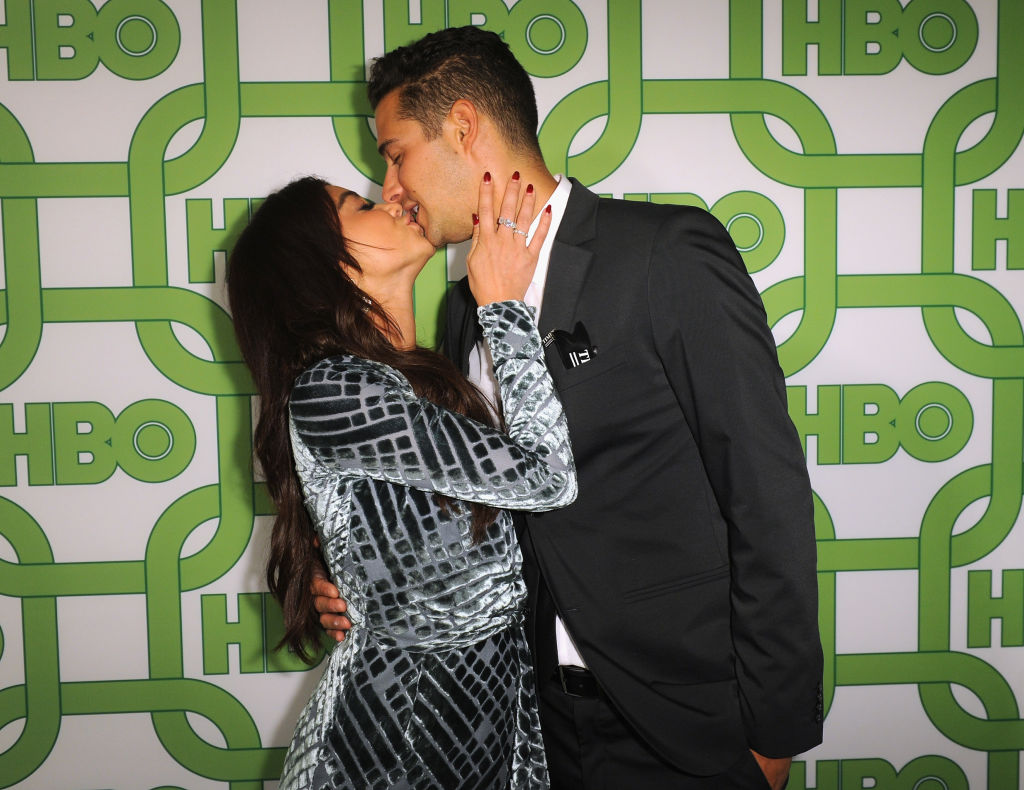 Then when it was announced that Adams was going to be the bartender on Bachelor in Paradise, she said it would be the "Best. Season. Ever."
Adams finally slid into her DMs and the rest is history. 
The beginning
From the get-go, Adams and Hyland had a special connection. Last year, Hyland was featured on the cover of Self and was interviewed about her health struggles. Her second kidney transplant took place during the beginning of her relationship with Adams. Apparently, she met Adams just three days prior to the transplant.
"It was a really intimate start to a relationship to have to go through those hurdles at the very, very, very beginning when you're just even getting to know a person," she said. "Also, falling in love with someone before you can really be intimate. I did not believe that that was a thing, but it is."
"He's seen me at my worst. I think that's why I feel the most beautiful in his eyes, because he still finds me beautiful after seeing all that," she continued. 
For the first portion of their relationship, Hyland and Adams were long-distance. When they met, Adams was living in Nashville and Hyland was, of course, in Los Angeles. Eventually, Adams moved to L.A. to be with Hyland. Shortly after the move, the actress told E! News that the move "brought us closer," and that their dogs get along swimmingly.   
Sarah Hyland and Wells Adams are engaged!
Today, the two are recently, happily engaged. 
"That can't eat, can't sleep, reach for the stars, over the fence, world series kind of stuff @wellsadams," the Modern Family star wrote on Instagram with a collage of photos from their beach proposal. Adams commented: "It takes two! Well 5 including the doggos! Love you more bab….fiancé!" 
Adams posted to his Instagram a video of him proposing to Hyland with lyrics from Drew Holcomb & The Neighbors: "I'll be Johnny, you be June. But forever."
Hyland commented: "I love you to Pluto and back FIANCÉ!!!!" and "When we get married will I automatically acquire your talent for making everyone cry with a homemade video?"
Read more: Former Bachelorette JoJo Fletcher On The Most Rewarding And Challenging Facets of Working With Fiancé Jordan Rodgers