Sarah Hyland Shares Final Videos and Pictures With Her 'Modern Family' on Instagram
With around 250 episodes filmed, it's easy to imagine how close the Modern Family cast members are. For some — including the Dunphy kids: Sarah Hyland, Ariel Winter, and Nolan Gould — they've known their Modern Family family since they were children.
On Feb. 22, 2020, Hyland offered a look into this family when she posted the last videos and pictures the Modern Family cast took together while on set. Here's what fans are saying about it.
ABC comedy 'Modern Family' ends after 11 years
After 11 seasons, ABC's Modern Family has had a strong run, even earning a handful of Emmy Awards along the way. Fans saw characters grow up on this show. Gloria had her second child. Claire took over her father's business. Lily went on her first date.
At the same time, fans watched as the actors of Modern Family grew up. As Alex got into Caltech, Ariel Winter was voice-acting for Disney Channel's Sofia the First. As Haley was having twins, Sarah Hyland got engaged.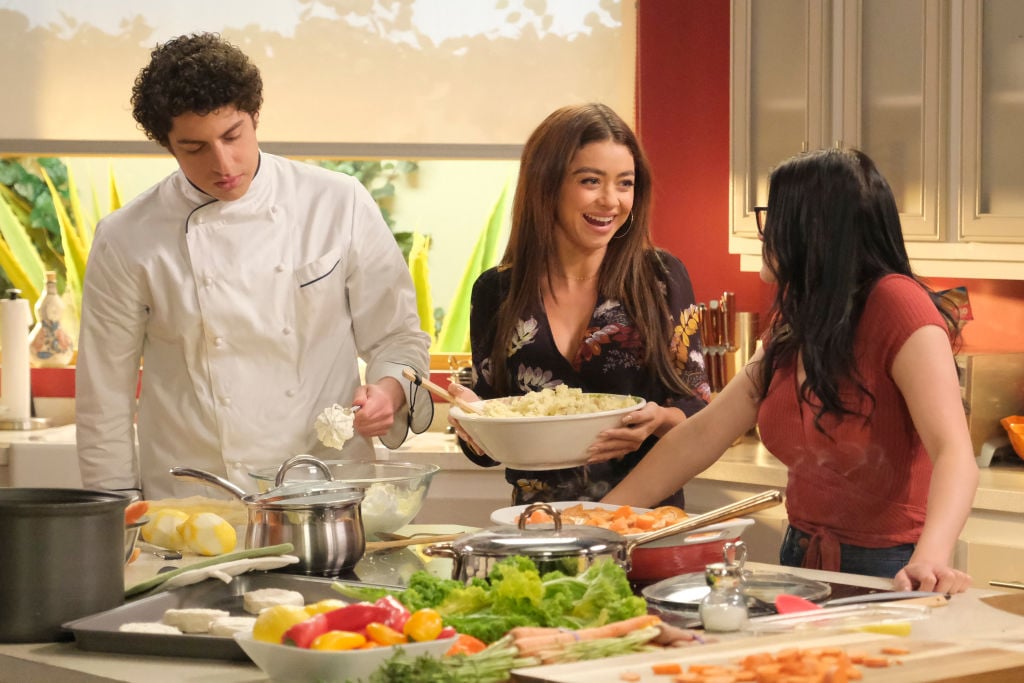 Sarah Hyland shares pictures from 'Modern Family'
There have been several emotional interviews and posts featuring Hyland, Sofia Vergara, and other Modern Family cast members as the show nears its finale. And on Feb. 22, Hyland posted to Instagram a series of photos and videos with a caption that read: "11 years. 250 episodes. 1 Modern Family."
The post included photos of the actress on the set of Modern Family. She also shared a video of the cast and crew singing "Good Riddance (The Time of Your Life)" by Green Day.
Included in her collection were pictures of the Dunphy kids, each with a cardboard box. There was another picture of the cast standing on the stairs of the Dunphy house, as well as one of the actress sitting alone in the kitchen. Of course, fans took to social media to share their love for Modern Family.
Fans respond to Sarah Hyland's Instagram post
It's more than just the cast of this series feeling nostalgic. Modern Family fans, including some celebrities, shared their support on social media. And Hyland's post received over 600,000 likes in 16 hours.
"American History," musician Katie Welch commented on the Instagram post. "Congratulations, Bear, I'm so proud of you and your undeniable work ethic! I can't wait to see all the next adventures life has in store for you!!"
"Hope you're OK, Sarah," one Twitter user said. "Thank you for all the wonderful memories and giggles you gave us over the past 11 years. Modern Family will go down in history as one of the greatest shows of all time. I enjoyed EVERY episode. Wishing you all the best."
"What. A. Show," another Twitter user wrote. "And you really made it, Sarah. Haley will always remain my favorite character."
The series finale of Modern Family is set to air April 8.