Sarah Michelle Gellar Was 'Annoyed' With 'Buffy the Vampire Slayer', According to Co-Star
In 1997, a television series with a ridiculous-sounding premise premiered on the WB television network. Buffy the Vampire Slayer was about a teenage girl who battled the forces of evil and went to high school in an ordinary-looking American town.
But it wasn't just unusual; it turned out to be groundbreaking. Sarah Michelle Gellar was the star of the show, and her role as Buffy inspired a whole generation of young women to see their potential as powerful forces for good. 
But while the audience was thrilled with the show, Gellar was over it.
A breakthrough role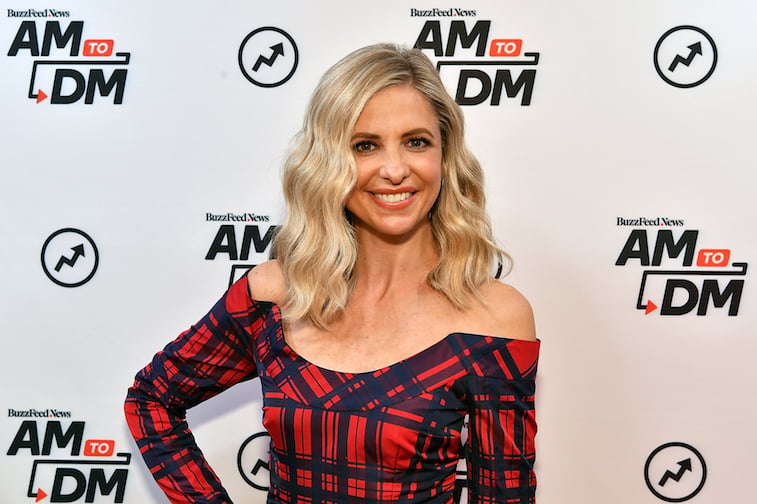 RELATED: The Most Influential People in Sarah Michelle Gellar's Life Are Her Family
Gellar was a working actress from the age of four, but it was Buffy that made her a household name. Vox says nobody expected the show to be the hit it turned out to be, especially since it was a low-budget series on a new network. However, the show became very popular and ran for seven seasons, from 1997 to 2003. It also led to two spin-offs: Angel and Buffy: The Animated Series.
Buffy the Vampire Slayer touched a chord with teens by portraying them in a more accurate way and treating their lives (even when they weren't battling demons) as important.
Because Buffy was shown as the strong, independent hero of the story, she was lauded as a feminist role model for a new generation. 
Despite this, Gellar got tired of playing the part of Buffy long before her fans were ready to let her go.
The show went on too long for her
Alyson Hannigan played Buffy's sidekick Willow in the iconic series, and ten years after it ended she was asked about what it was like on-set. Specifically, according to Yahoo, she was asked who was "annoyed" to still be on the show at the end.
Hannigan responded that Gellar was the readiest to move on, and that she was sick of Buffy by season three.
She added that Gellar was doing a lot of other projects at the time, and it was a lot of work. 
Gellar herself admitted at the end of the series that it was time for her to do something else. She was only 18 when the show began, and by its end, she was 26 and married to fellow actor Freddie Prinze Jr.
The demands of filming the series, along with the other work she was doing, made it impossible to spend time with her husband. 
Sarah Michelle Gellar's career after Buffy
RELATED: What Excites Sarah Michelle Gellar the Most Is Relatable for Everyone
While she was playing Buffy, Gellar was involved in a number of other projects. She played the lead in the movies Cruel Intentions, Simply Irresistible, and Harvard Man.
She also had parts in other movies, including I Know What You Did Last Summer, Scream 2, and Scooby-Doo.
After the show ended she did a few guest appearances on TV shows, such as Angel, Sex and the City, and The Big Bang Theory. She's also done some voice-over work and appeared in a handful of films, including Scooby-Doo 2: Monsters Unleashed.
This year she'll be starring in a new television drama on Fox called Other People's Houses. Over the years she has also focused a good amount of her time on her family. She and Prinze are still married after 17 years, and they have two children together. 
Now that nearly two decades have passed, Gellar seems to feel much more warmly about Buffy than she did when the series ended. She's referred to the show on her Instagram account, even dressing up in the outfit Buffy almost wore to prom all those years ago.
For die-hard fans of Buffy, it's good to see Gellar embracing the character they love so much. The actress seems to have found the balance she was missing all those years ago, but it looks like she could still take on a vampire or two if she had to.