Will Sarah Paulson Be in 'American Horror Stories'? The Star Wants to Be Involved in the 'AHS' Spinoff Series
Fans have been buzzing about the American Horror Story spinoff — American Horror Stories — since the show's co-creator, Ryan Murphy, teased the new series on Instagram. Murphy revealed the news with a fake Zoom call photo of the show's cast. But will any of the fan-favorites actually make an appearance when they're already busy with the flagship series? Recently, Sarah Paulson shared how she wants to be involved with American Horror Stories.
Ryan Murphy teases the 'American Horror Story' spinoff on Instagram
On May 11, Murphy unveiled the American Horror Story spinoff in a cryptic Instagram post. The fan-created photo featured favorite AHS cast members, including Paulson, Jessica Lange, Lily Rabe, Evan Peters, Denis O'Hare, Kathy Bates, Angela Bassett, Emma Roberts, Angelica Ross, Leslie Grossman, Finn Wittrock, Taissa Farmiga, Billie Lourd, Dylan McDermott, Adina Porter, and Cody Fern.
Murphy captioned the photo:
American Horror Story cast zoom call…where we reminisced about the good times…the spinoff we're doing called American Horror Stories (one hour contained episodes)…when we will start filming the next season of the mothership…and other stuff I cannot print. It was so much fun and I'm glad we caught up. I miss everyone!
Sarah Paulson shares how she wants to be involved with 'American Horror Stories'
At this point, not much has been said about Murphy's vision for the American Horror Story spinoff. But in an interview with The Hollywood Reporter from May 2020, Paulson explained she wants to be involved with American Horror Stories in some capacity, whether it's behind the scenes or on-screen.
"I hope to be directing the new [series]. I hope that will, in fact, come to fruition," Paulson said. "Not with anything official, but in fun, playful conversations with the man that has been floated about. So hopefully!"
Paulson previously made her directorial debut with the American Horror Story: Apocalypse episode titled "Return to Murder House." So she hopes to do more with the new AHS project. 
"I have to say, that one episode I directed was a really confronting experience for me because I realized how much of a hair on fire kind of person I am rather than a go with the flow kind of person," Paulson said. "So I would really like to have another opportunity to be in that world that obviously — having been in for so many years — I feel about as comfortable as one could feel trying my hand at that."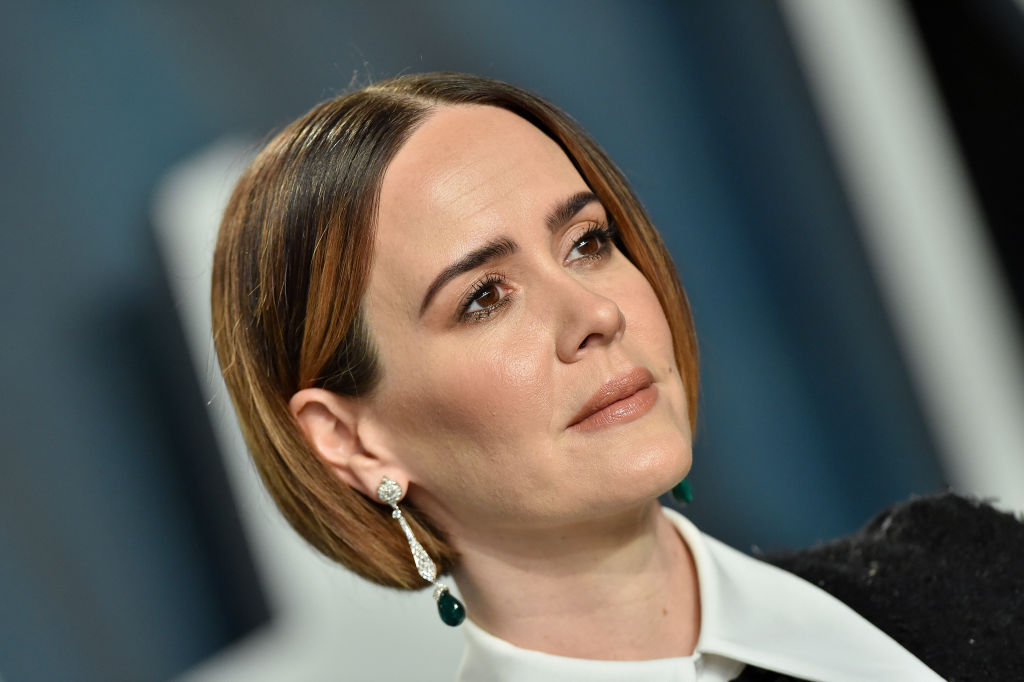 She continued: "I would like to do more of it, but I would also like to have more experience doing it. So for my second round up at bat, I would love it to be in that world."
Paulson also wouldn't mind playing a role on American Horror Stories. "Of course I want to be in it too," she said. "There's no American Horror Story spinoff, movie, play, projection from space that I would not want to be a part of if I could be."
But regardless of what happens, Paulson shared American Horror Stories is still being discussed. So nothing can be confirmed at this time. 
"You have to say it like that," she said. "You have to use the words I'm using: 'Floated about, nothing official, but conversations, fun conversations I've had with him that that might full well turn out to be nothing.'"
Sarah Paulson will be in 'American Horror Story' Season 10
For now, American Horror Story fans will just have to wait and see how the new spinoff pans out. But even so, Paulson will return to the franchise with AHS soon. 
When 1984 was released on FX, fans were disappointed because Paulson wasn't involved. Then in a recent interview with Vulture, the actor explained she took a break from the new season because she wanted to do Mrs. America, which was filmed at the same time.
"I went to Ryan Murphy and I said, 'Do you mind if I sit this season of American Horror Story out? I want to do this instead,'" Paulson said. "And he very graciously said yeah."
Now, Paulson has confirmed her American Horror Story Season 10 comeback. So get ready.
"I can confirm that I will be in next season," Paulson told The Wrap in January 2020. "I have no idea what it will be… But I'm not coming back as a guest part, I will be a central character."