'SNL': Did Alex Trebek Appear in a 'Jeopardy!' Sketch?
Celebrities often get parodied on Saturday Night Live. But they don't always get to meet their SNL counterparts. The show did Celebrity Jeopardy! for some time but did Alex Trebek ever appear in any of the sketches?
'Saturday Night Live' started 'Celebrity Jeopardy!' in 1997
The show often comments on pop culture so it was only a matter of time before it parodied Jeopardy! The first sketch happened in 1997 and The premise was simple: celebrities were playing the game badly for charity. 
SNL cast members in the first sketch were Will Ferrell as Alex Trebek, Norm Macdonald as Burt Reynolds, Darrell Hammond as Sean Connery. Martin Short, who was the host of the episode, played Jerry Lewis. 
Connery seemed pretty clueless by not forming his answer as a question. He also came up with a completely wrong answer. But Reynolds wasn't any better given he just repeats Connery's answer. 
The sketch was brought back multiple times. Sometimes with the same cast members. Jimmy Fallon also participated in playing Robin Williams, Hilary Swank, and more in later episodes.
Did Alex Trebek appear in any of the 'Jeopardy!' sketches on 'SNL'?
The real host eventually did make an appearance in the parody. This was in celebration of Ferrell's last episode of Saturday Night Live on May 18, 2002.
Fallon was Dave Matthews, who kept breaking out in song. Winona Ryder was Björk who kept going on long monologues about music. Hammond once again was Connery, who kept insulting Trebek by calling him names, insulting his clothes, and more. 
The categories are much more absurd by this time. They include "countries between Mexico and Canada," "Members of Simon and Garfunkel," and "I have a chardonnay." Trebek says anyone choosing the last category gets points and the host gets a glass of wine. 
Ferrell's Trebek is very disapproving of the performances from the celebrities. When it was time for final jeopardy, the real Trebek joined the sketch.
"And so this was the final Jeopardy! And what a ride it has been from Burt Reynolds to Minnie Driver," the host said. Of course, Connery had to make a dig at them.
"Well, well, well two Trebeks! I feel like I'm in a Raisin Bran commercial, two scoops of fruit," he said. "Back off, Connery! I don't have to take that from you," the real Trebek threw back. 
The real Alex Trebek's favorite impression wasn't Will Ferrell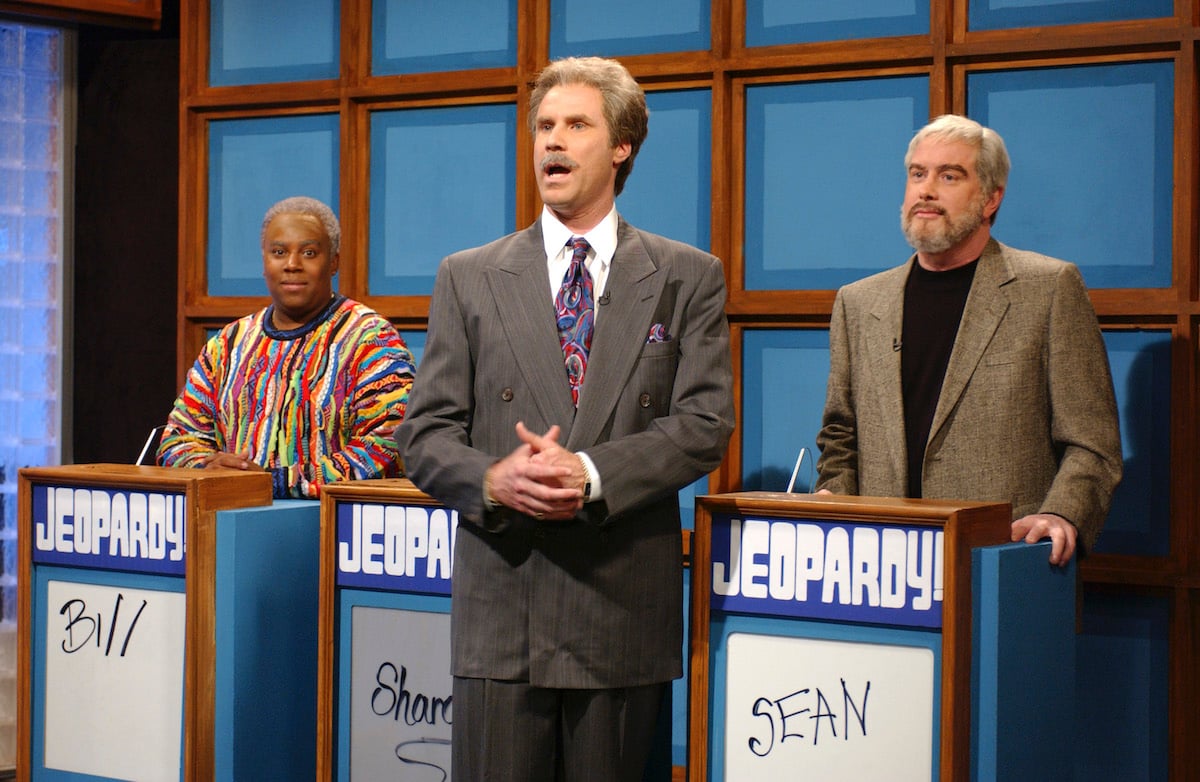 The game show host obviously respected Ferrell's work on Saturday Night Live. But many people parodied him and Ferrell wasn't his favorite.
"Eugene Levy to this day I maintain did the best Alex Trebek ever, better than Will Ferrell," he said, according to The Hollywood Reporter. "He looked more the part, too. He had the dark hair and he had the black mustache." Levy played him on Second City Television (SCTV). 
In the end, Ferrell still got a great sendoff with the real Trebek. Saturday Night Live has somewhat continued the tradition of parodying the show through Black Jeopardy! sketches.