'Saturday Night Live:' Fans Aren't Laughing Over Michael Che's Joke About Steve Irwin's Death
Every weekend, Saturday Night Live cast members Michael Che and Colin Jost head the legendary parody news segment "Weekend Update." Though the iconic NBC show is known for pushing boundaries on sensitive topics and controversial issues, viewers took offense to a joke Che made in last weekend's episode where famed Crocodile Hunter Steve Irwin was part of the punchline.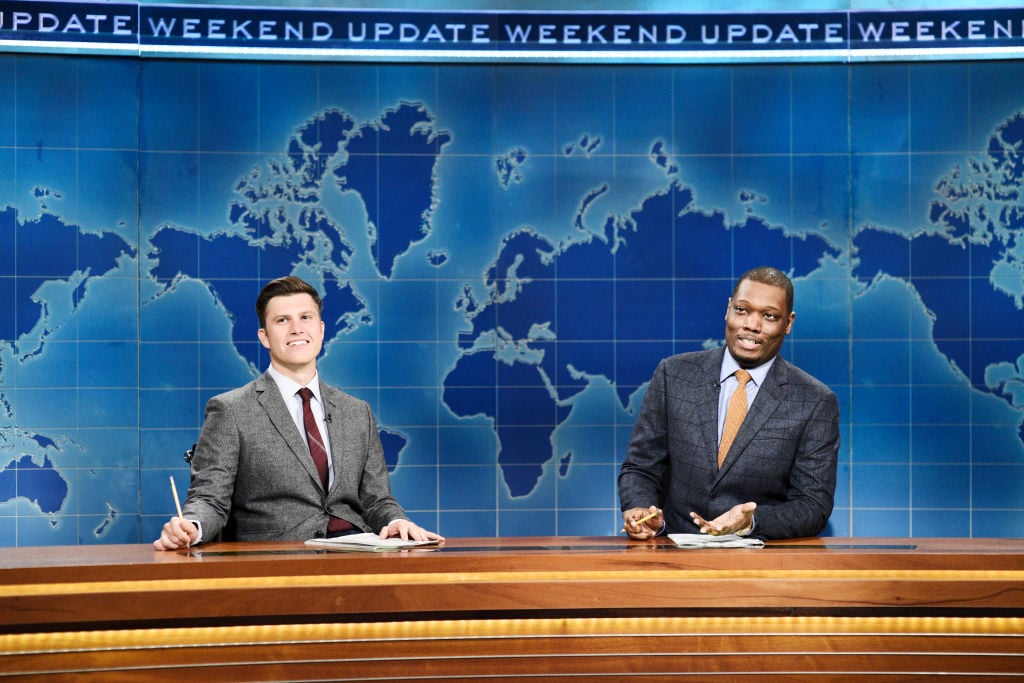 Irwin's legacy being kept alive
As a renowned wildlife expert, Irwin had attained a high level of fame through his television series and various outdoor adventures. Often facing danger in his expeditions that could include wrangling crocodiles or exploring the many creatures of the Australian outback, it came as a shock to fans when Irwin was tragically killed in a freak incident by a stingray in September 2006 while working on the underwater film Ocean's Deadliest. He was survived by his wife Terri and two children, Bindi and Robert.
Committed to the mission of wildlife preservation to carry on Irwin's legacy, his family continues his work in Australia and also has their own Animal Planet series, Crikey! It's the Irwins.
His daughter Bindi still feels her dad's absence on a regular basis. "Some days you feel the grief more than others. What gets to me are those moments when I'd love him to be here to share what we're doing," she told Stellar in July. "It could be when my brother is receiving an accolade for his photography, or it might be at the end of the day when we're having dinner and laughing. I'll think: 'I wish Dad was here for this.' But he's just not there."
Not funny
In last week's "Weekend Update" segment, Jost and Che began discussing the spread of the coronavirus. Che commented that he didn't think the pandemic was a laughing matter.
"I don't want to make jokes about this coronavirus and not because it's too sad," Che said, according to USA Today. "It's because I don't know that I don't have it yet, and if I do have it, the internet is going to play this clip of me making fun of it over and over again."
Che decided to illustrate his point by invoking Irwin's cause of death. "Imagine if there was a video of the Crocodile Hunter making fun of stingrays," he said.
The SNL audience reportedly groaned at the poor attempt at humor, and reviews on social media were not much better for Che.
Fans clap back at Che
Many viewers took to Twitter to express their distaste for the off-color joke by Che.
"NO, it's still too early for Steve Irwin jokes!" one user posted. "That's because you do not joke about Steve Irwin's death. Crikey," another wrote.
Others thought the joke was not just distasteful but simply not funny. "May have to throw hands with Michael Che for that Steve Irwin joke," a Twitter user posted. "That Steve Irwin 'joke' was just … so bad," another tweeted.
Ironically, Irwin would have turned 58 years old on Feb. 22, just one week before the SNL broadcast. His wife paid tribute to him on Twitter.
"Today would've been Steve's 58th birthday," Terri wrote. "While my heart aches missing him every day, I'm determined to celebrate what he loved the most. He was happiest spending time @AustraliaZoo w/ @BindiIrwin & @RobertIrwin. He was my best friend, best dad, & built the best Zoo. I love you."
No comments have yet been made from Che or the Irwin family regarding the Feb. 29 "Weekend Update" segment.