'Saturday Night Live': Jennifer Lopez Once Pulled Off a Speedy Wardrobe Change by Riding on the Back of a Crew Member
The live aspect of 'Saturday Night Live' means hosts like Jennifer Lopez often faces challenges behind the scenes, especially when it comes to costumes.
Saturday Night Live premiered on October 11, 1975. The first episode was hosted by none other than comedian George Carlin. Over 46 seasons later, the NBC series is still one of the most enjoyable and perhaps controversial shows on TV, partially because every show is live.
What most fans don't realize is that the live aspect of Saturday Night Live means the cast and crew often face behind-the-scenes challenges, especially when it comes to costumes. In fact, things got crazy enough that Jennifer Lopez once pulled off a speedy wardrobe change by hilariously riding on the back of a crew member.
The magic behind 'Saturday Night Live' costume changes
Most of the magic behind Saturday Night Live's costumes begins with the ideas and skills of Tom Broecker and Eric Justian, the show's chief costume designers. To prepare for Saturday night, reports Coveteur, the week-long endeavor starts with photoshoots for the cast on Monday and Tuesday.
From there, Wednesdays are a read-through of the various comedy skits that will be performed. During this time, the costume designers get a glimpse of what the writers hope the skit performers will look like when it's showtime. According to Justian, Thursday is when they begin shopping, pulling, and creating costumes.
"Then Friday we start doing fittings on the live show," he explains. "On Saturday we try our best for a 1:00 pm stop and then do dress rehearsal of the sketches. We aim to have everything done by then. That's the goal — I don't know if that has ever happened."
Justian also reveals the sheer volume of costumes they must pull together, saying that on average, it's between 75 and 90 costumes for one live show.
Where do these costumes come from? Once they have an idea of what they need, they shop everywhere from Goodwill to Bergdorf's. Some items are purchased, some are rented, and some are returned because they may not be used by the crew or the actors.
All the effort has paid off. In 46 seasons, Saturday Night Live has amassed 307 nominations, 86 Emmy Award wins, and countless other accolades.
'Saturday Night Live' poses challenges throughout the show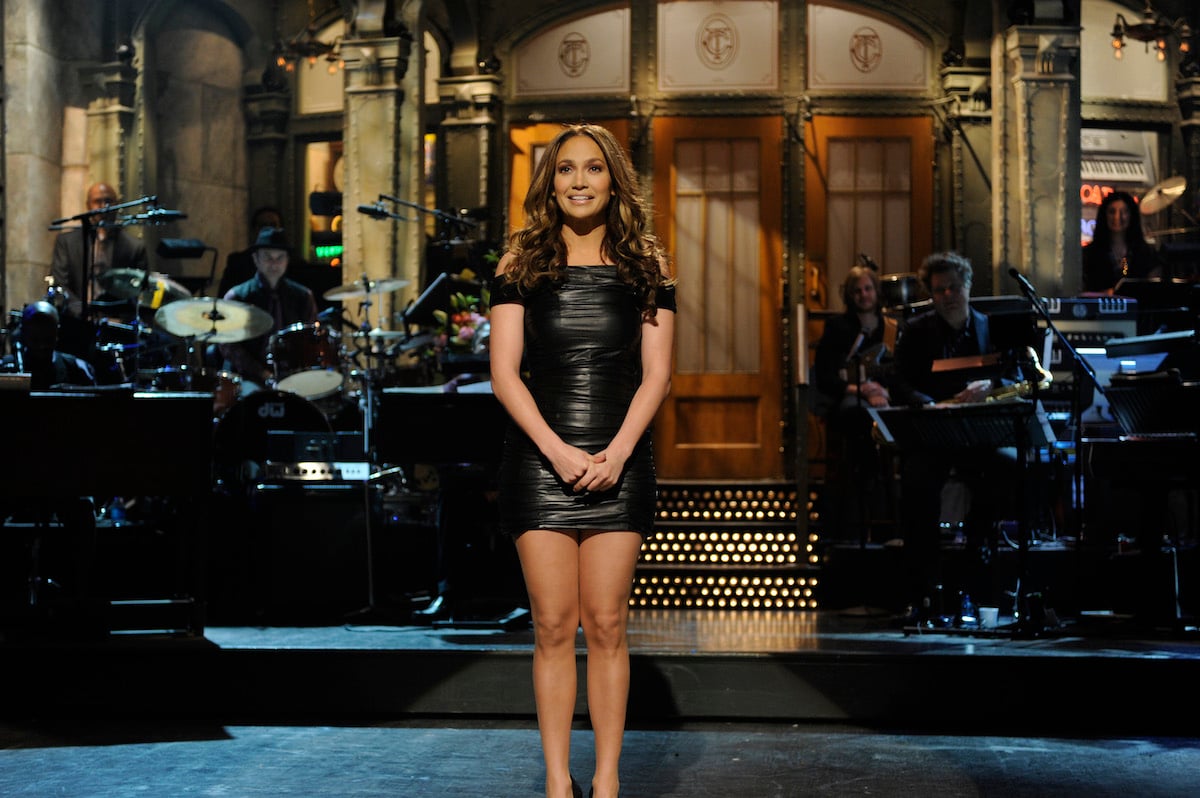 With a runtime of 90 minutes per episode and many skits to perform, there isn't often a lot of time for costume changes. Hosts may have mere seconds to go from the outfit they wear for their introduction to the costume they'll don for their first skit.
One example of this fast-paced costume change occurred when Lopez hosted the show and needed to quickly get into character for the next skit. The "Let's Get Loud" singer stood on the stage in really high heels, so she was unable to run. So, SNL's Donna Richards came to the rescue. The wardrobe supervisor gave Lopez a piggyback ride to change into her next costume.
Things may not always go according to plan. Sometimes a wig may not fit properly or rest on the actor's head the way it should. Actors may also hit the stage out of breath because they arrive seconds before going live again. Many Saturday Night Live fans have fun spotting these moments as it reminds them of the live nature of the sketch show.
Jennifer Lopez isn't the only host to deal with challenges
During the fast costume changes that must take place, actors are whisked away as soon as the lights dim. Many of them have a group of people tearing one costume off and putting a new costume on.
In a situation involving Justin Timberlake, he was supposed to be in a skit immediately following his opening monologue. He had to go from monologue to character in just 10 seconds without a commercial break or any real lapse in his performance.
To make it happen, he wore a leotard under his monologue suit. The wardrobe department made the suit a tearaway. He returned to the stage after putting on his "Cup of Soup" pod, gloves, and shoes without missing a beat. However, Richards nearly knocked over a cameraman because of how quickly things were going and admits that she hit him "so hard."