'Saturday Night Live': John Krasinski Kissed Pete Davidson Because of 'The Office'
John Krasinski, famous for his portrayal of Jim Halpert in The Office for nine seasons, recently took the reins of Saturday Night Live for the January 30, 2021 episode, which was his first appearance on the show.
In one very memorable moment during his monologue, he kisses Pete Davidson, and it's all because of The Office. We have all the details about the situation that you need to know.
John Krasinski talks to audience members about 'The Office' on 'Saturday Night Live'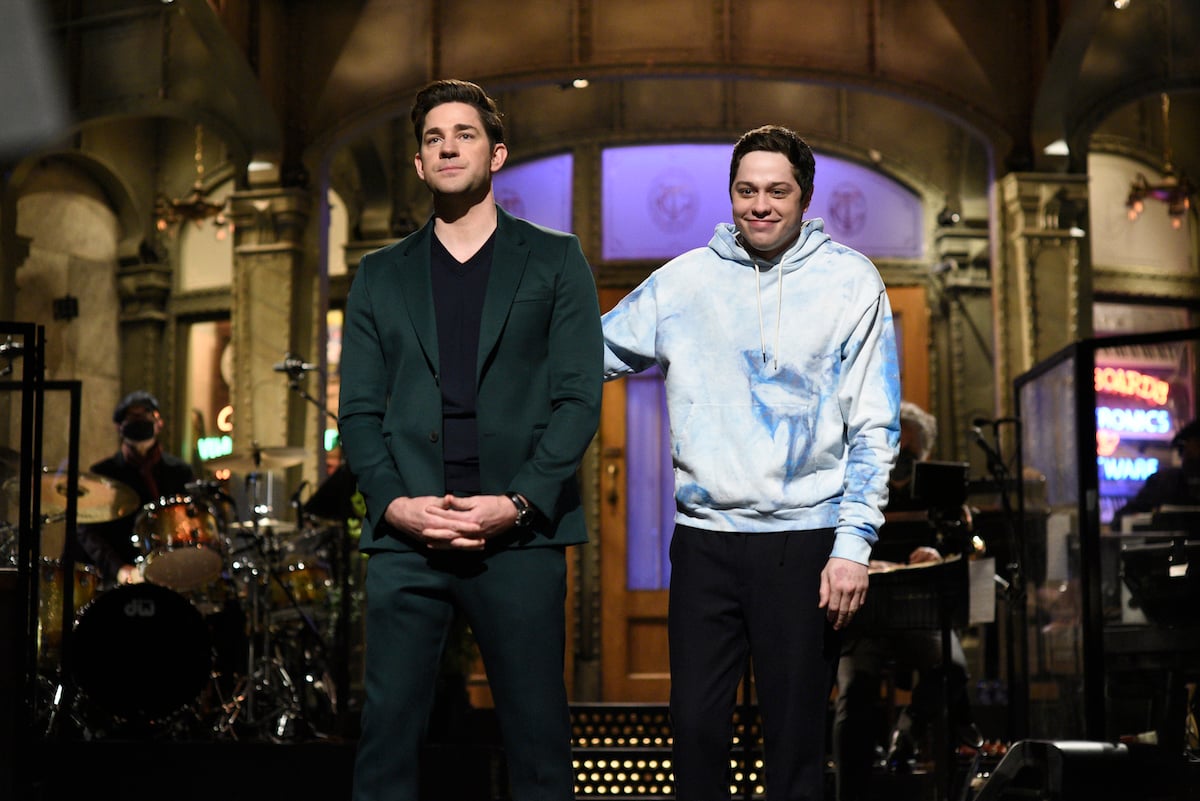 Krasinski spent nine years in The Office, a mockumentary about a group of employees working together at Dunder Mifflin Paper Company in Scranton, Pennsylvania. His character Jim started a romance with his co-worker, Pam Beesly (Jenna Fischer). They eventually married in season 6 and went on to have two children together.
In Krasinski's opening monologue for season 46, episode 10 of Saturday Night Live, "audience members," and by that we mean actors on the show, talk to him. Alex Moffat gets his attention, and he says he has a question.
"I guess we're doing questions now," Krasinski says. Moffat goes on to ask if he is "Jim from The Office," and "Hey, where's Pam?"
Another audience member and cast member on the show, Ego Nwodim, says he "looks different," calling him Jim as well and telling him to stop working out for his role as Jack Ryan in the series with the same name because Jim "sits all day" at work. 
Next, we have yet another audience member, this time Kenan Thompson, saying, "Kiss Pam."
"Alright, none of these things are really questions though, are they?" Krasinski says.
"I need you to kiss Pam," Thompson says. "That is what I need to see today."
"Alright. Guys here's the deal," Krasinski attempts to explain. "Pam's not real. She's played by Jenna Fischer. We are friends, and we are married to other people." He laughs, and Thompson asks if Krasinski's wife is there, which he explains she isn't, as she's in the United Kingdom.
"Well then kiss Pam," Thompson explains.
In an episode of 'SNL,' John Krasinski kisses Pete Davidson because of 'The Office'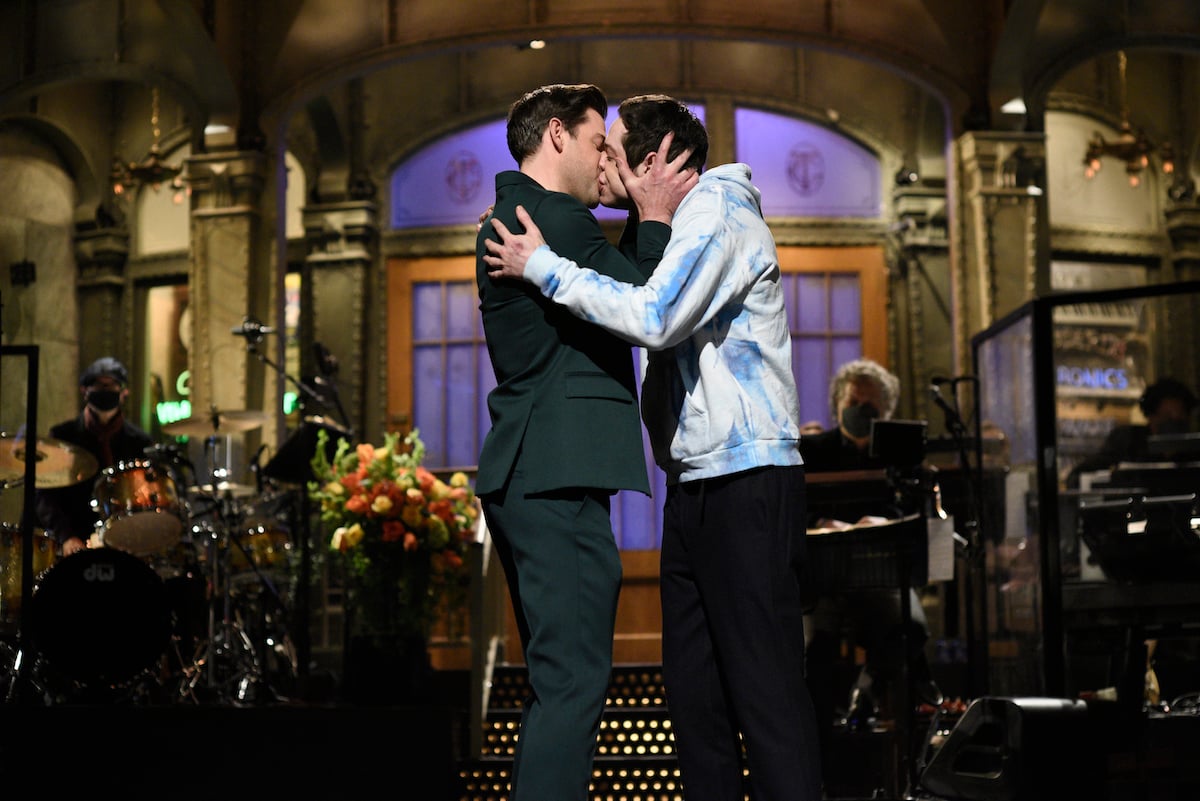 RELATED: 'The Office': Jenna Fischer Reveals the One Thing She Has in Common With Pam Beesly
Then Pete Davidson strolls onto the stage, saying, "Hey John, how you doing? What's up man?"
Krasinski explains that "it's going good" and "it's going great," thanking him for being there. Davidson goes on to explain what he thinks is going on. "I'm sorry man about this. I think what's happening is everyone's been stuck inside for a year watching The Office nonstop. So Jim and Pam are like really real for them. You know?"
Thompson asks if Davidson is Pam. "No, clearly this isn't Pam," Krasinski says. "This is Pete Davidson."
"I think uh, I think they really need for someone to be Pam," Davidson explains.
Krasinski questions that, saying he tried to explain to them the truth of the matter, but Davidson says, "I think uh, I think we've gotta give them what they want, Jim. Jim, you've gotta kiss Pam."
The "audience members" all chant "kiss Pam," and Krasinski looks at the camera with his sideway smirk he's known for on The Office, and kisses Davidson on the stage while holding his head at the same time.
The audience cheers and Krasinski says, "That did feel really good. Wow, thank you Pam."
It was an interesting moment during John Krasinski's memorable appearance on SNL. He ends up kissing Pete Davidson because of The Office when the show gets brought up.