'Saturday Night Live': Kenan Thompson Plays a Pastor Trying to Hold a Zoom Church Service During Quarantine, but There Is a Problem Many Can Relate To
Saturday Night Live always seems to know how to make us laugh, even during quarantine for the coronavirus (COVID-19). Last year during season 45, episode 18 of SNL At Home, a sketch called "Zoom Church" was played out remotely during an episode where the cast members acted from their homes. Despite the different situation, it doesn't prevent the SNL sketches from being any less funny. It actually provides some unique situations to take part in and act out, such as church via a Zoom meeting.
A pastor tries to conduct a church service during quarantine on 'Saturday Night Live'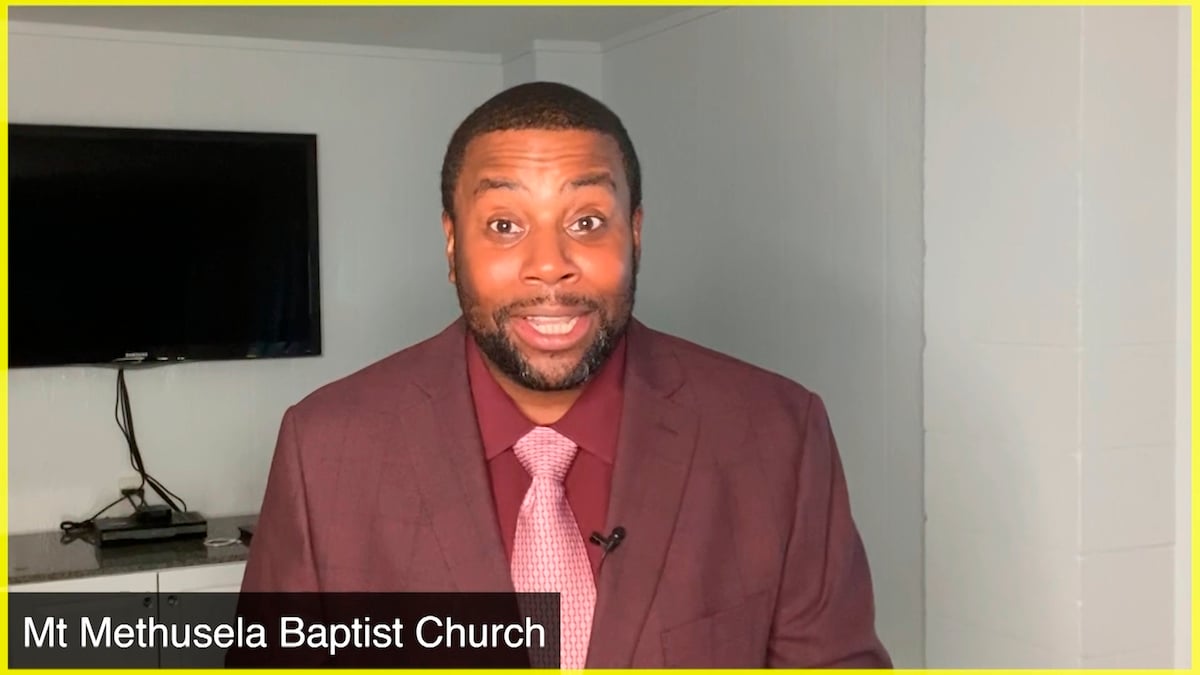 Kenan Thompson, who's been on SNL for many years, plays a pastor in "Zoom Church," a sketch about a church service that Kenan's character is trying to conduct for Mt. Methuselah Baptist Church, but it keeps getting interrupted by people who aren't on mute. It's a situation many can relate to nowadays with so many working from home. Zoom meetings have become a way of life, but the virtual meetings can sometimes come with problems, especially when people aren't on mute when someone is trying to speak. It's a situation many of us can relate to, and Kenan's character is having a tough time getting things back on track.
The participants role into the meeting, and Kenan thanks them for joining the Mother's Day service. "All right, praise the lord, and welcome back to the Mt Methuselah Tower of Prayer Baptist Church Mother's Day service. I see we got a large congregation logged into the Zoom machine, much more than last service. Amen."
As he says, "Amen," members of the congregation say "Amen" in unison, which prompts Kenan's character to say, "OK, I just want to send a friendly reminder to everybody to mute yourselves during this service, all right? Because the way that this Zoom machine works is that every mic is as loud as mine, so when y'all respond, I can't really hear myself preach."
Again, Kenan says, "Amen," to which members of the congregation say it right back to him.
Problems during Zoom church on 'SNL'
Kenan again tries to get the situation under control. "I can hear y'all agreeing, which means that you're not taking the note," he says. "Because it's still very very loud, all right? So how about nobody say 'Amen' after I say amen. Amen?" The congregates continue to say, "Amen" after Kenan, which is frustrating for the pastor.
Ego Nwodim plays Connie Johnson, and when the pastor starts to talk, she can be heard yelling at her kids, saying, "Sit y'all little a**** down and be quiet, we in church," and her kids can be heard yelling in the background.
The pastor of course tries to say something about the microphone, since if she had been on mute, the whole church service wouldn't have been able to hear that situation. He tries to tell her that they can hear her, but Connie just continues yelling at her kids.
"Y'all see that?" she says. "Pastor can hear ya'll. You're ruining church."
But that isn't the last of the problems during this church service. Yet another congregate isn't on mute, and the television can be heard in the background. "Oh, that's just my James," Cecily Strong says, as she plays Melissa Thayer. "He's watching dang Sportscenter. Is it too loud?"
The pastor admits it is, and Melissa tells James to turn it down. When she asks if it's "better," Kenan says, "Nothing has changed," as the TV can still be heard. "Look, just everybody mute yourselves," he says, before adding an "Amen," which gets the rest of the congregation repeating it back with their volume on yet again.
"Why ain't you doing it?" he asks, clearly frustrated. When the interruptions continue, the pastor says, "OK, the lord wants everybody to click on that little microphone with the red line through it, and where it says 'Mute,' hit 'Yes,' Amen." Yet again responses come through from the members of the church. However, they eventually find the mute button, and the pastor is ecstatic. Although it's clear the church members are talking, they're on mute, which is a nice change of pace for the pastor. But then he gets upset when he can't hear anyone because they're all on mute, saying, "I can't hear a damn thing. Man this sucks."
Virtual calls can have their fair share of problems just like in the church service sketch, especially when everyone isn't on mute.