'Saturday Night Live': Who Played Kim Kardashian West on the Show?
The live sketch show comments on pop culture weekly, and Kim Kardashian West is a big part of that. There was a time when a specific Saturday Night Live cast member repeatedly played her. This is who played the reality star, and what she's doing after leaving SNL.
Who played Kim Kardashian West on 'Saturday Night live'?
Nasim Pedrad was a cast member of Saturday Night Live from 2009 to 2014. One of the characters that she would routinely play was Kim Kardashian West. 
At that time, she married then divorced Kris Humphries in a short period of time. Saturday Night Live covered that with a skit of there being a divorce special for Keeping Up with the Kardashians. 
Abby Elliott played Khloé and Vanessa Bayer played Kourtney. Kristen Wiig also played Kris Jenner, who was desperate for attention and to be the fourth daughter. 
Nasim Pedrad met Kim Kardashian West
It would be intimidating to meet the person you've been playing for some time. Pedrad has talked about meeting the reality star on Conan.
"I was very, very scared and she was really sweet," Pedrad said. "First of all, she was in pristine like airbrushed makeup like perfect hair. And I that day, looked like a person who woke up in a dumpster." 
Pedrad said the reality star asked her in a high-pitched voice, "Do we really sound like that?" The SNL alum claimed she answered, "no" and then West said, "Oh good."
Her impression made her stand out on the show. But Pedrad wanted to branch out to doing an Aziz Ansari impression and that didn't really happen. 
"The producers were always like 'Hey, what about this week you play like a pretty gal?' And I was always like, 'Or what if I play another small man?'" she said. A picture of her in makeup looking like Ansari was shown. Pedrad tried to play him in a skit, but it was cut after the dress rehearsal. 
What is Nasim Pedrad doing after leaving 'Saturday Night Live'?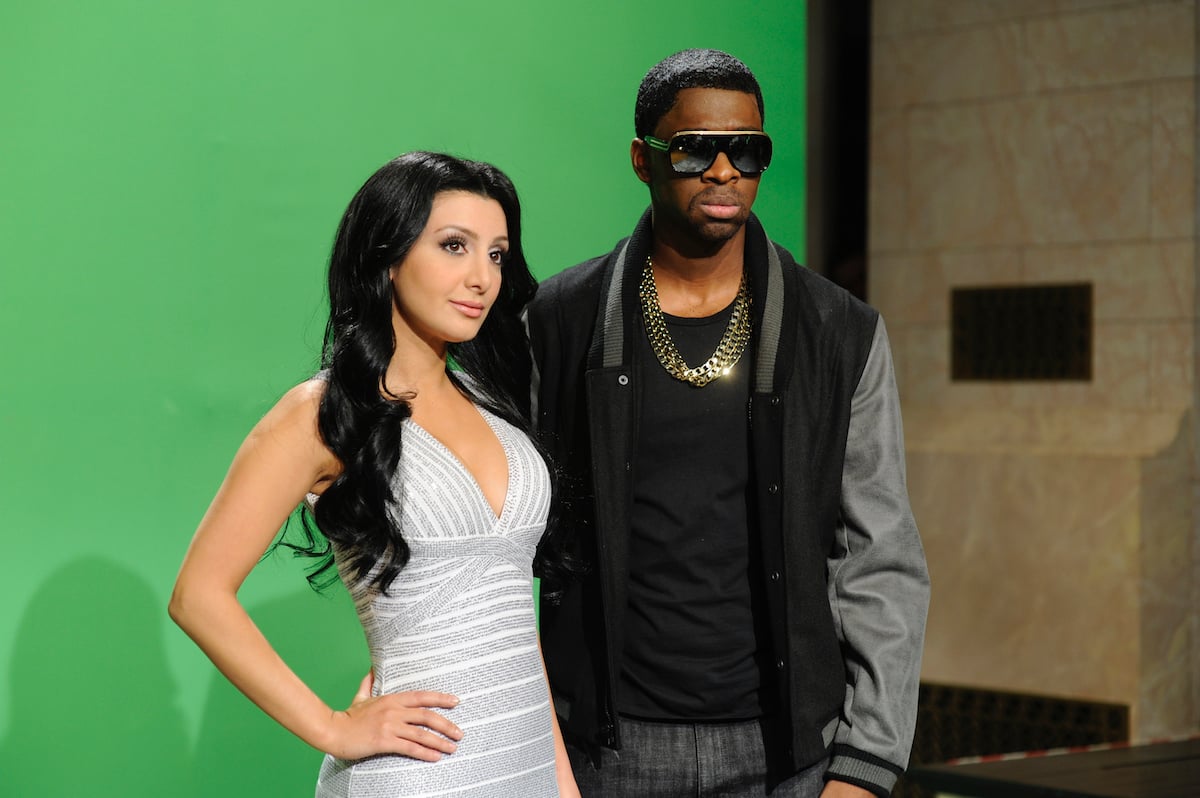 The show no longer has Pedrad to rely on for impressions of the TV star. She has continued acting like many other alums from the sketch show.
She played Suzy in Corporate Animals, which was released a year after she quit. Pedrad then played Princess Jasmine's (Naomi Scott) handmaiden, Dalia, in Aladdin. She then voiced the character, Leader Elk, in Human Discoveries. 
Pedrad later starred in the Netflix movie, Desperados. She plays Wesley, a woman who goes to Mexico to delete a ranting email she accidentally sent to her boyfriend. Pedrad reunited with Lamorne Morris from New Girl for the comedy.
She is playing a 14-year-old Persian boy, who struggles to fit in a new show called Chad. It'll be on TBS and released later this year.