'Saturday Night Live': SNL's Best Thanksgiving Sketches Over the Years
Thanksgiving might not be the same this year, but thanks to Saturday Night Live's treasure trove of holiday sketches, there are plenty of classic Turkey Day moments you can still enjoy. So here's a look back at some of the best SNL's best Thanksgiving sketches.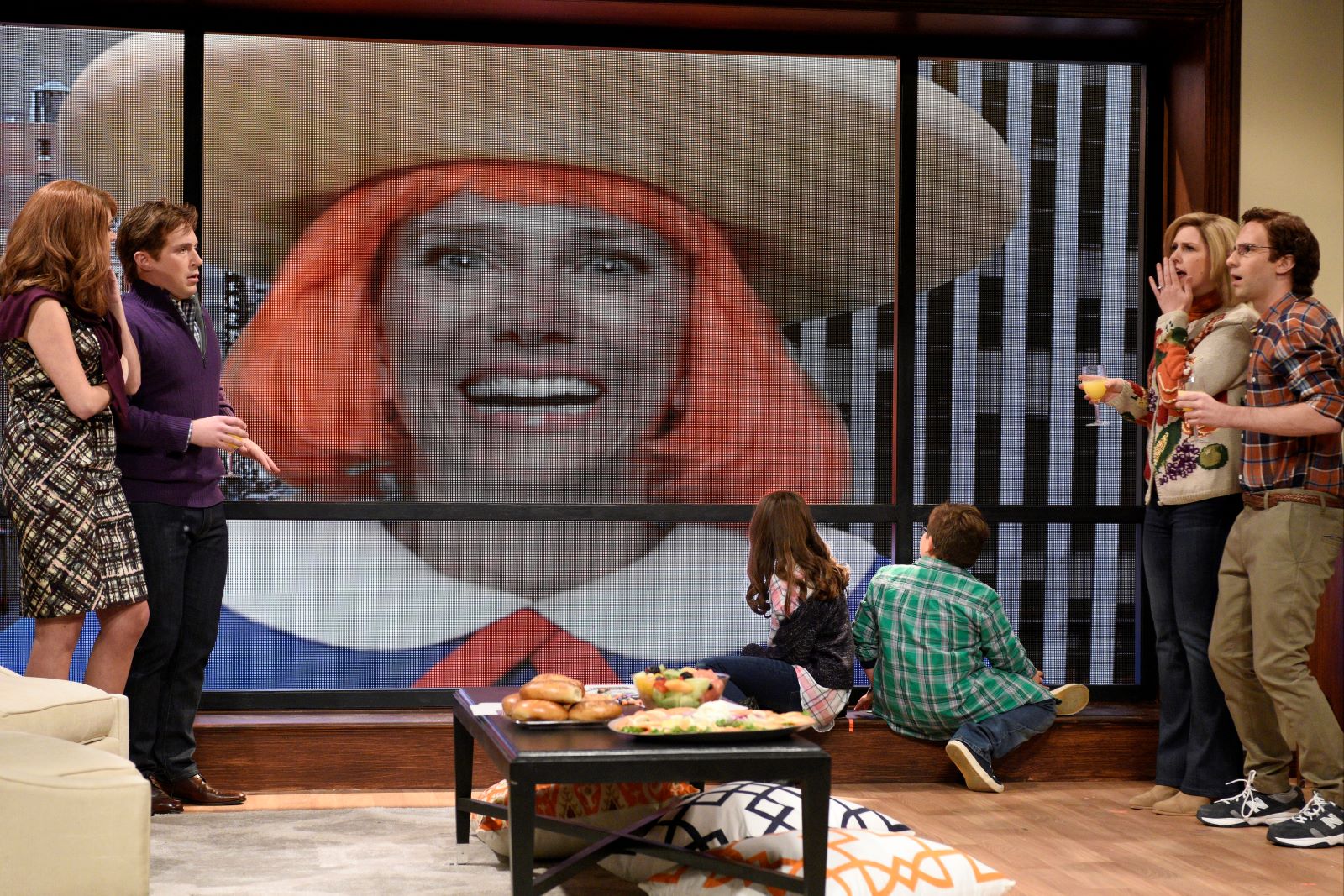 1. A Thanksgiving Miracle
Thanksgiving dinners with the family can be polarizing, especially when there's talk of politics and culture. But in the Season 41 sketch, starring Matthew McConaughey, a family feuding over dinner miraculously comes together to enjoy Adele's "Hello." The SNL sketch also stars Jay Pharoah, Aidy Bryant, Beck Bennet, Cecily Strong, Kate McKinnon, and Vanessa Bayer.
2. Back Home Ballers
In Season 40, host Cameron Diaz joined SNL stars Aidy Bryant, Leslie Jones, Cecily Strong, Kate McKinnon, Sasheer Zamata, and Vanessa Bayer in rapping about the benefits of going home to their parent's house for the holidays. They boast about getting free wi-fi, meals, and endless bowls filled with their favorite snacks.
3. Thanksgiving Greetings From Tarzan, Tonto, and Frankenstein
In this classic Season 15 sketch, Kevin Nealon, Jon Lovitz, and Phil Hartman share their Thanksgiving greetings as Tarzan, Tonto, and Frankenstein. The three announce what they're thankful for, including the reduction of international tension, coconut cake, and fire.
4. Thanksgiving Parade
In this Season 42 sketch, a family with young children joins their friends to watch the Macy's Thanksgiving Day Parade from a nearby high-rise building. But when the menacing parade balloons — played by Bobby Moynihan, Kristen Wiig, and Mikey Day — fly too close the window, the family freaks out.
5. Friends-giving
Steve Carell and Cecily Strong are two strangers who mysteriously happen to know the same obscure Thanksgiving song. After they perform the song at their neighbors' Friendsgiving dinner, something strange seems to happen. The SNL season 44 sketch features Kenan Thompson, Leslie Jones, Beck Bennet, and Kate McKinnon.
6. Debbie Downer: Thanksgiving Dinner
Debbie Downer was one of Rachel Dratch's most memorable SNL characters. The pessimist would always find a way to bring down the mood, no matter where she was.
In the season 30 sketch, Thanksgiving Dinner, Debbie sits down for a turkey dinner with her friends — played by Fred Armisen, Amy Poehler, Horatio Sanz, and guest star, Owen Wilson. While they try to talk about the niceties in life, Debbie manages to squeeze in facts about the bird flu, smallpox, feline AIDS, and food poisoning.
7. Bill Swerski's Super Fans: Thanksgiving
Mike Myers, George Wendt, Chris Farley, and Robert Smigel celebrate their heart attacks and Da Chicago Bears season over a kielbasa and rib-filled Thanksgiving dinner at Ditka's restaurant. In the season 17 skit, the Super Fans are joined by Macaulay Culkin and his younger brother, Kieran Culkin, who present their football-themed version of the first Thanksgiving.
8. Weekend Update: Garth and Kat Sing Thanksgiving Songs
Will Armisen and Kristen Wiig visit Seth Meyers' SNL Weekend Update desk as the improvising singers, Garth and Kat. In the season 37 bit, the unprepared duo sings impromptu Thanksgiving songs. They are joined by their new backup singer, Jan Pokabook, played by Coldplay frontman Chris Martin.
9. Thanksgiving Dinner
In this classic season 5 sketch, SNL comedy legends Bill Murray, Laraine Newman, Jane Curtin, and Paul Schaffer are angry at their aunt, played by Bea Arthur, for making them sit at the kid's table during Thanksgiving dinner. But, as it turns out, she has a pretty good reason.
10. First Thanksgiving
Melissa Villaseñor and Beck Bennett play Pocahontas and her boyfriend, John Smith, in this season 45 sketch starring Will Ferrell. At this historic Thanksgiving dinner, Pocahontas's parents — portrayed by Maya Rudolph and Will Armisen — question her relationship and criticize John.
11. Space Thanksgiving
Steve Carell and Leslie Jones are space travelers who have their first Thanksgiving on a distant planet with their new alien friends. But as they eat their "kern on the curb," it seems that there are more conscious creatures, on this planet than they were aware of. This season 44 sketch also features Kenan Thompson and Melissa Villaseñor.