'Savages': Blake Lively Spitting in Benicio Del Toro's Face Wasn't Scripted
Blake Lively, who is set to star in the film adaption of Liane Moriarty's novel, The Husband's Secret, is known for playing Gossip Girl's Serena van der Woodsen. However, the 33-year-old's had plenty of other acting roles.
In 2012, she starred in Oliver Stone's Savages. Currently streaming on Netflix, the action-thriller involves Lively spitting in Oscar winner Benicio Del Toro's face during a particular scene. As Lively once revealed, the moment wasn't originally part of the script. 
Blake Lively's character gets kidnapped by a drug cartel in 'Savages'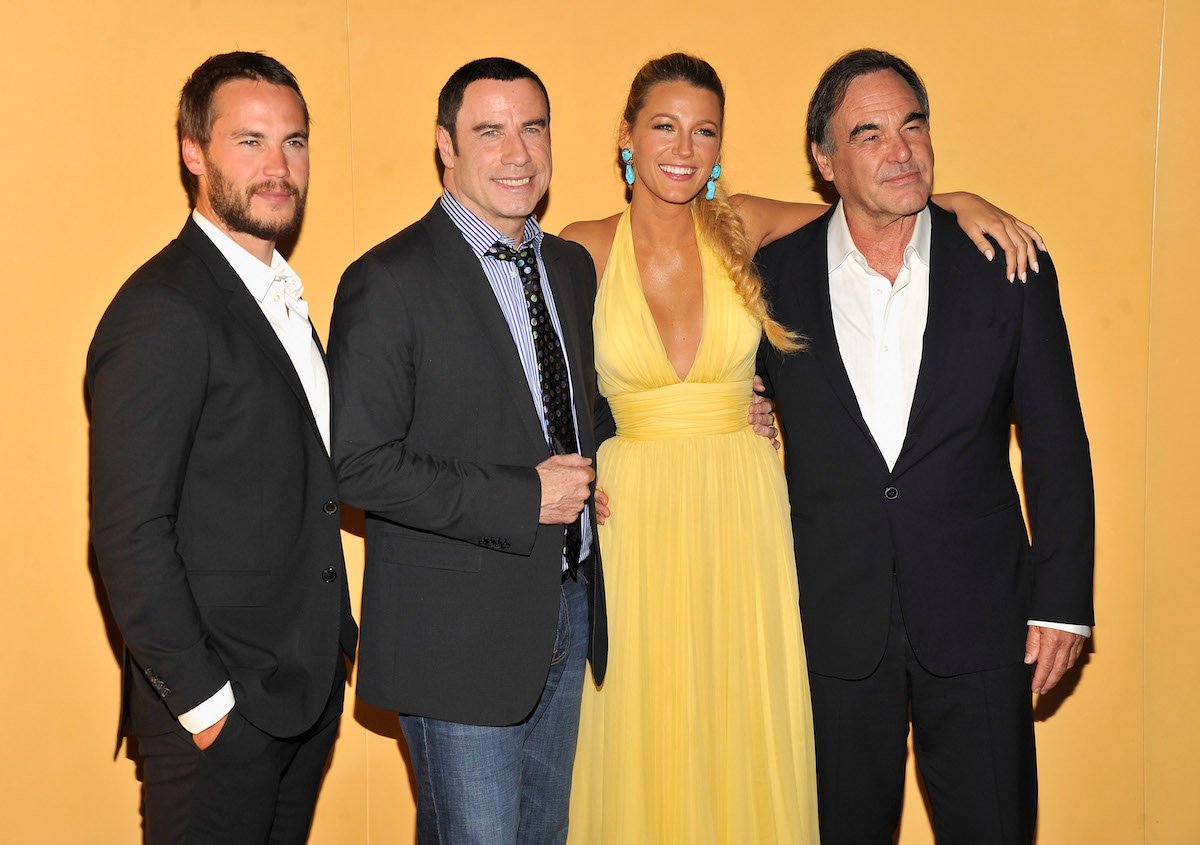 A movie based on a book by crime writer Don Winslow, Savages follows Ben (Aaron Johnson), Chon (Taylor Kitsch), and their girlfriend O or Ophelia (Lively), as they become entangled with the Mexican Baja Cartel.
The trio runs a lucrative marijuana business in Southern California and their success attracts the attention of the cartel's leader, Elena "La Reina" (Salma Hayek). Meanwhile, they're all on a federal agent's (John Travolta) radar.
After turning down Elena's invitation to form a partnership, Ben and Chon discover O's been kidnapped by the cartel. They have to get her back but the only way Elena will free O is if Ben and Chon agree to an alliance.
Gone are the trios carefree days on the beach. Instead, O is spending her time with Elena, her enforcer Lado (Del Toro), and her attorney Alex (Demián Bichir). 
Benicio Del Toro told Blake Lively to spit in his face during filming
In a 2012 Collider interview alongside Hayek, Lively revealed spitting in Del Toro's face wasn't part of the script.
"A lot of this movie just kind of happened, with so many of the key moments," she said. "When I spit in Benicio's face, that was something where Benicio and I were talking about this character, after a take or two, and he said, 'If you feel so angry at me, spit in my face!'"
Lively continued, saying she was apprehensive about it at first. 
"I was like, 'I can't do that!,' and he was like, "No, hock a loogie in my face,'" Lively recalled. "I was, 'This is the greatest day ever! I get to do that to someone?' I was like, "Okay, he's asking for it. I'll spit in his face.'"
"So many of the big moments in the film were something that weren't on the page," she added. "They just happened there. We were lucky to be in that sort of environment, where we could create and where it wasn't just all hammered out."
Blake Lively filmed 'Savages' and 'Gossip Girl' at the same time
Lively filmed Savages and Gossip Girl simultaneously. She shot the sixth and final season of the CW series, which is currently getting a reboot on HBO Max, in New York City. When she wasn't playing Serena, socialite and best friend to Blair Waldorf (Leighton Meester), she'd be playing O in California. 
Lively confessed in the same Collider interview the filming schedule was more like a "landslide" as opposed to "balance." 
"Normally, we have about a two-month break from Gossip Girl, every year, and that's when I do a movie," she said. "But, this one started exactly when the Gossip Girl season started, so for four months, I was flying back and forth between New York and L.A.  I shot seven-day weeks and I was going from red-eyes to set." 
Savages is streaming on Netflix.