Saweetie Opens up About Her Relationship With Quavo, and Why She Thinks People Love Them Together
Offset and Saweetie have become one of Hop Hop's most darling couples. Now, the rappers are letting fans into their relationship little by little.
Saweetie and Migo's rapper Quavo have quickly become one of hip hop's darling couples. When the couple first got together, fans were somewhat skeptical of how long they would last. Now, over two years later, the two are going stronger than ever and letting fans into their relationship little by little.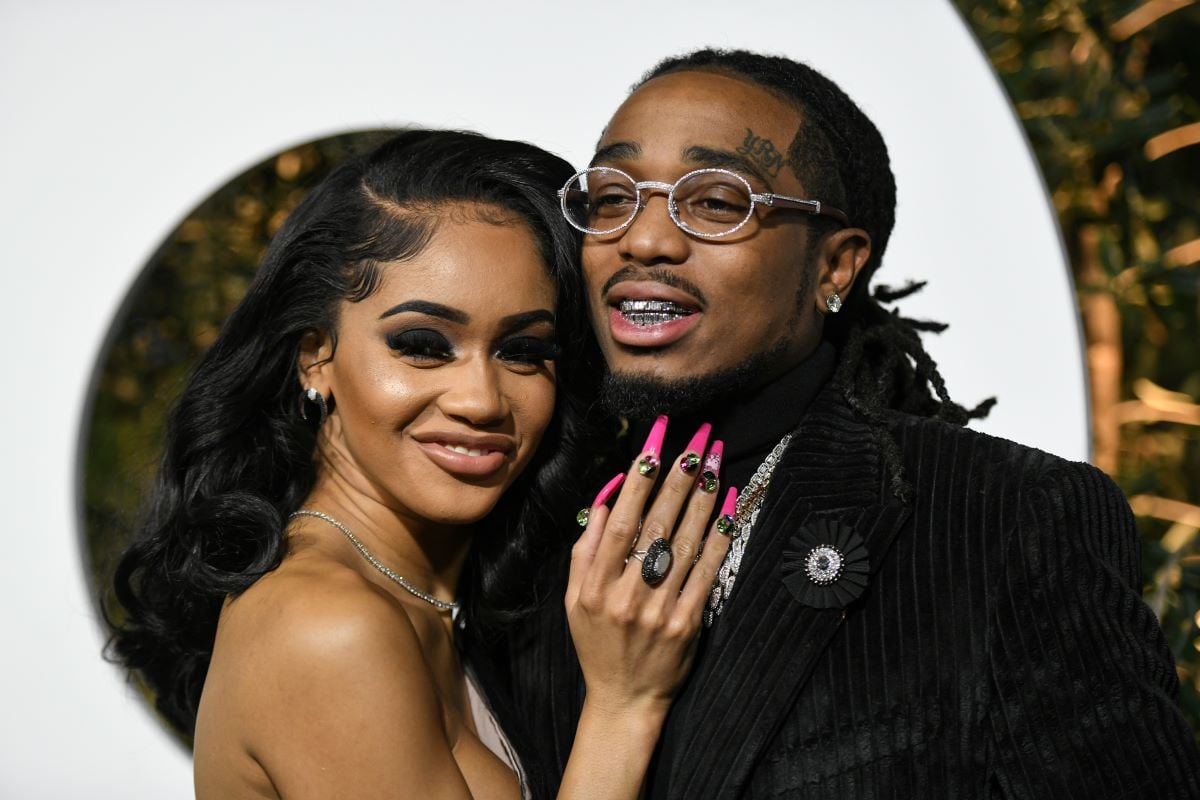 How did Saweetie and Quavo meet?
The story of how Quavo and Saweetie met has been making the rounds on social media lately after they shared screenshots of their first Instagram conversation from back in 2018.
"I seen her on my Explore page. I was like, 'D*mn! Who is this?'" Quavo told GQ magazine. "So I did my research and I DM her. I was like, 'How she going to call herself icy and she don't talk to me?' So I slid in her DM. I told her, 'You an icy girl, you need a glacier boy.'"
The two talked for months before finally meeting up at Stoney River.
"I'm still getting to know him, so I feel awkward because he's, like, choking at the table," Saweetie told the outlet of the date.
Since being together, both Saweetie and Quavo have grown as individuals and partners.
"Growing up I struggled with communication, and he has taught me to be a better communicator," she said. "I feel like I'm growing and I'm maturing because of him — not the music, not Saweetie, but Diamonté. I don't know how I would be as a person if I would have never met him."
Why does Saweetie think people are so obsessed with her relationship?
There were a lot of naysayers when the young rappers got together. The fact that the pair is still going strong is what Saweetie thinks is so interesting to people.
"I think what they admire the most is that they were wrong," Saweetie recently told Entertainment Tonight. "In the beginning, there was a lot of false narratives that kind of surrounded our love."
A lot of people assumed that the couple was just together as a PR stunt and now fans can see that was not the case.
"I think, because we're not so transparent and we don't share everything, it's easy for people to put a narrative or a story behind something," she said. "And then other people run with it because they don't understand. And when they don't understand, you try to make yourself understand, and that's when all these rumors started circulating."
After people realized that the relationship wasn't just to sell more records, fans started to get behind them.
"I think they love it because I think they had an 'a-ha' moment where there's like, 'D*mn… this is really genuine,'" she said.
"With anything, when you falsely judge something and then you figure out it's better than what you expected, I feel like it creates some sort of like connection to it. We share what we share but it's very low-key."
What is Saweetie working on now?
Outside of her relationship, the "Icy Girl" rapper is gaining recognition for her music as well. Her debut album Pretty B*ch Music is set to be released soon and she is currently promoting her new song "Back to the Streets," which features Jhené Aiko.