Saweetie and Quavo Finally Break Silence and Explain What Happened in 'Unfortunate' Elevator Fight
It's been a whirlwind two weeks for fans of Saweetie (Diamonté Harper), and Migo's rapper Quavo (Quavious Keyate Marshall). First, rumors were swirling that the two broke up after people noticed they no longer followed one another on social media, then Saweetie confirmed the breakup and alluded to Quavo having been unfaithful. But the real shocker came when video footage leaked of Quavo and Saweetie in a physical altercation on an elevator. Now, both stars have responded to the footage.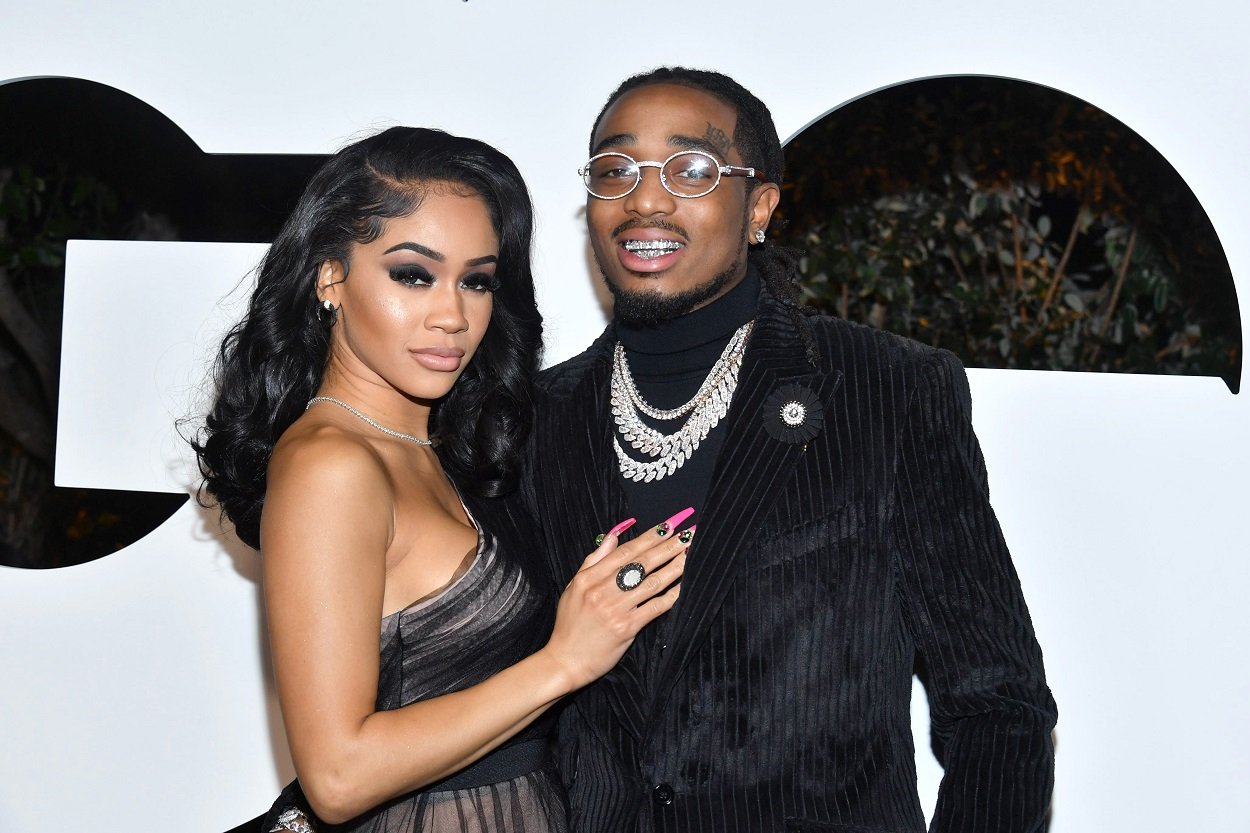 How did the relationship start?
Saweetie and Quavo met in 2018 after the Migos rapper slid into Saweetie's DMs.
"I seen her on my Explore page. I was like, 'D*mn! Who is this?'" Quavo told GQ magazine. "So I did my research and I DM her. I was like, 'How she going to call herself icy and she don't talk to me?' So I slid in her DM. I told her, 'You an icy girl, you need a glacier boy.'"
The two began dating and quickly became one of hip hop's favorite new couples.
"I think what they admire the most is that they were wrong," Saweetie told Entertainment Tonight last year of why people like her and Quavo together. "In the beginning, there was a lot of false narratives that kind of surrounded our love."
"I think they love it because I think they had an 'a-ha' moment where there's like, 'D*mn… this is really genuine,'" she continued.
Saweetie and Quavo's breakup
Recently, fans noticed that Saweetie and Quavo had stopped following one another on social media. Eventually, Saweetie came out and revealed that she was single.
"I'm single. I've endured too much betrayal and hurt behind the scenes for a false narrative to be circulating that degrades my character," she tweeted. "Presents don't band aid scars and the love isn't real when the intimacy is given to other women."
"I emotionally checked out a long time ago and have walked away with a deep sense of peace and freedom. Excited for this new chapter of elevation 🙏🏽," she continued.
Quavo also took to Twitter to express his feelings.
"I know you want to make this into a show so I'll play my part just this one time," he wrote. "I don't normally put my business out there, especially my personal life. I feel the need to address this so there are no false narratives."
What do Saweetie and Quavo have to say about the elevator video?
Earlier this week, TMZ released a video of Quavo and Saweetie in an altercation in Saweetie's apartment elevator. In the minute-and-a-half clip, Quavo pushes Saweetie and her suitcase into the elevator and Saweetie falls to the ground. She stays there until the two exit the elevator.
Quavo has now spoken out and said that he never abused his ex-girlfriend.
"We had an unfortunate situation almost a year ago that we both learned and moved on from," he said in a statement to People. "I haven't physically abused Saweetie and have real gratitude for what we did share overall."
Saweetie also gave a statement to the outlet.
"This unfortunate incident happened a year ago, while we have reconciled since then and moved past this particular disagreement, there were simply too many other hurdles to overcome in our relationship and we have both since moved on," she said. "I kindly ask that everyone respect my privacy during this time."