Saweetie Talks Possible Megan Thee Stallion Collaboration Amid Feud Rumors
Saweetie and Megan Thee Stallion are two rappers who are known for their positivity and girl power showmanship. Yet, some fans are convinced there's an underlying beef between them.
Neither Saweetie nor Megan Thee Stallion has said much about their relationship since the rumors began. But Saweetie signaled in a new interview that she doesn't have any issue with Megan Thee Stallion, even saying she would be open to working with her in the future.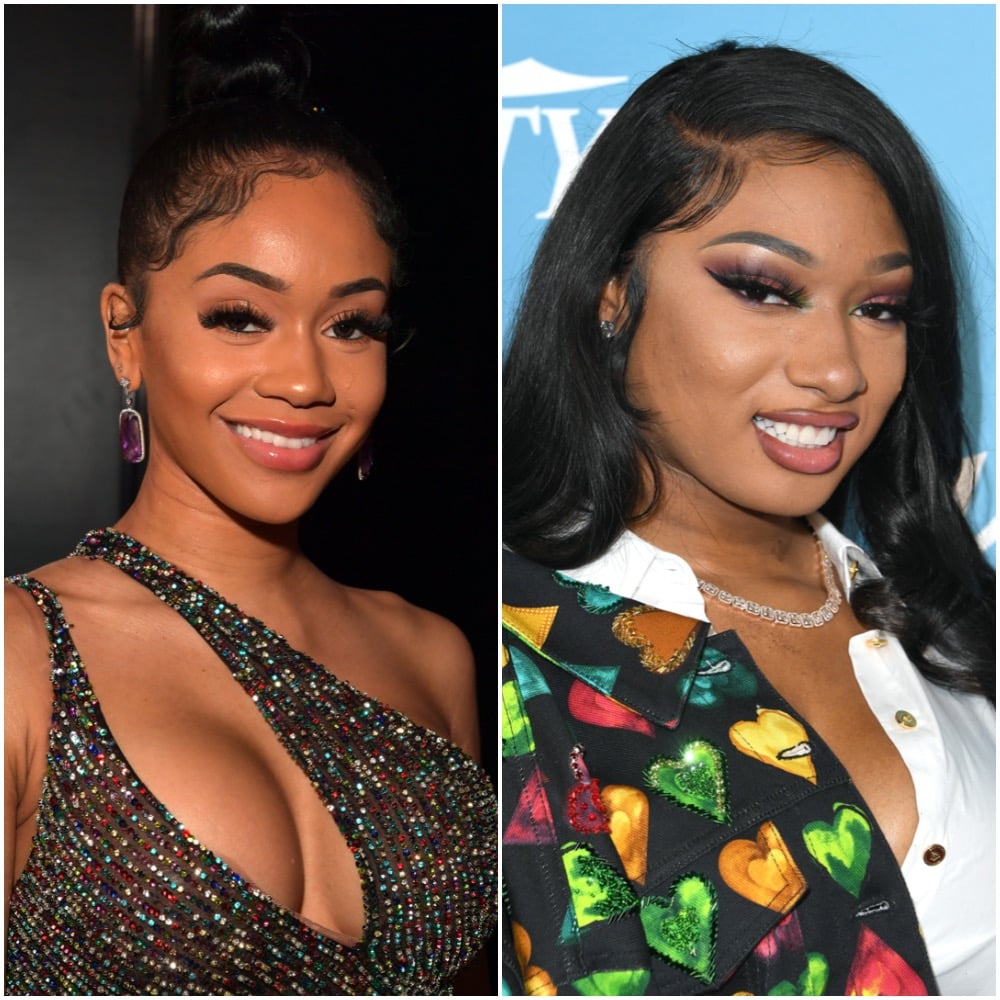 How the Saweetie and Megan Thee Stallion feud rumors started
According to the entertainment blog Empressive, fans started pitting Saweetie and Megan Thee Stallion against one another due to their respective nicknames, Icy Girl and Hot Girl.
The attacks continued in August 2019 when Saweetie tweeted she would find a way to keep fans entertained after Megan Thee Stallion's "hot girl summer," with many trolling her in the comment section.
Neither of them addressed the rumors at the time, but Megan Thee Stallion was forced to speak out in November 2019 when a video emerged that appeared to show her snubbing Saweetie's "My Type" while at a club with Trey Songz.
Refuting rumors of a beef, she explained she had simply wanted the DJ to play more of Trey Songz's music since it was his birthday. But rumors have continued, as recently as October, when fans speculated Megan Thee Stallion had shaded Saweetie in a YouTube video.
RELATED: Megan Thee Stallion Accused of Shading Saweetie Over Her YouTube Series
But Saweetie's latest comments on Megan Thee Stallion suggest that everything is good between them
Saweetie was speaking with Forbes the Culture on Instagram Live on Nov. 9 when she was asked if she would be open to working with Megan Thee Stallion and other female rappers.
"I could definitely see that," she told moderator Bobby Pen. "You know, I love a girl who can just own her brand, own her presence, and I think the more dope girl collaborations we can have and the more we can scoot the males to the side, I would like to see that. No shade, but I think it's just a beautiful visual when you see two dope girls come together."
"I mean, we beat our faces. We can switch our wigs out, we can put on different outfits. So I would always prefer collaborating with a girl because we're able to bring that [it-factor] to the screen," she continued.
The interview comes as Saweetie continues to work on her debut album
For months, Saweetie has been hard at work on her debut studio album, Pretty B*tch Music. She has so far released several cuts such as "Tap In" and "Back to the Streets" featuring Jhené Aiko, but a release date is still unknown.
It's also unclear if a song with Megan Thee Stallion will make it on to the album. But either way, it's great to see that Saweetie has ignored the noise and hasn't let fans instigate any more drama.
RELATED: Cardi B Reveals What Her First Interaction With Megan Thee Stallion Was Like Following Feud Rumors