Scarlett Johansson Gives Birth to Baby Boy With Colin Jost
Black Widow star Scarlett Johansson is a mom for the second time, husband Colin Jost confirmed via social media. The two never made a formal announcement that Johansson was expecting, but Jost did mention her pregnancy recently, confirming what the public already knew. Here's what we know about the couple's first child together. 
Colin Jost confirmed Scarlett Johansson's pregnancy Sunday 
According to a report by People magazine, Colin Jost confirmed the couple's pregnancy while performing stand-up at The Ridgefield Playhouse in Connecticut. 
Page Six reported in early July that his wife Scarlett Johansson was pregnant, which explained her low public profile and her absence during promotional events for the release of Black Widow. Johansson and Jost refrained from confirming or denying the reports until Jost's comments days ago. 
Late Wednesday, Jost officially announced the birth of the couple's first child together via Instagram. 
"OK OK, we had a baby. His name is Cosmo. We love him very much," wrote Jost. The announcement was followed by a request for privacy. 
Scarlett Johansson already has one child 
The baby will join Johansson's daughter, Rose Dorothy Dauriac, whom she had with ex-husband Romain Dauriac in 2014. Johansson and journalist Dauriac divorced in 2017. She has spoken out about the perils of co-parenting before, telling Vanity Fair in a November interview that it's difficult. 
"You know, understanding what it is to co-parent — that's a very specific thing," she told the magazine. "It's hard to raise a child with someone you're no longer with. It's hard." Johansson went on to stress that it's important not to put oneself in the middle. 
"It's not probably how it's 'supposed to be' — in quotes — or whatever … But, you know, I think my ex and I do it as well as we can," she said. "You have to prioritize your child and not put yourself in the middle. It has its challenges." 
She also told Kelly Clarkson in a July interview that parenting Rose in general had its rewards and quirks. 
"There's definitely times where she's on the other side of the bathroom door and I'm like, 'Rose, you gotta give me a minute!' Everybody needs their time," she told Clarkson. "But she means well and I'd rather have it that way than her wanting nothing to do with me."
Colin Jost and Scarlett Johansson were married in October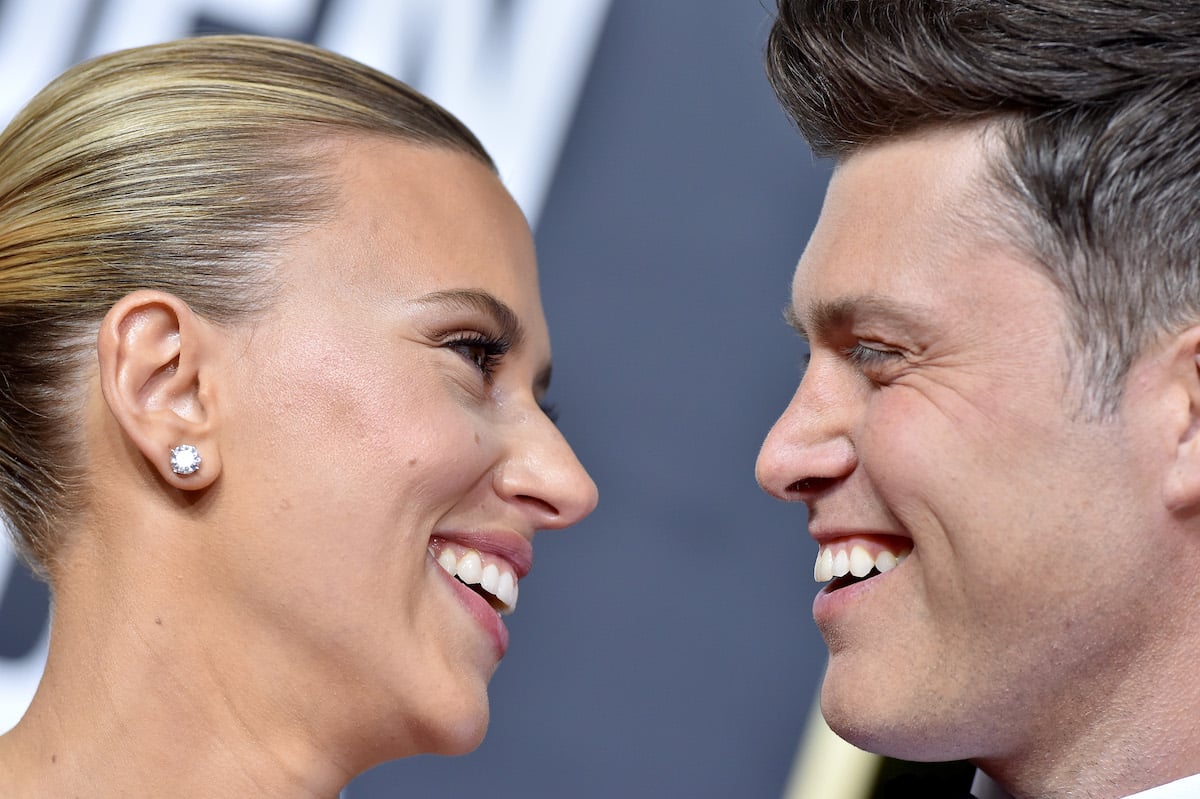 Johansson and Saturday Night Live 'Weekend Update' anchor Jost were married in October in an ultra private ceremony. They were engaged in 2019, after two years of dating. According to People, Johansson told Ellen Degeneres that the proposal was "a beautiful moment." 
"He's got a lot behind that news desk he's hiding," she laughed, referencing Jost's Weekend Update gig. "He's very charming and very thoughtful and romantic. But yeah, I was surprised. Even if you kind of imagine what that moment's gonna be like, it's still a beautiful moment."
Johansson already knows who she wants to babysit the little one, and until then, Cosmo is ostensibly getting comfortable with his new family.