Scarlett Johansson Just Admitted She Wants to Do a Horror Movie
Scarlett Johansson's career is at its peak. But it turns out there are some things the Black Widow star hasn't done yet. And during a recent appearance, the new second-time mom revealed one of her cinematic goals. Here's what Johansson said during her walk down the American Cinematheque Awards red carpet. 
The 'Marriage Story' star has never starred in a horror movie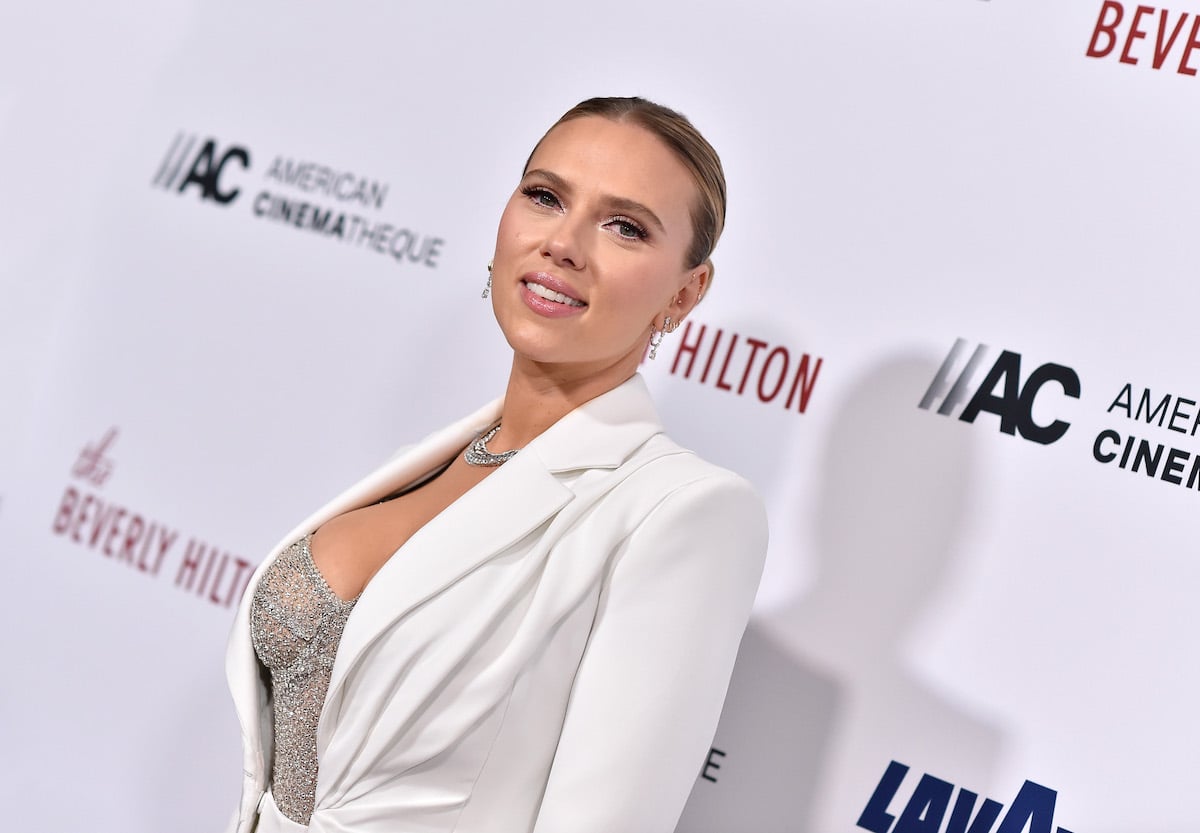 You read that right. Somehow, without hitting that career milestone, Scarlett Johansson went straight to the top of the Hollywood ladder. She's now a major Marvel Cinematic Universe player with her role in Black Widow. Additionally, her controversial lawsuit against Disney didn't hurt the high-profile nature of the gig. She ultimately settled out of court with the studio to recoup her financial losses on the movie's direct-to-streaming release. 
The mother of two hasn't been seen much lately. However, in a new interview on the red carpet of the American Cinematheque Awards in Beverly Hills, Johansson revealed that for all her achievements, she still has a few unmet goals. Johansson appeared alongside her husband, Saturday Night Live star Colin Jost. 
"I would love to do a horror film at some point," Johansson told E! News. "I can't watch them, I'll never be able to see it, but I want to be in it." 
Johansson starred in a couple of creepy sci-fi offerings in the past. Her subhuman character Laura in Under the Skin memorably preys on Scottish men. She likewise appeared in 2002 monster action comedy Eight Legged Freaks. 
However, Scarlett Johansoon has yet to star as a final girl in the same vein as Jamie Lee Curtis' Laurie Strode in Halloween or Neve Campbell's Sidney Prescott in Scream. 
Scarlett Johansson just became a mom again 
The Lucy actor just became a mom again with husband Colin Jost. And while that's an important milestone for her, she also says she feels that having a career is part of her children's well-being. 
"I have two wonderful children and I think it's really important for both of them to see their parents are fulfilled and that are doing the work that they love and are following their dreams and are passionate about what they do," Johansson told E! News. "I think that's really meaningful for them." 
Johansson had her daughter, Rose Dorothy Dauriac, with ex husband Romain Dauriac in 2014. She gave birth to son Cosmo alongside Jost in August 2021. 
In the past, the actor has admitted that being a working mother isn't easy. "I have a lot of huge admiration for working moms," she told Entertainment Tonight in February 2017. "I'm barely, barely holding it together." 
Scarlett Johansson now has a lifetime achievement award
It appears, however, that Johansson is doing a good deal more than "barely holding it together." She received the American Cinematheque Award, a distinguished lifetime achievement tribute, on November 18, 2021. 
Of her remarkable career, Johansson said she's loved working with people she respects. "I really have been very, very fortunate to have worked with some of my most favorite filmmakers," Johansson told E! News. "I think I'm most proud of those creative, collaborative situations. I've had incredible co-stars. I just feel very lucky to love my job and love what I do and still have a passion for it."