'Schitt's Creek': The Best Advice Emily Hampshire Got on Set Came From a Character, Not a Co-Star [Exclusive]
Most people know Emily Hampshire as Stevie Budd from Dan Levy's sitcom Schitt's Creek. In December 2021, Showbiz Cheat Sheet connected with Hampshire over the phone to talk about the Schitt's Creek star's latest collaboration. While we had her, we took a nostalgic look back at the sitcom. Hampshire shared the best piece of advice she got on set, which came from a Schitt's Creek character.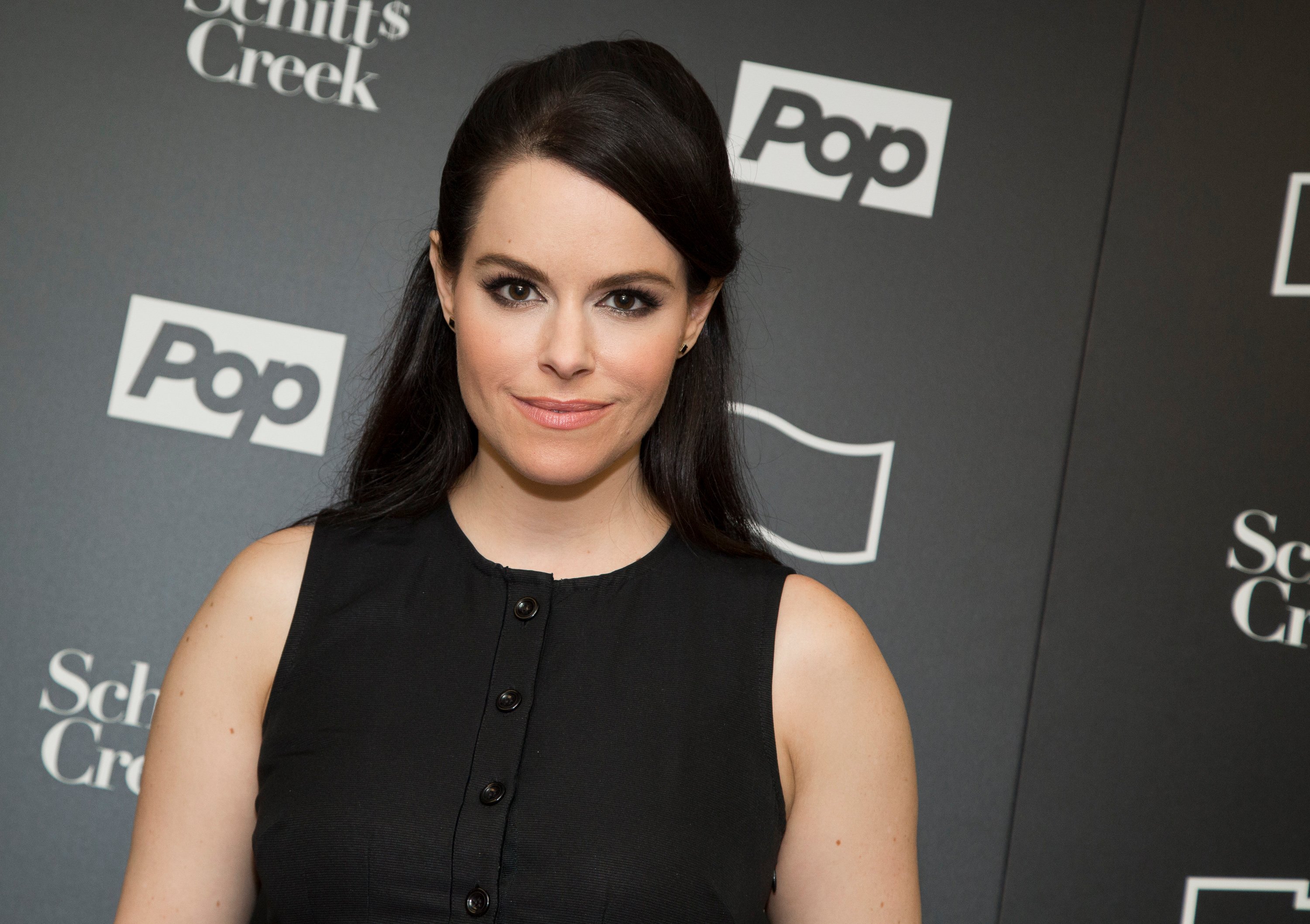 Moira Rose gave Emily Hampshire the best piece of advice
Hampshire had an unconventional answer when we asked about the most significant piece of advice she took away after working on six seasons of Schitt's Creek. "Take a thousand pictures of yourself naked," she laughed.
In the Schitt's Creek episode "Moira's Nudes," Moira Rose discovers that a naked photo of her is circulating the internet. With Stevie's help, Moira tries access the picture in question. 
"Allow me to offer you some advice," Moira tells Stevie in the episode, continuing: 
"Take a thousand naked pictures of yourself now. You may currently think, 'Oh, I'm too spooky,' or 'Nobody wants to see these tiny boobies,' but believe me. One day you will look at those photos with much kinder eyes and say, 'Dear God, I was a beautiful thing.'"
Hampshire cited the all-too-relatable feeling of looking back on pictures from one, five, even 10 years ago and thinking she looked better then. Moira Rose's suggestion, albeit vein, has stuck with Hampshire. Now, she's encouraging fans to embrace who they are today, much like the fictional Moira did for Stevie. 
Catherine O'Hara wrote Moira's nude picture speech
The advice Hampshire most remembers may have come from a fictional Schitt's Creek character, but O'Hara so heavily influenced the role, it was like the advice was coming from her anyway. "I was given the freedom to rewrite my dialogue," O'Hara explained to the Los Angeles Times. "One speech that I'm happy to say that I wrote was when Moira was looking for nude pictures of herself. Because people will look at current pictures of themselves and say, 'Oh, I'm fat. Oh, I'm old.'"
Like Hampshire pointed out to Showbiz, O'Hara said people who see pictures of themselves immediately are incredibly judgmental. But looking back on photos, we're often much kinder. And like Hampshire, O'Hara wondered: "Why can't we be kind to ourselves right now?"
Emily Hampshire reveals her favorite 'Schitt's Creek' character
As a fan of the show herself, Hampshire has a favorite character from Schitt's Creek. Ironically, it's not the one she plays!
"Annie — Alexis is my favorite," Hampshire admitted on our call. She enjoys the lighthearted aloofness Alexis Rose embodies. Like so many fans, Hampshire finds the role hilariously enjoyable. She also admitted she adores Annie Murphy. 
RELATED: 'Schitt's Creek's Greatest Moments: We Loved That Journey For Them
Dustin Mulligan's Ted was a close runner-up for Hampshire's favorite character because she also loves Mulligan as a person. But to be honest, she's very fond of her entire Schitt's Creek cast. "We're all on a text chain — sometimes we leave Dan out," Hampshire told us. She didn't clarify why, but we've all started a secondary group chat at one time or another. 
Stream every episode of Schitt's Creek on Netflix.
RELATED: 'The Umbrella Academy' and 'Schitt's Creek' Have Something in Common