'Schitt's Creek': Catherine O'Hara Shares Why She's Been 'Grateful' for the Opportunity to Play Moira Rose
Actress Catherine O'Hara has played a lot of roles in her career, but probably none quite so unique as Moira Rose on Schitt's Creek. With the series ending on Apr. 7, O'Hara took a moment to reflect on how she helped develop the character and of course, dug into Moira's wardrobe and wigs.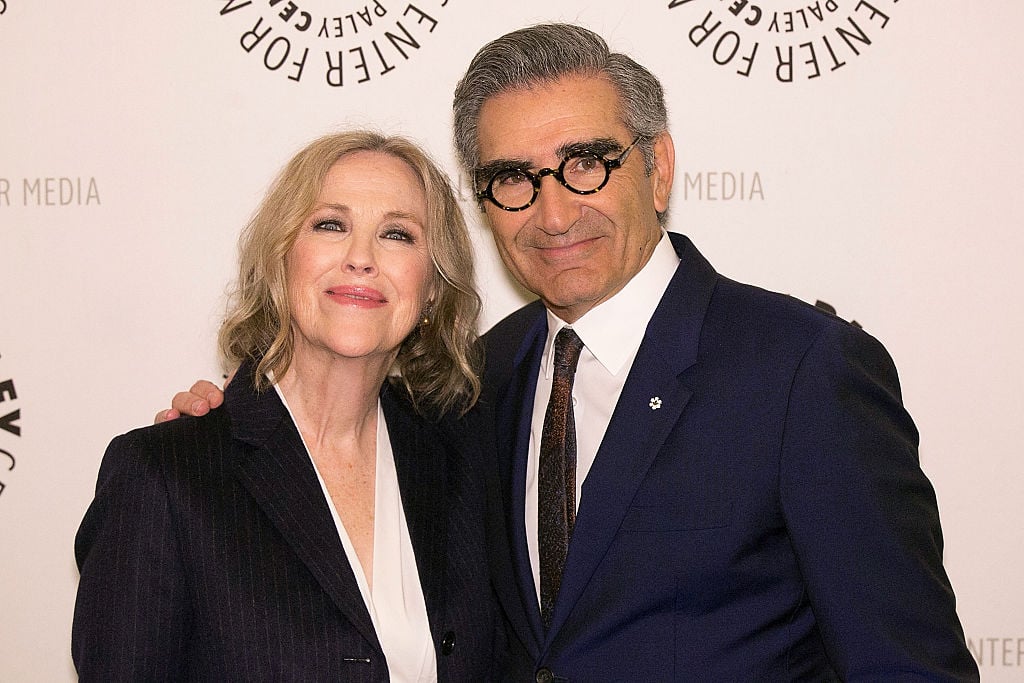 O'Hara called her experience as Moira a 'lovely, fun opportunity'
O'Hara is a seasoned performer, but there has been something special about her experience playing Moira. "Because we didn't know how long we'd be playing our characters when we first signed on, it made me really adamant about creating somebody who could keep changing," she told E! News.
She touched on how Moira's career as a soap opera actress informed the direction she would take with the character, which "gave Moira a ton of potential." O'Hara continued, "And then to be able to have this great wardrobe and then to be able to play with wigs… Daniel [Levy] and the writers would give Moira great opportunities to perform or great storylines that I would jump in to perform…"
"What an opportunity. What a lovely, fun opportunity," O'Hara added. "It's like all my training, all my experience and all the great people I got to work with — especially Eugene [Levy] — in my working life, I got to use it all. Tap into all of it for this. And it sure helps to have great scripts."
Why she's grateful for her background
O'Hara's time in Second City and on SCTV provided the background of creating characters and that served her well for Moira. "Basically, when you invent characters, you're taking whatever you've been lucky enough to experience in life and the people you've been lucky enough to meet and see, to watch from afar and be frightened of or laugh at."
She added, "We gained confidence doing that in our early years, and so to be able to get to do that, at my age still to create a ridiculous character — I don't think I should say I'm most proud of it, I'm actually grateful for it. And the fact that the show turned out to have such a loving audience, it's a big fat bonus. Just doing the job was fun."
O'Hara touched on her character's development and the treat of working with Dan Levy. "We would get to collaborate a bit on how her growth would happen. I'm glad we held it back for Moira," she said. Her character's growth over the series "was a lot slower" than her husband and kids David and Alexis.
It's been an experience unlike any other
The show wrapped production but the cast continued to spend some time together for a live tour, which allowed O'Hara to maintain a connection with her character that she doesn't see going away soon. She's hopeful that they will resume the tour after the coronavirus (COVID-19) pandemic, sharing, "After that, I hope we'll be able to do our live shows again… Within the live show, I can't seem to answer a question about Moira without doing Moira. [Laughs.] So, I plan to continue playing Moira once in a while," she noted. "She's way more interesting than I am, it's hard to give her up."
Schitt's Creek has been quite a ride for O'Hara and she's not sure she'll ever have that experience again. "I've never had this kind of experience with this loving audience, this fun-loving, loving audience that we've had. I've never had what we have with Schitt's Creek. Just never experienced anything like this before, and don't expect to again," O'Hara explained. "And I'm really grateful that I got to be part of it."