'Schitt's Creek': It Took a Considerable Amount of Time to Create Moira Rose's Wedding Look
Schitt's Creek aired its final episode on April 7. After five successful years on the Pop TV Network, the series' creators Dan Levy and his father, Eugene Levy, felt it was time to conclude the Rose family's story in sixth and final season.
In the final episode of the series, Dan's character, David Rose, married the love of his life, Patrick Brewer. Though the wedding was far from David's dream, it ended up being perfect. The ceremony was officiated by his eccentric mother, Moira, who sported an iconic look.
Levy recently explained the amount of time and effort that went into creating Moira's wedding attire.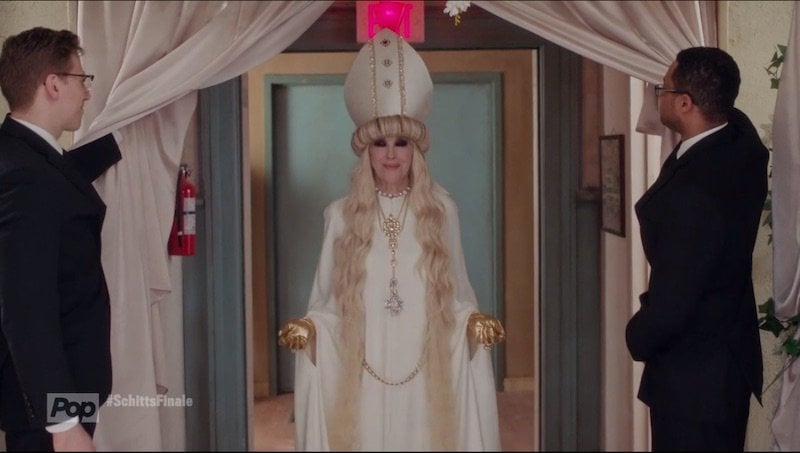 What is 'Schitt's Creek' about?
Schitt's Creek was a wildly successful sitcom starring the Levy father-son duo, Catherine O'Hara, and Annie Murphy. In the show's five years on network television, fans followed video store mogul Johnny Rose (Eugene Levy) and his family, including his soap-opera star wife Moira, and their two children, David (Dan Levy) and Alexis (Murphy).
After being stripped of everything, the formerly wealthy Rose family found themselves penniless living in their only remaining asset — the town of Schitt's Creek. It was there that they learned the importance of family and the value of love.
Moira Rose's unforgettable style
Moira Rose became one of the most compelling characters on television because you never knew what you were going to get in terms of her personal style. Throughout the series, the role of Moira had become known for her exotic accent, lavish fashion sense, and her many wigs, which she would rotate depending on her mood any given day. Moria's impressive wig collection served as an extension of her being, so naturally, she went all out for David and Patrick's wedding. 
Moira's hair choice for David and Patrick's wedding was a flowing blonde wig topped with a crown of hair and a religious hat resembling something a pope would own. She wore an epic, flowing dress fit for royalty — something similar to the robes that religious figureheads wear. Moira was also outfitted with golden gloves and gold accessories for the big day.
Moira's wedding outfit took 'a solid month' to create
Levy celebrated Moira's wedding look on Instagram May 5, asking for a "moment of appreciation" for the look that took "a solid month to figure out." 
"I found the McQueen dress on consignment," Levy explained. "The Botticelli hair came to me in a dream, and @ana_sorys ran with the idea and created yet another iconic Moira wig/hairband." He went on to thank Schitt's Creek's "incredible wardrobe department (spearheaded by the great Debra Hanson)," who completed Moira's look with the hat, costume jewelry, gloves, and knee-high Tom Ford boots.
"@luckymakeup did wonders with the glowy, ethereal makeup," Levy continued, turning nostalgic. "This is what I love about making TV. The teamwork. This look is a love letter to all of the incredible art departments that worked tirelessly alongside each other to bring our ideas to life in the most inspiring ways week after week, episode after episode. What a team. And what a send-off."
Schitt's Creek may have concluded in April, but it is a series that will live on in the hearts of fans thanks to the easily parodiable looks from the series' legendary characters.