Is The Family On 'Schitt's Creek' Really Related To Each Other?
The family on the comedy 'Schitt's Creek' bears a striking resemblance to one another. Could they actually be related in real life?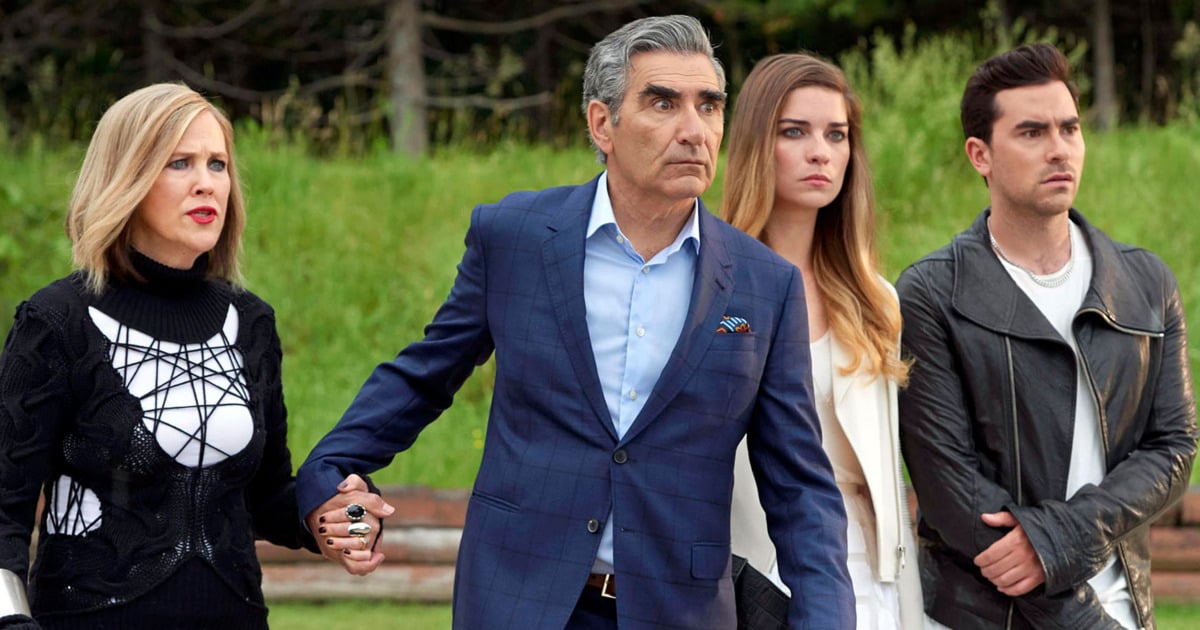 The Pop Original Series Schitt's Creek is on its fifth season, and despite the unknown network, it has become a major hit both in its native Canada and in the U.S. The series follows a family, the Roses, who, after losing their fortune, are forced to move to the small town of Schitt's Creek and learn to live a much different kind of life.

The tight-knit Rose family is the heart and soul of the series, and they really do interact like they're actually related. But is that the case?

Who plays the Rose family on Schitt's Creek?

American Pie actor Eugene Levy stars as Johnny Rose, who earned his wealth through a chain of video stores. Catherine O'Hara (Home Alone) plays his wife, Moira, a former soap opera actress with an impressive collection of wigs and an unidentifiable accent. Their adult children, David and Alexis, have never had to fend for themselves, but now must get jobs and learn life skills in order to get by. David is portrayed by Levy's real-life son, Dan Levy, while Alexis is played by actress Annie Murphy.
Dan and Eugene Levy created the show

The father-son duo works together both on screen and off. They created the series under their production company Not a Real Company Productions. Dan Levy acts as showrunner for Schitt's Creek, which is filmed in Canada.

On The Late Show with Stephen Colbert, Dan Levy talked about how he has fun working his own father. "There's a very interesting power shift here because I get to write what he does, so I'm able to hammer home his sensitive spots," Dan Levy said, using the example of his dad's protectiveness of his hair. "So, of course, the second episode of our first season, I write a drip that happens in the first scene that just makes his hair sopping wet."

Dan's real sister is on Schitt's Creek

Despite baring a bit of a resemblance to one another, Murphy and Dan Levyare not really siblings. However, Dan's sister and Eugene's daughter, Sarah Levy, is on the show. The third Levy portrays Twyla Sands, a waitress at the town's only seen dining establishment, Cafe Tropical. Twyla is a friend to the Roses, though they aren't always kind back to her.

Eugene Levy and Catherine O'Hara have a history

Though O'Hara and Levy aren't married in real life, they do have a lot of on-screen chemistry. This may come from the years they've spent working together. Both got their start as cast members on Second City Television, a Canadian sketch show, in the 1970s and '80s. Over the years, they continued to work together in Christopher Guest mockumentary films such as Best in Show and For Your Consideration.

How can you watch Schitt's Creek?

Though few have heard of Pop, there is a way to watch Schitt's Creek. The first four seasons of the series are available on Netflix in the U.S. The fifth season, which began airing in Jan. 2019, will likely become available on Netflix when it is complete.

Will there be a Season 6 of the show?

Sadly, there's no news yet as to whether Schitt's Creek will be returning for another season after the fifth one wraps up. Hopefully, the Rose family will continue to entertain us for years to come.