'Schitt's Creek' Final Season: Why It Will 'Rip Your Heart Out' According to Star Emily Hampshire
Grab your tissues, Schitt's Creek fans — the final season of the series promises to "rip your heart out," according to star Emily Hampshire, who plays Stevie Budd. Fans had already caught that vibe from the Season 6 trailer, but Hampshire confirms that it's going to be very emotional.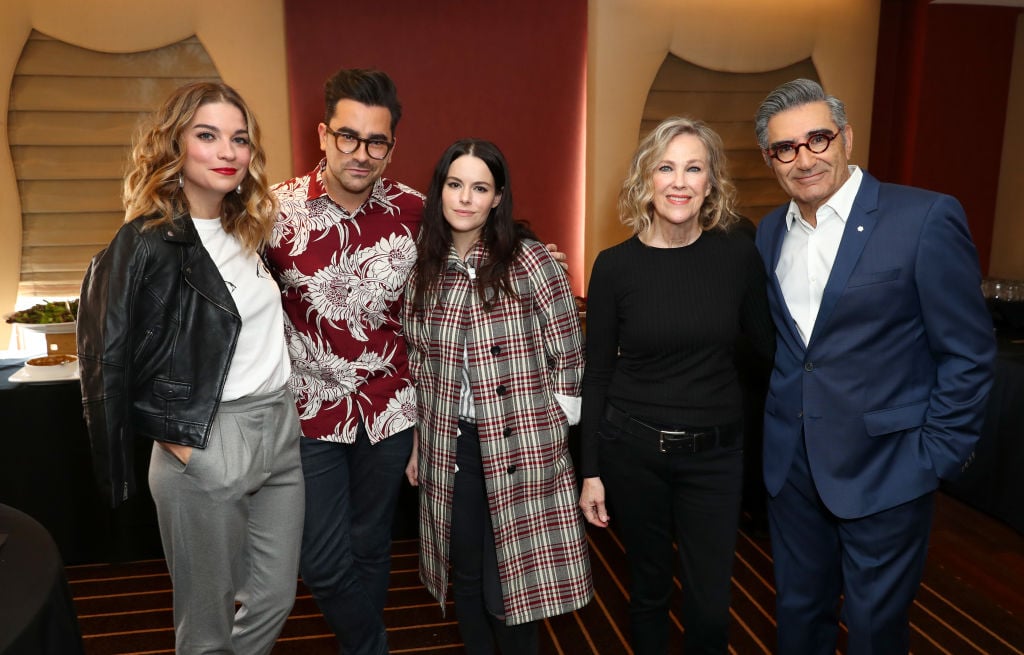 The Schitt's Creek final season promises to be "joyous" and heartbreaking
During one of the show's pop-up tours in Los Angeles, Hampshire gave some insight into what fans can expect as Schitt's Creek wraps up its sixth and final season.
Speaking with ET, Hampshire confirmed what some are anticipating — it's going to offer some emotional ups and downs as fans will have to say goodbye to the Rose family, Stevie, and the residents of Schitt's Creek.
She shared: "You can expect it to rip your heart out. But honestly, I have so much respect for Dan [Levy, co-star and co-creator] for doing this because it is hard on us that we have to end it. But, we also know he's ended it so well. Like, he could not give the fans a better ending to the show."
Hampshire noted: "It's funny and joyous and also your heart breaks and then you love them and then… Yeah."
Hampshire teases what happens to Stevie
It's definitely been a ride for Hampshire's character and she has no complaints about Stevie's journey or her fate in the final season.
Hampshire confirmed she's happy with how things end up for Stevie, noting, "Yes, thank God, because I would have been so disappointed if I wasn't. I just, like, every year, I feel like it can't get better. I'm constantly surprised by where Stevie goes."
She touched on the musical that her character starred in for the season five finale as a highlight, sharing: "Like, last year, to do Cabaret. [I] did not think Stevie would be doing a musical. So, I was worried that that was the penultimate thing and it was all downhill from there for my character and it [was] just perfect."
Fans should get ready for a big wedding… and lots of wigs
While she wouldn't reveal any plot points, Hampshire did have some insight into Stevie's wardrobe in the final season, sharing: "I don't know what I'm allowed to say, so I'm going to say something and if I'm not allowed to say it, it's your fault. Stevie might actually, in season six, wear a lot of more tailored things."
As for what happens with Patrick and David, she seemed to hint at their happily ever after when she teased: "I'm not saying there's a wedding. I'm not saying that." She continued: "It's just so good. Also, you won't be disappointed wig-wise. 'Cause, if you think season one, two, three, four and five had a significant amount of wigs, wait 'til you see season six."
In an interview with the LA Times, Annie Murphy, who plays Alexis, said of the show's ending: "People are so deeply invested in the show and its message," adding, "But I think it's the right choice, and we were really, really lucky to be able to end the way Dan and the writers wanted to. All of the characters are going to be tied up in this beautiful little bow."