'Schitt's Creek': How Catherine O'Hara Created Moira Rose
Moira Rose is the iconic matriarch of the Rose family on 'Schitt's Creek.' Discover how actor Catherine O'Hara brought the eccentric woman to life.
Moira Rose is the iconic matriarch on the Pop TV series Schitt's Creek. With an accent fans can't quite put their finger on and an interesting taste in sleepwear, Moira Rose is one of the most unique characters actor Catherine O'Hara has ever brought to life.
Here's what inspired O'Hara's role as Moira Rose on Schitt's Creek.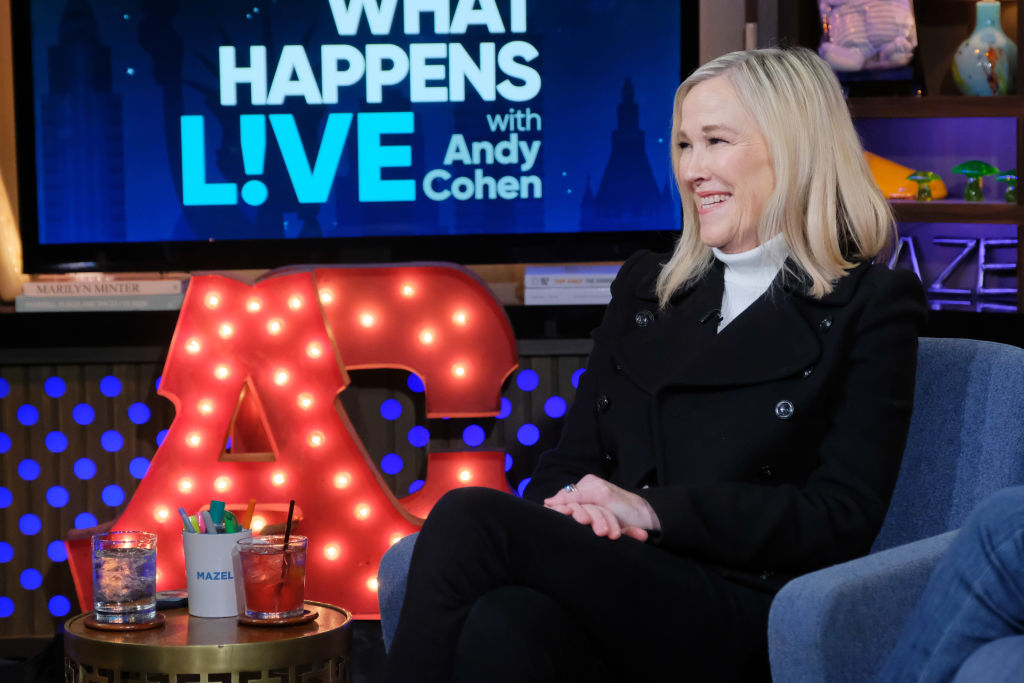 The cast didn't know about Moria's accent until filming started 
It wasn't until filming began that the rest of the Schitt's Creek cast learned of Moira's mysterious accent. The entire show is based on a family who must acclimate to their new surroundings, which proves especially difficult with Moria's over-the-top accent that comes off as all-too-pretentious to the humble townspeople of Schitt's Creek.
O'Hara didn't share her character choice with any of her castmates until the cameras started rolling. "I remember being so thrown off by it because it's this vaguely European accent that has no origin and yet is from everywhere," show creator Dan Levy explained to Vulture. "I remember really having to hide my enjoyment of it, and actually do my job as an actor, as a kid who has been around this accent for his whole life."
A book of old-fashioned phrases helped amplify her dialogue
Moira Rose's accent has been described as "part stage actress, part dowager queen, part Victorian governess." As a former actor with a flair for the melodramatic who has had virtually everything taken away from her, it makes sense that Moira speaks the way she does. She carries her pretentious narcissism with her to the town of Schitt's Creek, where she and her family are forced to move after they lose their fortune. 
Perhaps the most enjoyable part of Moria's accent is the way she pronounces certain words, like "bebe" (baby). To embellish the way O'Hara performed Moira Rose, she studied a book called Foyle's Philavery: A Treasure of Unusual Words. O'Hara received the book from her makeup artist, but kept it hidden from Levy and the other writers until season five. O'Hara told Vulture: "Daniel and the writers would write me dialogue and I'd go through my book and rewrite it and make it that much more Moira."
Eugene Levy wanted Catherine O'Hara to play Moira
O'Hara has Eugene Levy to thank for her role on the show. The two had worked together decades before the creation of Schitt's Creek as comedians at the Second City comedy club in Toronto. O'Hara and Levy worked with other comedy greats like Martin Short, Gilda Radner, and John Candy. 
In an interview with the New York Times, it was revealed that O'Hara and Levy "honed their skills and even briefly dated" before attaining success on "SCTV"and later, joining forces again to create Schitt's Creek.
Catherine O'Hara introduced the idea of Moira's coveted wigs
Moira Rose is one of the most eccentric characters on television — she is what makes the Rose family one of the most fascinating and entertaining to watch. As if her accent weren't enough, Moira's fashion choices are another confusing, albeit entertaining, characteristic.
Perhaps one of the most notable things about Moira's physical appearance are her many wigs. As it turns out, Moria's impressive wig collection is like an extension of her being. 
This quirk was O'Hara's idea — one that didn't shock Eugene Levy, who told Here & Now's Jeremy Hobson, "When you hire Catherine, you're getting more than just somebody who can deliver lines funny." O'Hara thought Moira would wear a different wig depending on her emotional mindset on any given day. Now, Moira's wigs are something that fans covet and look forward to with every new episode. 
With Schitt's Creek is in it's sixth and final season, it's safe to say the show — all of Moria's quirks included — will definitely be missed.