'Schitt's Creek': Moments That Make Us Ugly Cry
These moments on 'Schitt's Creek' made us cry like bébés.
Schitt's Creek may have just won an Emmy award for Outstanding Comedy Series, but according to Dan Levy and Eugene Levy, the show is a drama at its core. There are a handful of beautiful moments on Schitt's Creek that made us cry like babies (or should we say bébés.) Here are the best of them.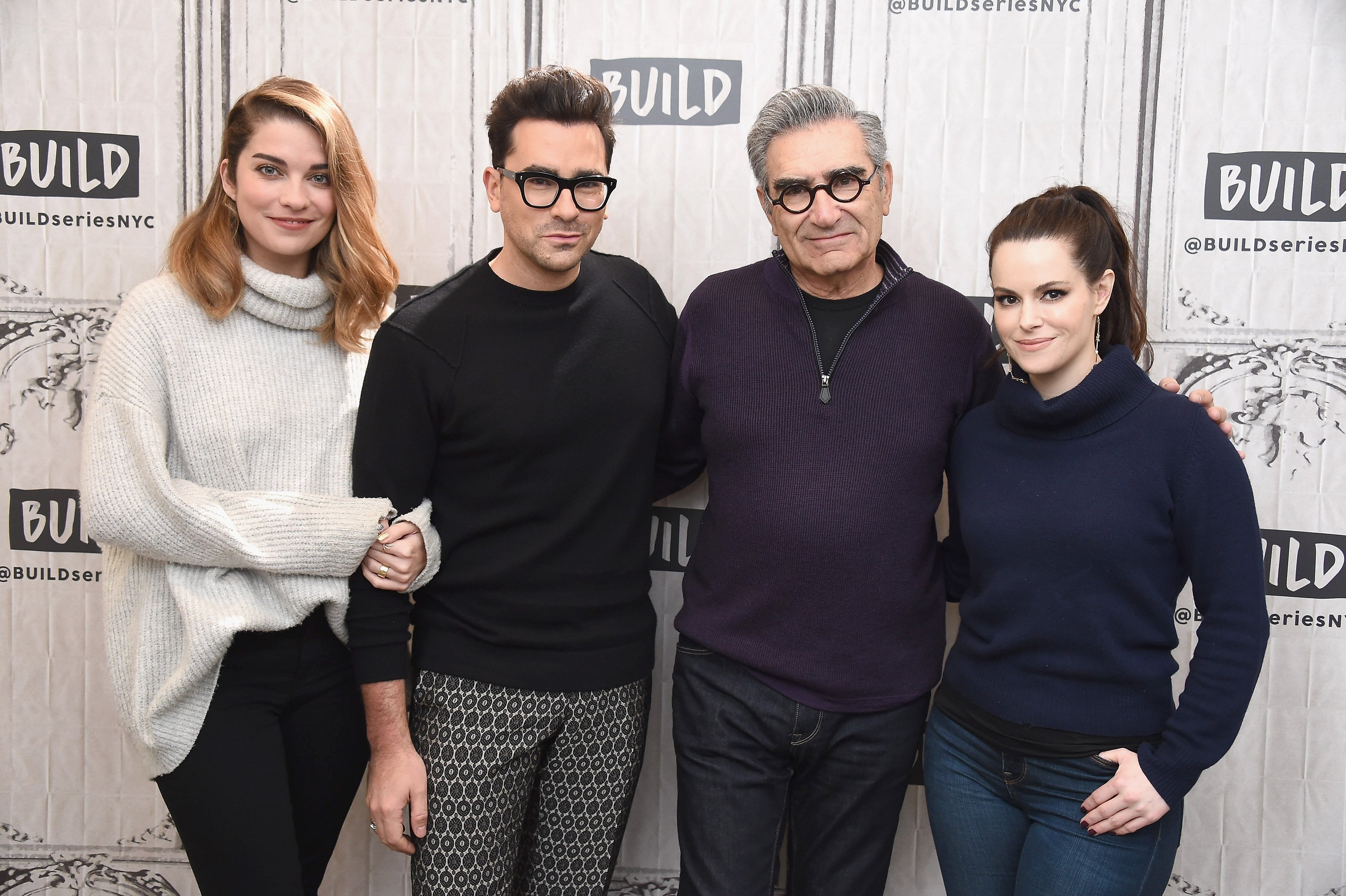 Patrick serenading David with 'The Best'
"You're simply the best, better than all the rest. Better than anyone, anyone I've ever met." 
When Patrick serenades David during open mic night, David is terrified at first. He thinks Patrick's performance is going to be cringy, but it ends up being one of the most romantic moments on television. It's so emotional that we can't help but reach for the tissues whenever we watch this scene.
And we're not the only ones who have this reaction. According to TV guide, they had to keep reshooting the scene over and over again because Catherine O'Hara kept tearing up.
Moira's speech to Stevie before her 'Cabaret' performance
Out of all the characters on Schitt's Creek, Moira is arguably the most self-involved. So when she finally delivers such a heartwarming speech to Stevie about her incredible character and self-worth, our hearts swell up with emotions. Moira says,
"What the hell is your secret, Stevie? You just stand your solid ground, refusing to be anything but you. I never thought I'd say this about anyone in this town, but you, you're very, very cool. And whether you set sail or stay put, that's not going to change."
Stevie's performance of 'Maybe This Time' 
Stevie has always been our favorite underdog on the series. She struggles with insecurities over her career as a motel employee and constantly feels like an underachiever. As she watches all the people around her find success, she feels stuck in a rut where she just can't win. Yet when she finally gives her emotional performance of "Maybe This Time," it gives us chills. It also makes us weep.
Alexis slowly realizing that she's in love with Ted
One of the most emotional story arcs on Schitt's Creek is when Alexis realizes that she's in love with Ted. Alexis is so used to dating people who use her and treat her horribly that she doesn't realize at first how much of a catch Ted is. Yet over time, as she begins to discover more about herself, she realizes that Ted is who she's longed for all along. David asks Alexis if she's in love with Ted, to which she responds without any hesitation, "yes."
Patrick proposes to David with his special set of rings
Oh man, did we ugly cry during this scene. When Patrick proposes to David, he doesn't give him a standard old wedding ring. Instead, he gives David a set of four gold rings that perfectly fit his unique style and persona. Patrick's rings for David prove that he truly loves him as a person.  
Moira showing up to Alexis' graduation
When Alexis finally graduates high school, it's a big deal for her. Despite trying to be relaxed about it, it's an achievement that she is proud of. Unfortunately, Moira has an event the same night as Alexis' graduation ceremony. Although it seems as though Moira has no plans of showing up, she ends up conducting an entire performance with the jazzagals for Alexis at her graduation.