When Will 'Schitt's Creek' Season 6 Be Available On Netflix?
'Schitt's Creek' aired it's final season a few weeks ago. Find out when you'll be able to stream season 6 of 'Schitt's Creek' on Netflix.
After six seasons, the beloved comedy Schitt's Creek has finally come to an end. Johnny, Moira, David, and Alexis Rose, a group of self-absorbed individuals with plenty of hilarious overdramatic tendencies, will no longer gracing our televisions.
Much to the chagrin of the show's fans, Schitt's Creek aired its final episode a few weeks ago. Now, "Schitt Heads" everywhere are eager to know when they'll be able to stream Season 6 of on Netflix — here's what we know.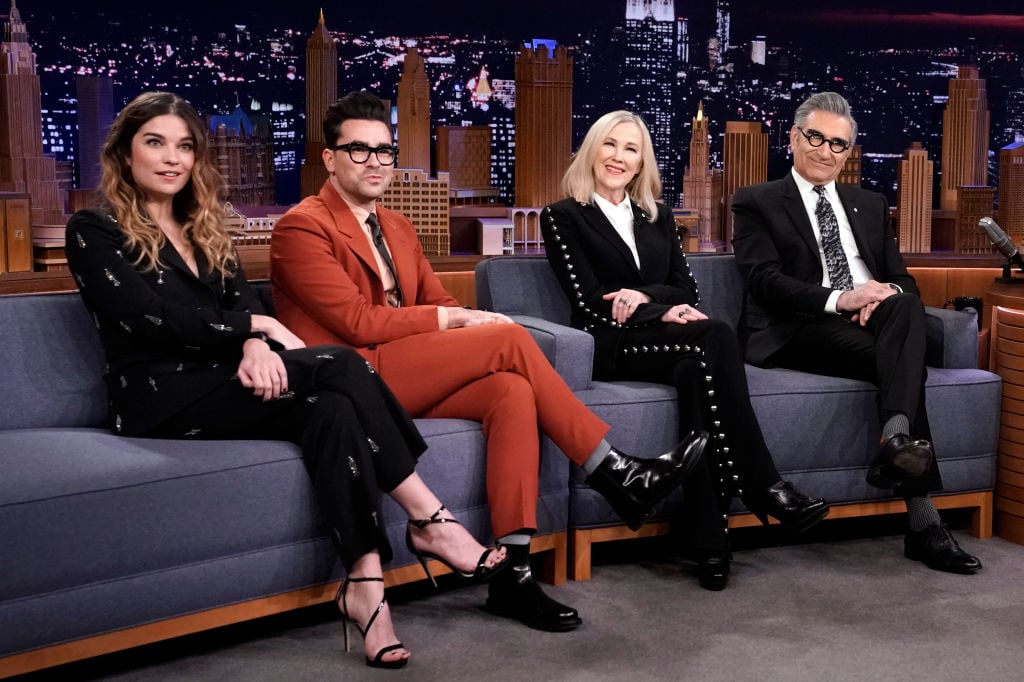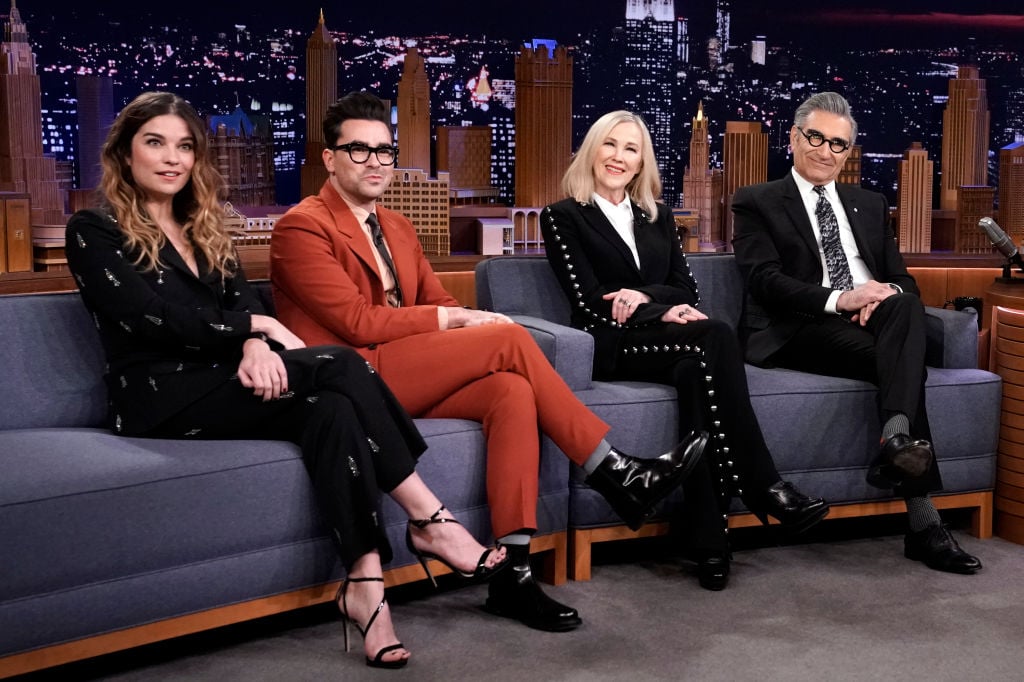 'Schitt's Creek' is a show about family 
Schitt's Creek tells the tale of the formerly wealthy Rose family who, upon being stripped of their wealth, are forced to move to their only remaining asset — the town of Schitt's Creek. It is there that they learn humility, love, and the importance of family. 
The Canadian comedy series was co-created by father-son duo Dan Levy and Eugene Levy, who played David and Johnny Rose, respectively. The show also starred the incomparable Catherine O'Hara, who played the over-the-top matriarch, Moira Rose. Annie Murphy completed the Rose family with her role as Alexis. 
Other notable actors in the series included Sarah Levy as Twyla Sands, Noah Reid as David's boyfriend, Patrick Brewer, and Emily Hampshire as David's best friend and Johnny's business partner, Stevie Budd. Comedian Chris Elliot also played a significant part in the series as the mayor of Schitt's Creek, Roland Schitt. 
In March of 2019, Levy announced his decision to end the show "with a final chapter that [they] had envisioned from the very beginning." The final episode of Season 6 aired on April 7, 2020. 
Critics loved 'Schitt's Creek' 
Since the series aired in 2015, critics and audiences alike have raved about it. In 2019, Schitt's Creek was nominated for four Emmy Awards including Outstanding Lead Actor in a Comedy Series, Outstanding Lead Actress in a Comedy Series, Outstanding Contemporary Costumes, and Outstanding Comedy Series. 
While the series did not take home any Emmys that year, the show still made history as the first Canadian co-production nominated in the comedy category. Now that the series has concluded, fans are hopeful for another round of nominations and another possibility at an Emmy. 
When will Season 6 of 'Schitt's Creek' be on Netflix? 
Netflix hasn't announced an official release date for Schitt's Creek Season 6, but if they follow what they've done in years past, it will likely be available in October of this year.
The finale of Season 4 aired in April of 2018, then became available on Netflix that October. The same thing happened with Season 5 — the finale aired April of 2019 and Netflix debuted it that October. 
Schitt's Creek fans in the United Kingdom are in luck — Netflix announced that Season 6 will be available to stream in the U.K. and Ireland starting May 14. 
For now, it's reasonable to assume that Schitt's Creek Season 6 will be released for your streaming pleasure within the first few weeks of October. That leaves plenty of time to catch up on the first five seasons of Schitt's Creek.
Related: 'Schitt's Creek's Greatest Moments: We Loved That Journey For Them