'Schitt's Creek' Star Emily Hampshire on the Series' 'Amazing' Finale and the Show's Biggest Legacy
All good things must come to an end as Schitt's Creek series finale proves. Star Emily Hampshire shed some light on that finale and the show's amazing legacy.
The series finale of Schitt's Creek airs Apr. 7 and, after six seasons, there's more than a little bit of sadness for the cast members who had to say goodbye to their much-loved characters. Emily Hampshire, who plays Stevie, told Us Weekly that the way creator Dan Levy wrapped things up was perfect, noting, "I can't believe how amazing the ending is."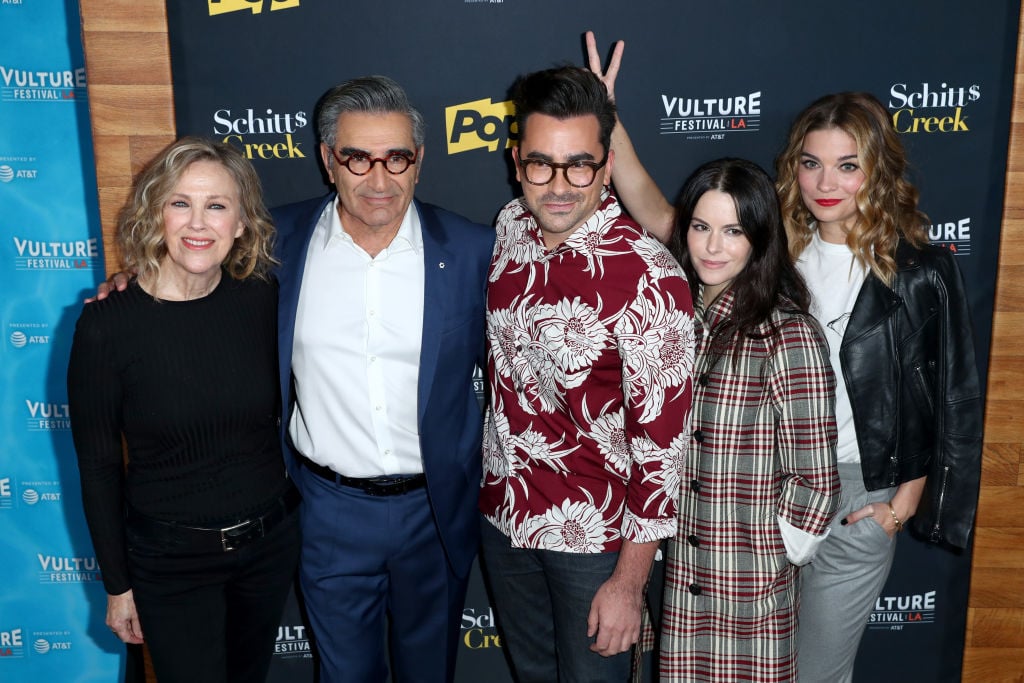 The show's finale 'does right by everyone'
Fans have been more than bummed that Levy wanted to end the show this season and Hampshire said even the cast "wanted to keep going." The way things wrapped up, however, make sense as Hampshire noted that "he respects the characters and fans."
"I highly respect Dan's decision to end the show even though I think all of us wanted to keep going," Hampshire shared with Us Weekly. "Now that I know how it ends, it's the right thing because he respects the characters and fans by the way he ends his show."
The actress continued, "Most shows you don't know when you're going to end, you just get canceled. And so to get the opportunity to end a show the way you want to do it and the way it's supposed to is a real privilege. I can say that he does right by everyone. I can't believe how amazing the ending is."
What playing Stevie taught her
Hampshire's on-screen relationship with Levy's character David developed into an endearing friendship. "I have so loved that friend-lationship because I feel like it's exactly that. I hadn't seen that before in a show that represented this kind of deep friendship relationship that I have with my gay male friends," Hampshire explained.
The actress added, "I think my favorite thing is that for me personally, Emily, I have found in Stevie, somebody I actually admire and look up to as like she's such a good friend and I feel like he's taught me how to be a real friend."
In addition to the life lesson about friendship, Hampshire also had the opportunity to play a dream role when her character Stevie earned the role of Sally Bowles in the town's production of Cabaret. "That's a huge moment for me that I don't think a lot of people know," she shared. "The truth is, had you asked me 10 years ago what my dream role would have been — it was Sally Bowles in Cabaret."
Hampshire had no idea they would do Cabaret on Schitt's Creek, but had floated the idea. "I asked Dan in season 1, I'm like, 'Oh, can we do a musical?' But I just, I never thought Stevie would be part of it," Hampshire explained. "And for Stevie in that moment, it's maybe this time I'll win. Maybe this time I'll be as great as everybody sees in me and the potential I have."
She continued, "And it's really such a different song for her. And one that I think is just so much more powerful. It felt kind of like an example of the universe giving me something that I didn't even know I wanted. Giving me something better. I thought I wanted to be Sally Bowles, but I really wanted Stevie to have her moment. That Stevie got to be the most honest and vulnerable she's ever been."
The actress loved the opportunity to give Stevie that moment, but even more than that was David's support of his friend. "My favorite moment in that whole thing is when David goes, 'That's my best friend.' That just kills me," she explained. "I feel like Dan's given all of us these opportunities to do stuff that we got to really stretch and he's given us gifts for both our characters and ourselves. I still can't believe I got to do that."
She revealed the show's 'biggest legacy'
Over Schitt's Creek's six years, there has been laughter and tears and some beautiful moments, including the evolution of David and Patrick's relationship. In that lies what Hampshire calls the show's "biggest legacy."
"I think the biggest legacy for the show is Dan's decision from the get-go that there would be no homophobia on Schitt's Creek," Hampshire noted. "I thought that was such a Maverick move because I would've thought if you wanted to make a statement about something like homophobia you will have somebody be treated badly and then deal with the issue."
She continued, "But no, this is so much smarter. He showed a world where it doesn't exist and you know what? It's been great. It works really well. No one misses it. He also made it that he never wanted Schitt's Creek to be the butt of the joke, like a small town. I think that kind of inclusive love and acceptance the show puts out is something. I think that's [our show's] legacy and I think it's done its job. And I think that's why people keep watching it over and over again too."