'Scooby Doo': Did Sarah Michelle Gellar and Freddie Prinze Jr. Get Engaged On Set?
Sarah Michelle Gellar didn't have a driver's license when they met.
Sarah Michelle Gellar and Freddie Prinze Jr. were once the hot new couple in Hollywood. Now, they're one of the industry's confirmed golden couples. Moreover, they've been together for nearly two decades. But how did they get engaged? We're breaking down their relationship and how it began on a movie set. 
The couple met on the set of a horror movie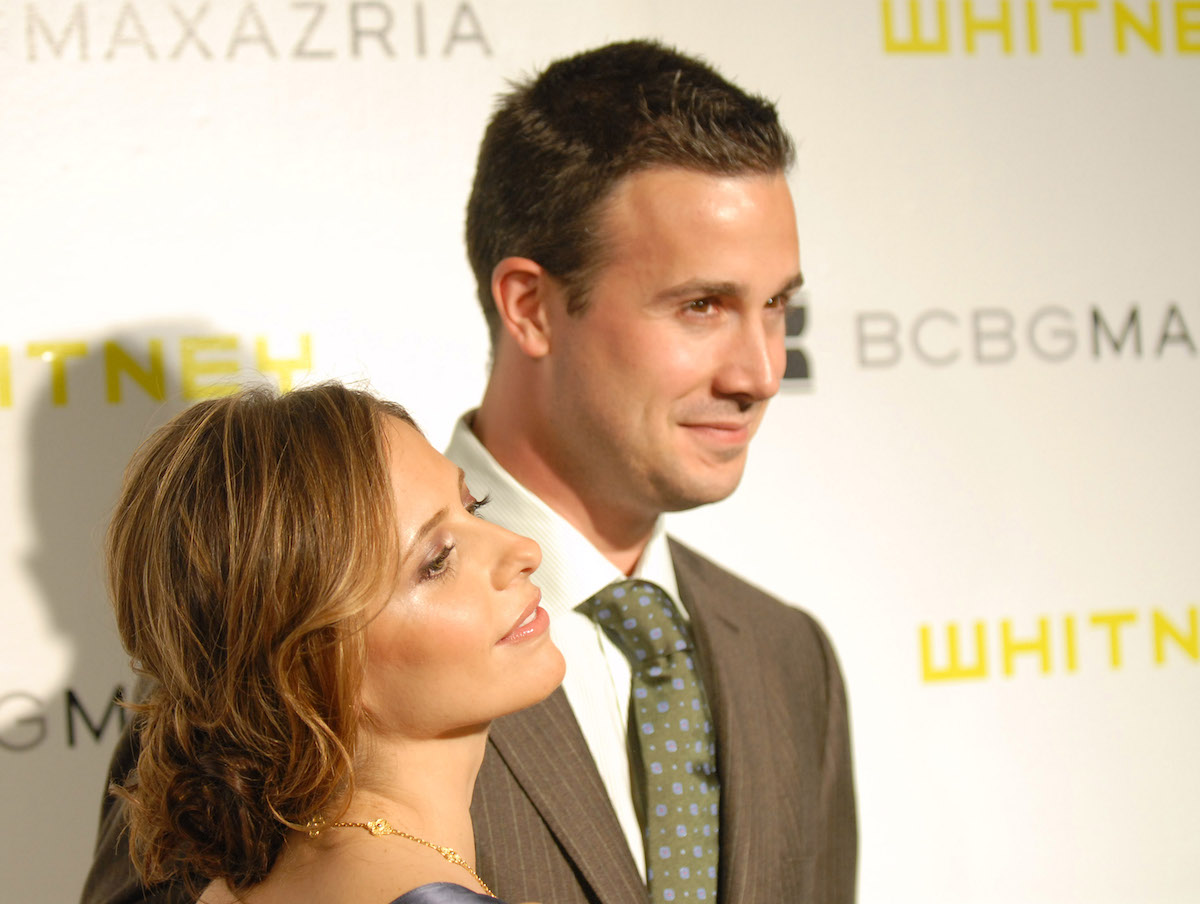 Sarah Michelle Gellar and Freddie Prinze Jr. met way back in 1997 on the set of horror flick I Know What You Did Last Summer. According to Us Weekly, the two movie stars weren't immediately attracted to one another.  
"She didn't have a driver's license. She didn't know how to drive," Prinze Jr. told the magazine in April of 2020. "And we were shooting in Southport, North Carolina, which was an hour's drive from the nearest Wilmington, which was the biggest city that was closest to us. It was an hour drive just to get to the gym. And when we transported the film down to South Park, she had no way to get up there. So, I started driving her, and that's when her and I became friends. And we just would talk about life and stuff like that, and we had completely different philosophies on just about everything. 'Cause she was a born and raised New Yorker, and I was a born and raised L.A. kid, and we just looked at everything like night and day."
The two appeared in the movie alongside other emerging stars, including Ryan Philippe and Jennifer Love Hewitt. 
They were engaged in April of 2001 during 'Scooby-Doo'
Sarah Michelle Gellar and Freddie Prinze Jr. wouldn't work together again for several more years. Principal photography on the live-action Scooby-Doo movie started in early 2001. Gellar played Daphne, and Prinze Jr. played Fred. 
They started dating, with Prinze Jr. saying that once they started, there was no going back. "From the first time we kissed, I didn't go on another date — it was just Sarah," he told Us Weekly. 
According to ABC News, they got engaged in April 2001 while still shooting the kids' nostalgia movie. They reportedly announced their engagement during Gellar's 24th birthday party. 
While there's no solid evidence that they got engaged on the set of Scooby-Doo, it's definitely possible. The timing would have allowed for a memorable proposal during filming. 
Movie stars Sarah Michelle Gellar and Freddie Prinze Jr. have been married for almost 20 years
Obviously, they were a busy couple. The movie stars got married on September 1, 2002, in an intimate resort ceremony in Mexico. 
Sarah Michelle Gellar gave birth to their daughter Charlotte Grace in 2009 and later gave birth to their son Rocky James in 2012. 
They also found time to continue their movie careers. The Buffy The Vampire Slayer star went on to appear in The Grudge (2004), Possession (2008), and Scooby-Doo 2: Monsters Unleashed (2004), among others. Freddie Prinze Jr. starred in Head Over Heels (2001), and She's All That (1999). 
But nothing will ever have quite as much impact on the actors as that time during Scooby-Doo. However they got engaged, the pair is still together after nearly 20 years. And that's worthy of a movie in itself.