Scott Disick is Reportedly 'Still So Upset' Over Kourtney Kardashian and Travis Barker's Engagement
Scott Disick and Kourtney Kardashian broke up in 2015. Kardashian recently got engaged to Travis Barker, and according to some sources, Disick is not comfortable with it.
Scott Disick and Kourtney Kardashian had an on-and-off relationship for about 10 years. The couple parted ways for good in 2015.
Kardashian recently got engaged to Travis Barker. According to a source, Disick is "still so upset" over this turn of events.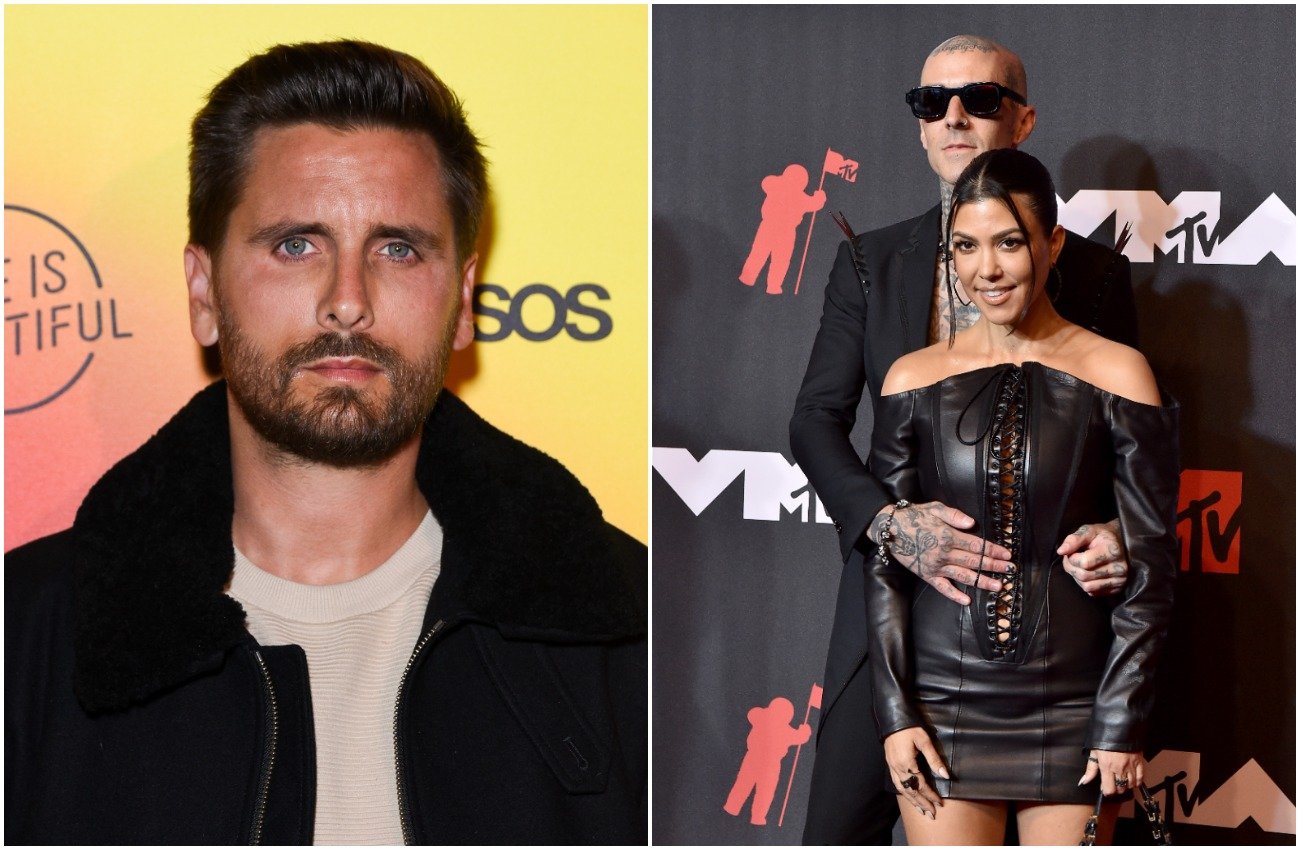 Kourtney Kardashian got engaged to Travis Barker in October
On Oct. 17, Barker proposed to Kardashian after less than a year of dating. The couple had been friends for years, however. Barker got down on one knee on the beach at the Rosewood Miramar Beach hotel. According to photos from Kardashian's Instagram, Barker also set up an elaborate floral arrangement with candles.
"Kourtney and Travis are over the moon. Getting engaged was always their natural next step and they are so thrilled," a source told Entertainment Tonight. "The proposal was gorgeous and romantic, and everything Kourtney wanted."
Scott Disick is allegedly 'still so upset' over the engagement
Back in October, a source told People that Disick was "uncomfortable" with the engagement.
"Scott hasn't really wanted to deal with Travis and Kourtney because he didn't feel like he'd have to," the insider said. "At first, it seemed like it was just a casual relationship to him, nothing serious."
The source added, "But that didn't happen and now he's being forced to deal with it, which is uncomfortable. He knows he has to lean into the discomfort and get past it. He understands that it's not Kourtney's job or Travis's job to make him okay with this. It's his job, and if he's going to co-parent with Kourtney, which he has been, he has to process this and make his peace with it."
Recently, a source updated People on how Disick is doing, and the reality TV star is reportedly "still so upset" about the engagement.
"He's been doing the best he can but it's been a very difficult time for him," the insider said. "He's looking for support right now." 
According to the source, one person Disick has found support in is Kardashian's sister Kim Kardashian West. Disick and Kardashian West were recently spotted hanging out with Kardashian West's new beau, Pete Davidson.
"She's been a good ear for [Scott] and she understands," the insider said.
Scott Disick has been dating other people after his breakup from Kourtney Kardashian
Kardashian seems to have moved on with Barker, and Disick has also been dating other women.
From 2017 to 2020, Disick dated model Sofia Richie, who is one of Lionel Richie's daughters. Richie often went on vacation with Disick, Kardashian, and their kids. The pair even moved in together at some point during their relationship.
Then, in early 2021, Disick began dating Amelia Hamlin, who is the daughter of Lisa Rinna and Harry Hamlin. However, by the fall, their relationship had ended. Their breakup came shortly after Disick reportedly complained about Kardashian and Barker's PDA in a message to Kardashian's ex, Younes Bendjima.