Scott Hoying From Pentatonix's 'Let's Go Live' Song Perfectly Sums up How We're All Feeling Right Now
Celebrities are going live left and right during this pandemic. Thankfully, Scott Hoying of Pentatonix performed a song about it.
Amidst the coronavirus (COVID-19) pandemic, a few celebrities took to social media, connecting with fans via Instagram Live. Scott Hoying from Pentatonix performed a song about it and, honestly, it's iconic. Here's what fans are saying about this singer and his parody video, nicknamed "Let's Go Live."
Scott Hoying of Pentatonix wrote a song, affectionately nicknamed 'Let's Go Live' by fans
What do celebrities do when they're stuck at home? For some, the answer is right on their phones, thanks to Instagram's "Live" option. For others, like Scott Hoying, a singer in the a capella group, Pentatonix, the answer is to write a song. This is a parody, written in part by other musicians. 
The artist posted a video to Instagram, filmed by his partner Mark Manio, about all these broadcasts. Honestly, we didn't write it, but we wish we did. The song is totally relatable, and there were plenty of celebrities feeling the same way. Former Dear Evan Hansen actor, Ben Platt commented saying, "a Grammy and a VMA and a Nobel prize."
"Me??? Vogueing and death dropping to this?? No way," Olympic medalist, Laurie Hernandez, commented. Within a few days, the video posted to Instagram earned over 200,000 views.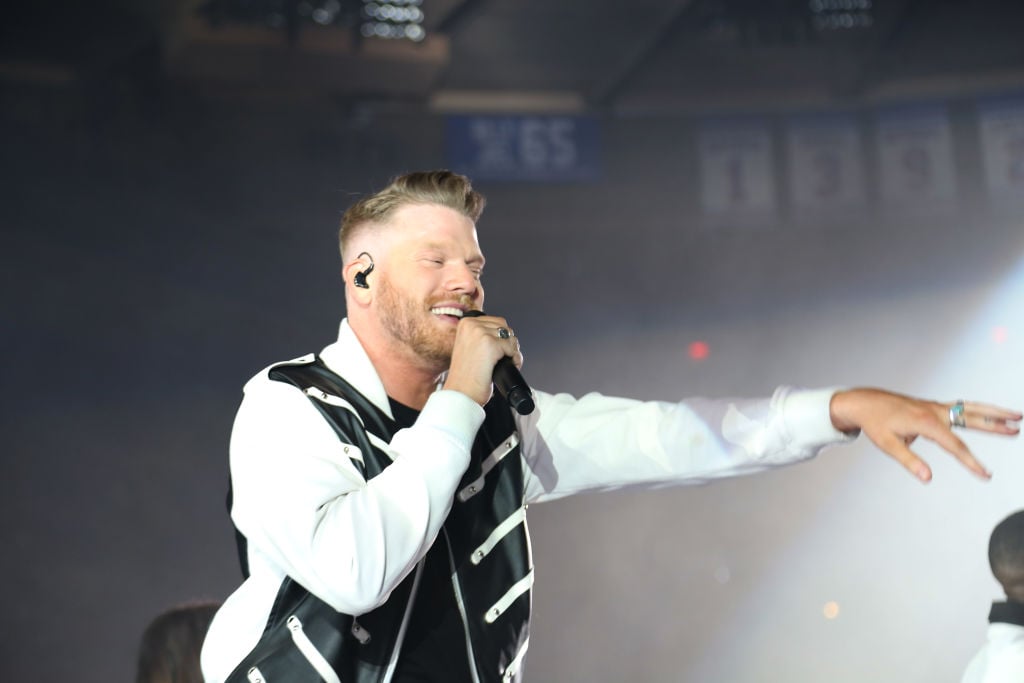 Members of Pentatonix have been going 'live' on Instagram
Even Scott Hoying has gone on Instagram Live during this time of self-quarantine. There, he was joined by other Pentatonix member, Mitch Grassi. However, some of the members of this group often connect with fans on the main Pentatonix Instagram page.
In addition to the Pentatonix members have been going live on the group's Instagram account, the singers recently hosted a "listening party" to help connect fans across the country. As a result, one Twitter user said, "I'm getting emotional right now! Run To You is one of the most beautiful songs I've ever heard!"
Some celebrities are hosting daily Instagram Lives, including Miley Cyrus
The members of Pentatonix aren't the only celebrities going live during this pandemic. Some artists took to social media, spreading positivity, music, "tea," and happiness to fans across the globe. 
Miley Cyrus started her Instagram Live series, "Bright Minded," which broadcasts every weekday. There, she discusses everything from makeup to her history with Disney with her celebrity guests (Selena Gomez, Demi Lovato, and Billy Ray Cyrus just to name a few.)
Tori Kelly often performs songs on her daily Instagram lives, nicknamed QuaranTEA. Some of the songs feature Grammy-award winning and nominated artists. So far, she's featured artists AJ Rafael, Jacob Collier, JoJo, Alessia Cara, PinkSweat$, Alec Benjamin, Jessie J, and Jonathan McReynolds. 
In lieu of concerts, some artists took their talents to social media, performing concerts for their followers on Instagram. John Legend went live with his partner, Chrissy Teigen. Others are doing DJ sets. For DJ D-Nice's live set, Michelle Obama dropped in to say hi (and his reaction was pretty iconic.)
Music by Pentatonix, and Mitch Grassi and Scott Hoying's Superfruit, is available on Spotify, Apple Music, and most major streaming platforms.