'Scrubs': The Extras That Accidentally Became Part of the Cast
Scrubs is one of the most iconic TV shows of the early 2000s. The medical sitcom aired for nine seasons and was highly rated. It resonated well with its audience by providing them with that perfect balance between medical drama and comedy.
Throughout the show's entirety, many characters came and went. Although the show's main characters were iconic, others stole the viewers' hearts. These characters were so legendary that they accidentally became part of the show's cast. Read on to learn more.
'Scrubs' has an almost similar setting to 'Grey's Anatomy'
Scrubs focused on the medical interns at Sacred Heart Hospital. The show centered on the main characters John Michael Dorian, usually called J.D, his best friend Cristopher Turk, an attractive intern named Elliot Reid, who J.D. had a crush on, and Carla Espinosa, who eventually becomes romantically involved with Turk.
The show was written from J.D.'s point of view, and the episodes usually began with a voiceover of J.D. as he narrates his ordeals. The showrunners decided to take that angle to allow for improvisations by the actors on set.
For the show's first eight seasons, every episode starts with the word "My." In these episodes, J.D. expresses his feelings in his diary, which is why many of the episodes begin with "My." Throughout the show, other characters also get a chance to speak their minds.
The title would always start with "His Story" or "Her Story" in such episodes. In season 9, the perspective shifted from J.D.'s to a new group of interns, and the episode titles began with "Our."
The narration angle and show's theme can be likened to Grey's Anatomy, where Meredith Grey opens every season with an overview of how the season would be like.
The show had an undeniable great cast ensemble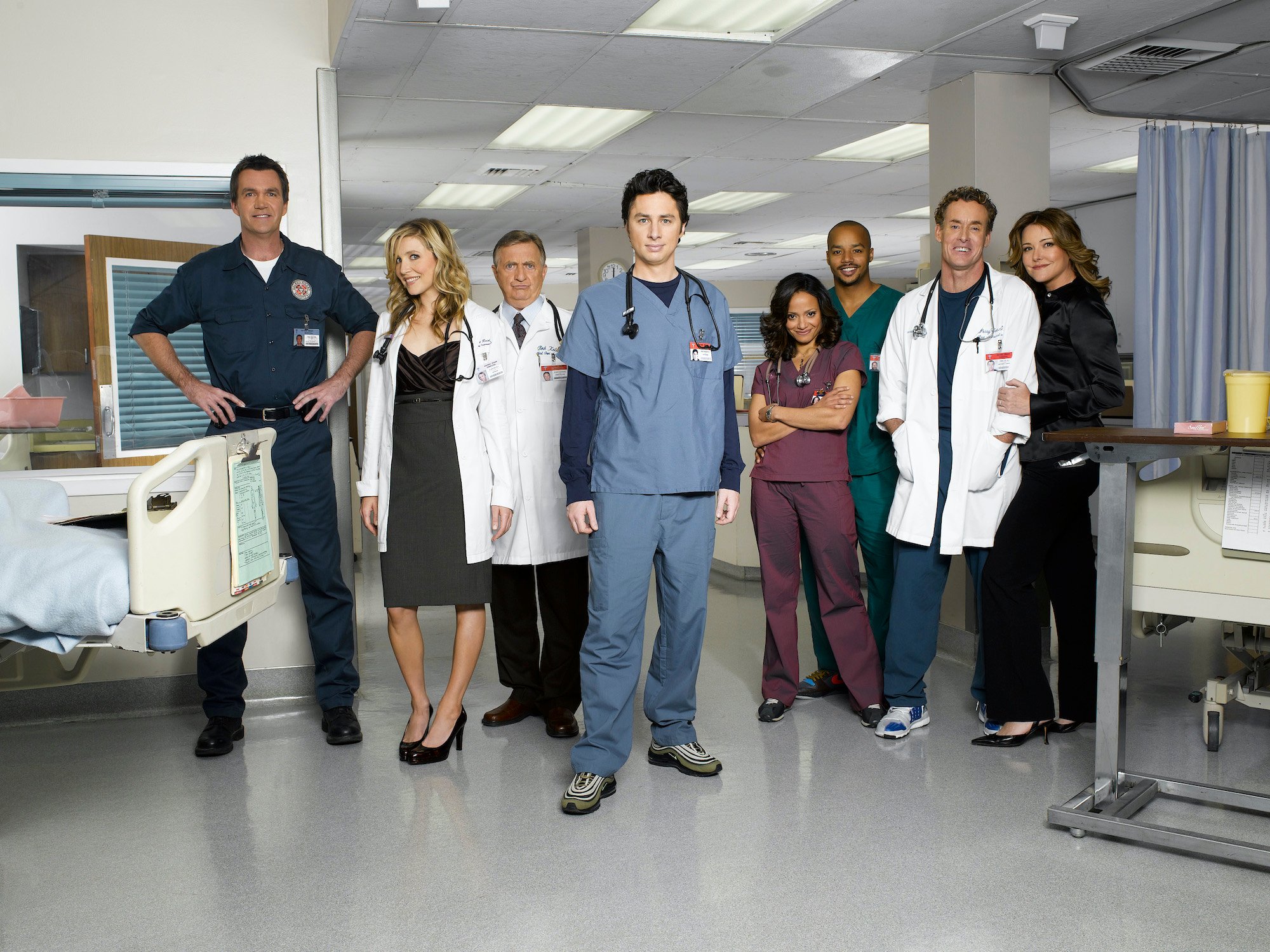 Scrubs features the medical interns at Sacred Heart Hospital. The interns include J.D., played by Zach Braff, and his best friend Turk, played by Donald Faison.  The show's storylines also take into account the two protagonists' relationships.
Turk's girlfriend, Carla Espinosa, is played by Judy Reyes. John C. McGinley plays Perry Cox, the hospital's attending physician who later got promoted to Head of Surgery. Actress Sarah Chalke plays Elliot Reid, the wealthy intern and J.D.'s love interest.
Elliot always wanted to prove her family wrong and was always looking to show them that she was successful independently.
Scrubs has also had an impressive set of celebrity actors who graced the show. Deadpool actor Ryan Reynolds appeared on the show playing J.D.'s friend from college, Spence. Scandal actor Scott Foley played Sean Kelly for a few of the show's episodes.
Parks and Recreations actor Aziz Ansari also had his fair share of screen time on Scrubs. He appeared in four episodes and was reportedly everyone's favorite. Michael J. Fox made a cameo as the doctor with severe OCD in 2001.
Elizabeth Banks also appeared on the show and fixed a mistake that had been there for five whole seasons.
Some recurring characters were so good that they got written into the storyline
Although Scrubs had a pretty impressive cast ensemble, they had memorable recurring characters as well. Three of the show's recurring characters were so good that they accidentally made it into the storyline.
These characters were given their respective names since the cast and crew could never remember their real names, and so they got added to the main plot, according to BuzzFeed.
Snoop Dogg intern, whose actual name was Donald, was always heard asking "where his hoes were." He ended up finding love with Josephine. Colonel Doctor was meant to be an extra on the show. However, he bore an uncanny resemblance to KFC founder Colonel Sanders, so he got nicknamed Colonel Doctor.
Dr. Beardfacé's name is French, but since the protagonists on Scrubs couldn't pronounce it right, they would call him Beardface. It didn't help that he also had a thick and bushy beard.