'Scrubs': The Meaning Behind Dr. Cox's Wristband
Medical TV shows are a dime a dozen, but medical shows that make us laugh are far rarer. Scrubs was a phenomenal sitcom, with a well-written plot, hilarious scenarios, and talented actors. The show ran for eight seasons on NBC before airing its last season on ABC. 
The show had incredibly talented cast members, who also happened to be awesome people in real life. In fact, John C. McGinley can be seen wearing a blue and yellow wristband in the show. He wore the wristband in support of a cause that's close to his heart in real life, a cause that affects his own beloved family. 
'Scrubs': The comedy was one of the most realistic medical shows in history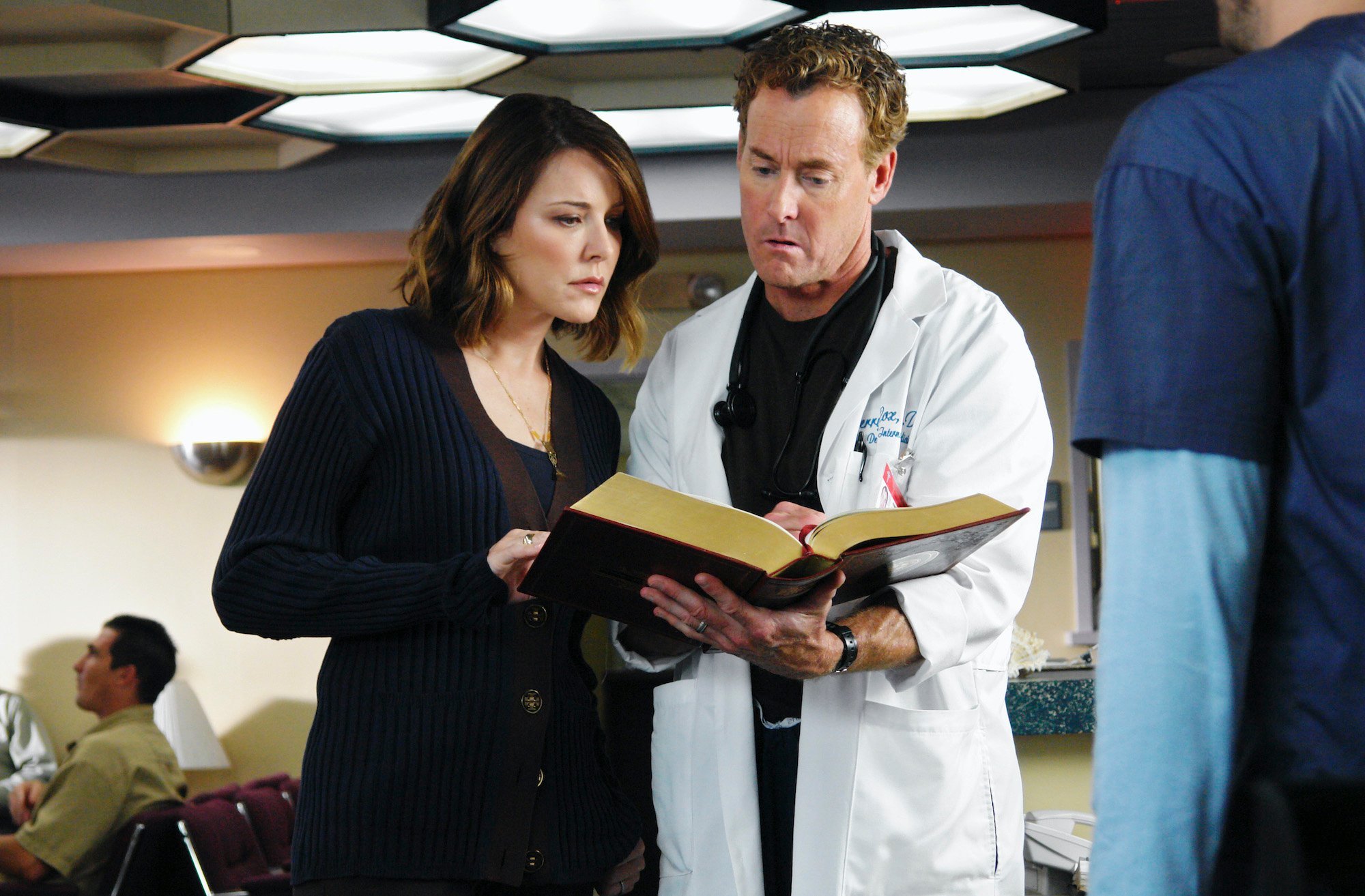 Scrubs was a medical sitcom that ran for nine seasons. The show was set in the fictional Sacred Heart Hospital. It  focused on the lives of three medical interns (J.D., Turk, and Elliot), their abrasive chief attending physician, a quick-witted nurse (who was smarter than all of them), and an irritable janitor. Scrubs was told from J.D.'s point-of-view, with all the episodes titled like a journal entry. 
TV Insider recently took a look at the most popular medical shows to determine which ones are most realistic. After considering iconic dramas like ER and Grey's Anatomy, TVInsider gave Scrubs the highest rating–a 9/10. Although the show takes a lot of creative liberty, it still did an excellent job of portraying the insanity of a typical day for an intern. 
Scrubs' creator and executive producer, Bill Lawrence, spoke with several doctor friends while creating the pilot episode. He wanted their input to make the interns experience genuine, which helped lend authenticity to the sitcom. They said their internships were all horribly overwhelming and something like a fraternity initiation. 
Lawrence's research into the real lives of medical interns certainly paid off. The sitcom provided audiences with belly-busting laughs for years, as well as portraying the frantic, sleepless lives with more than a touch of realism. 
What was the significance of Dr. Cox's blue and yellow wristband?
There were several episodes in which Dr. Cox is sporting a blue and yellow rubber wristband. The wristband was worn by John C. McGinley in support of Buddy Walk, an organization that works to raise awareness of Down Syndrome. 
McGinley's son, Max, has Down Syndrome. The actor is an actively involved advocate for those afflicted with Down Syndrome, and he works tirelessly to raise awareness and support for those with developmental disabilities. He is a board member and international spokesperson for the Global Down Syndrome Foundation, as well as an advocate for the Special Olympics. 
The talented actor has been recognized as the "Parent of the Year" by ivillage.com. He also received the Quincy Jones Exceptional Advocacy Award for his passionate, dedicated work. 
What is Buddy Walk? 
The National Buddy Walk program was established in 1995. Buddy Walk was created by the National Down Syndrome Society to raise awareness and funds for programs that help benefit individuals with Down Syndrome. In the program's first year, 17 events were held across the country. 
In 1999, fundraising components were added to the program, as well as a Times Square video to spread the story of Buddy Walk to millions of viewers. In 2001, the new logo was created–the blue-and-yellow family holding hands. 
By 2003, there were over 190 walks taking place across the country (as well as in four other countries). The walks raised more than $2.5 million. The first Buddy Walk conference was held in 2009, allowing innovative leaders and advocates to collaborate. That year also saw the first Buddy Walk ever held on a military base in a combat zone. 
In 2012, the number of events swelled to more than 250, raising over $11 million. 2013 became a record-breaking year for the program, raising $12.1 million. The program now has three full-time staff members to oversee its management.