'Scrubs': Why J.D.'s Dad Never Became a Recurring Character
The hit medical TV show Scrubs both spawned several high-profile careers and continued the successful careers of many of its stars.
When someone appeared on the show, there was always a good chance that they'd become, at least, a recurring character. However, in the case of JD's dad, who was played by the late John Ritter, a real-life tragedy took the character out of play soon after he first graced the screen.
Who was John Ritter?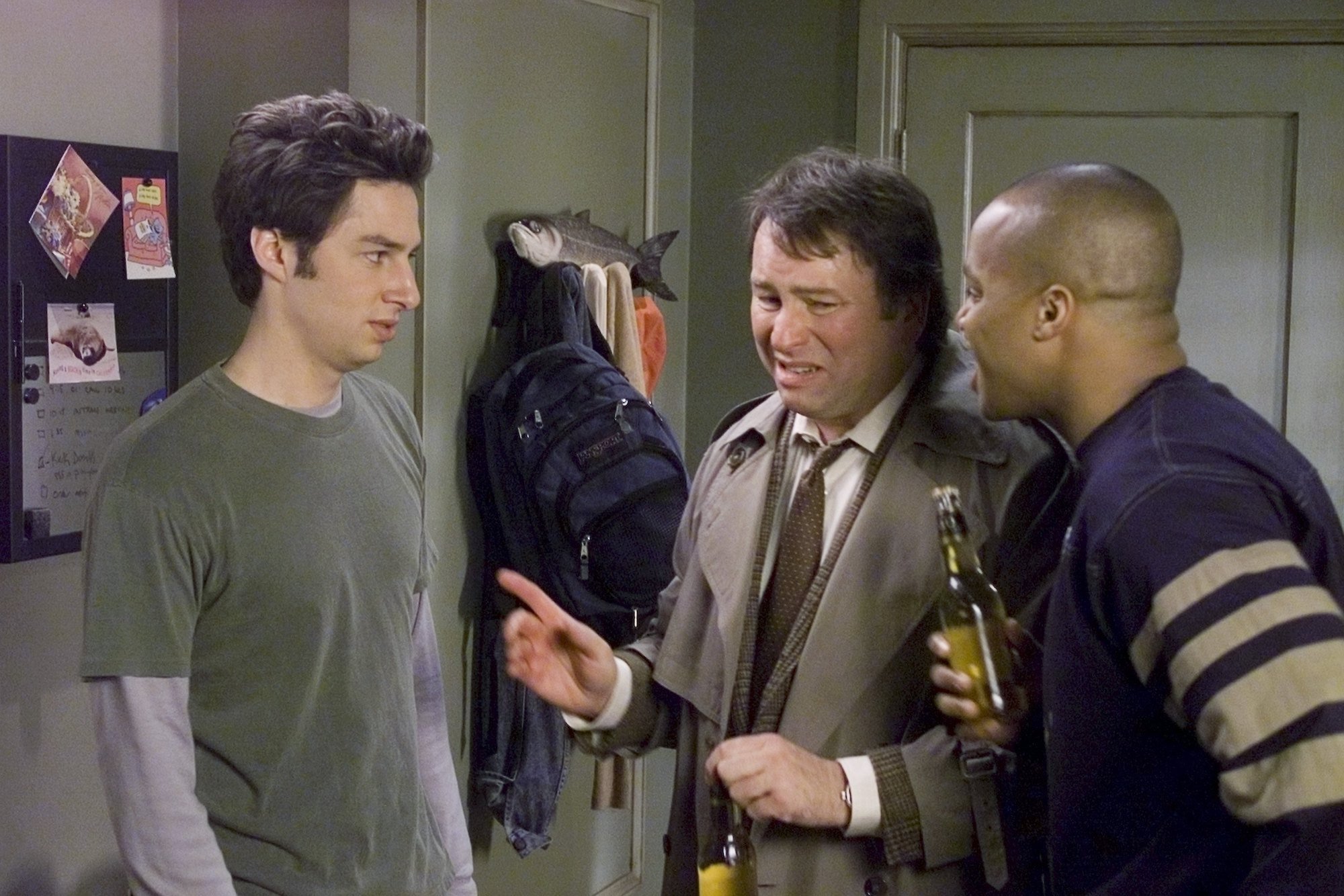 Ritter was the son of singer Tex Ritter, but he forged his path to success thanks, in large part, to do his role on Three's Company. As Jack Tripper, the sitcom's male lead, Ritter helped lead the golden age of television into a more modern landscape.
Tripper was a down-and-out aspiring chef who was barely making ends meet when two women, Joyce DeWitt's Janet Wood and Suzanne Somers' Chrissy Snow, bumped into him at the same time that they needed roommates. 
The show was a massive hit and stayed on the air for eight seasons. While it helped make stars of DeWitt and Somers, however, Ritter was the breakout star. Before that, he'd mostly done stage and television work in a smaller capacity. Before the show, his biggest claim to fame was his recurring role as Reverend Matthew Fordwick in the rural drama The Waltons. 
After Three's Company, however, the roles got more prominent. Ritter began to headline films such as Problem Child and became the face of several popular, albeit less successful television series. However, in the early 2000s, he began a career renaissance that made his star brighter than it had been since Three's Company left the air. One of these appearances was in the early days of Scrubs.
Ritter goes to 'Scrubs'
When Ritter guest-starred on Scrubs in 2002, he opened up a story arc that they presumed would last for many years. Ritter had the star power to get others who didn't watch to tune in, and his ability to mix between drama and comedy made him perfect for the show. Sam Dorian was the father of Zach Braff's JD. He was an office supply salesman who, in many ways, acted much like his immature sun. 
Sam was known for his stinginess, buying JD one individual part of a bicycle as a kid until he could build the whole thing. Sam only appeared in two episodes of the series, but it wasn't because the fit wasn't right. Ritter was perfect as a recurring character. However, as Ritter's career began to see a resurgence, tragedy struck that shook the television world for years to come. 
Ritter's tragic death
Ritter was having a resurgence in the early '00s. He maintained steady work for most of his career, but after his sitcom 8 Simple Rules premiered, he had his biggest television hit since the show that made him famous. Ritter played the classic sitcom dad who had to balance his place as patriarch with his desires to be a loving father. 
The show, which also starred television royalty Katey Sagal and a young Kaley Cuoco, started its second season when Ritter suffered a fatal heart attack. While the show went on until 2005, the loss was felt around the world. Suddenly, one of television's most beloved leading men was gone. Ritter's character was killed off in 8 Simple Rules, and it was revealed that his Scrubs character died off-screen in Scrubs. 
Scrubs had a way to get the most out of all of its performers, and Ritter was a welcome addition to the cast. Unfortunately, that character never got to fully take shape. However, fans of Ritters still have his entire filmography to look back on, and while his time on Scrubs was short, it was also quite memorable.