'Scrubs': Why Turk and J.D.'s Friendship Felt So Real
Scrubs had a long run on network TV and during that run, it had some incredibly memorable characters. Two of them were the show's lead, J.D., and his best friend Turk. They were two of the funniest characters during the show's run, and their friendship still stands out today years later as one of the best in TV history.
So what made the pairing so effective? Why is it that Turk and J.D. seemed to get along so effortlessly? The answer lies with the two actors who portrayed those characters. Here's why Turk and J.D.'s friendship felt so real.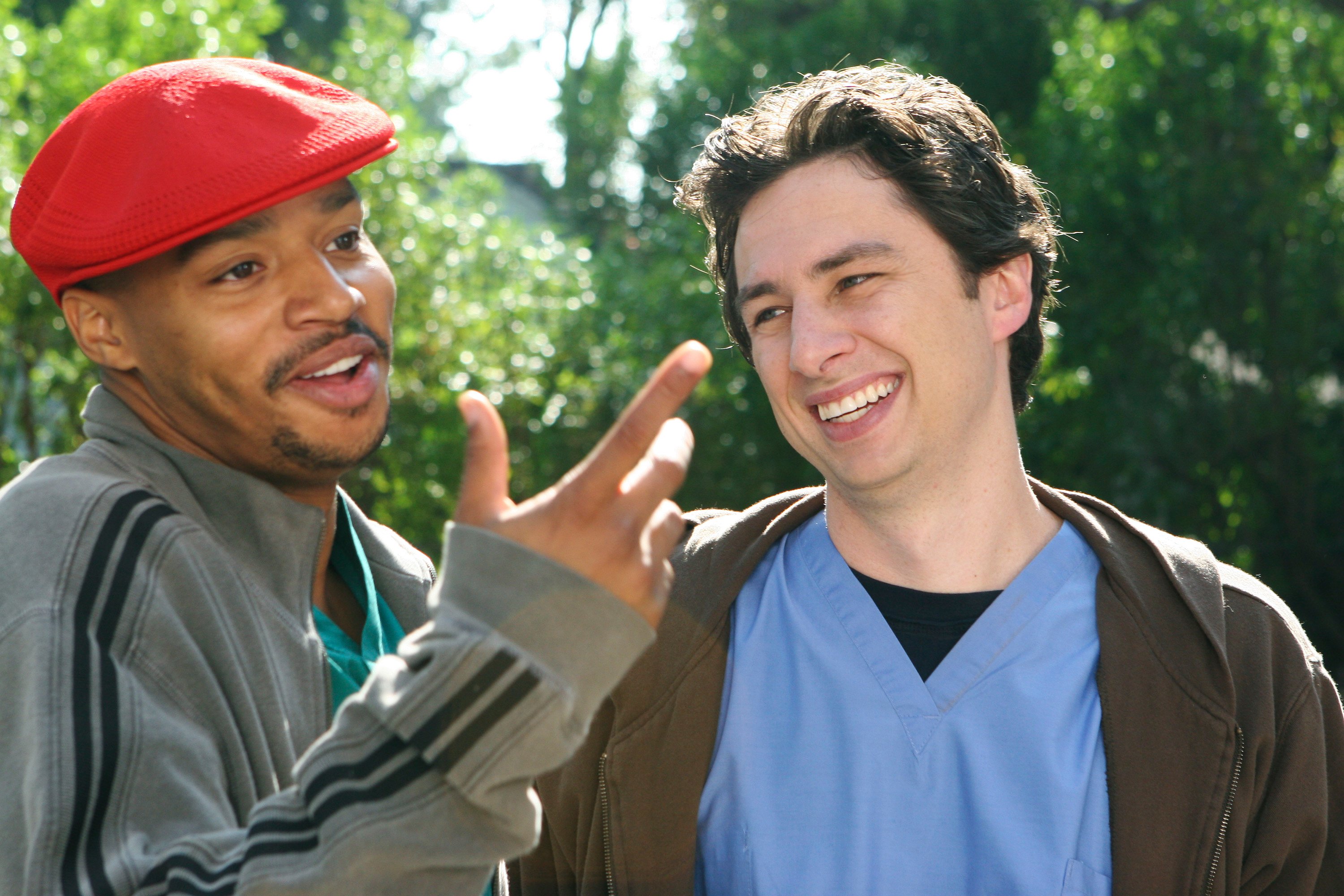 Who were the characters of J.D. and Turk on 'Scrubs?' 
Scrubs followed the exploits of John "J.D." Dorian, a doctor at a training hospital. While the show was mostly a goofy, absurdist comedy, it also had plenty of heart to it.
It's hard to create a medical show without having including emotional beats, and Scrubs had plenty of them. The show was also well-regarded for the interactions and relationships between the characters.
For example, J.D. had an adversarial, mentor-protege relationship with the arrogant Dr. Cox. He had an on-again, off-again romantic storyline with another doctor named Elliot. 
J.D.'s best friend on the show was a surgeon at the same hospital — Turk. The pair traded inside jokes and many of the show's storylines centered on their friendship. There's a reason why the Turk-J.D. friendship was so natural: because it was real. 
The real-life friendship between the actors who played Turk and J.D.
Zach Braff played J.D. while Donald Faison played Turk. The two have had multiple other film and TV credits outside the show, but Scrubs is what they've both come to be known for.
J.D. was the main character, but it wouldn't have been nearly as effective without Turk. Turk was a main cast member who served as an anchor for the show. Faison and Braff's chemistry was one of the show's strongest elements.
According to ScreenRant, Faison and Braff are actually good friends in real life. The reason the duo has such unmistakable chemistry on camera is that they had a great relationship outside the show.
Throughout the show's run, the two were in close contact both on-screen and off of it. Fans of the show loved the hijinks both men got into, and that fun attitude bled over into the men's real lives. 
That friendship continues to this day, and it's led to another creative project between the two: a podcast. 
The podcast hosted by Donald Faison and Zach Braff
Braff and Faison did an interview with GQ UK in which they talked about their friendship. Faison said that it was very early in their friendship when he knew the two were going to be very tight: 
"I realized we were gonna be best friends after season one, when we rented an apartment in New York together and every night we played ping pong in our underwear." 
The two currently live close to each other in Los Angeles. During the COVID-19 restrictions, they took the opportunity to launch a project together: a podcast called Fake Doctors, Real Friends.
In the podcast, both men rewatch episodes of Scrubs and talk about them for fans of the show. They provide insight into the show's production and provide a healthy dose of nostalgia for Scrubs superfans. 
Why did their relationship (both professional and personal) work so well? Faison said it's because the two are open with each other, calling what they had and have "the best version of what a bromance is." He added: 
"The machismo gets thrown out the window and we get to be who we really are. I'm very comfortable with Zach; he's very comfortable with me. I tell him things I wouldn't tell my wife."
It's no wonder why this pairing led to so many hilarious moments on the show.