'Scrubs': Zach Braff Was 'Jealous' of Donald Faison and Sarah Chalke's 'Good Chemistry' In 1 Scene
Though a medical comedy on the surface, there was a notable focus on relationships (both platonic and romantic) on Scrubs. That of Sarah Chalke and Zach Braff's characters was at the show's core. However, there was one scene involving Chalke and co-star Donald Faison that made Braff "jealous." Here's what it was.
Sarah Chalke, Zach Braff, and Donald Faison starred in 'Scrubs'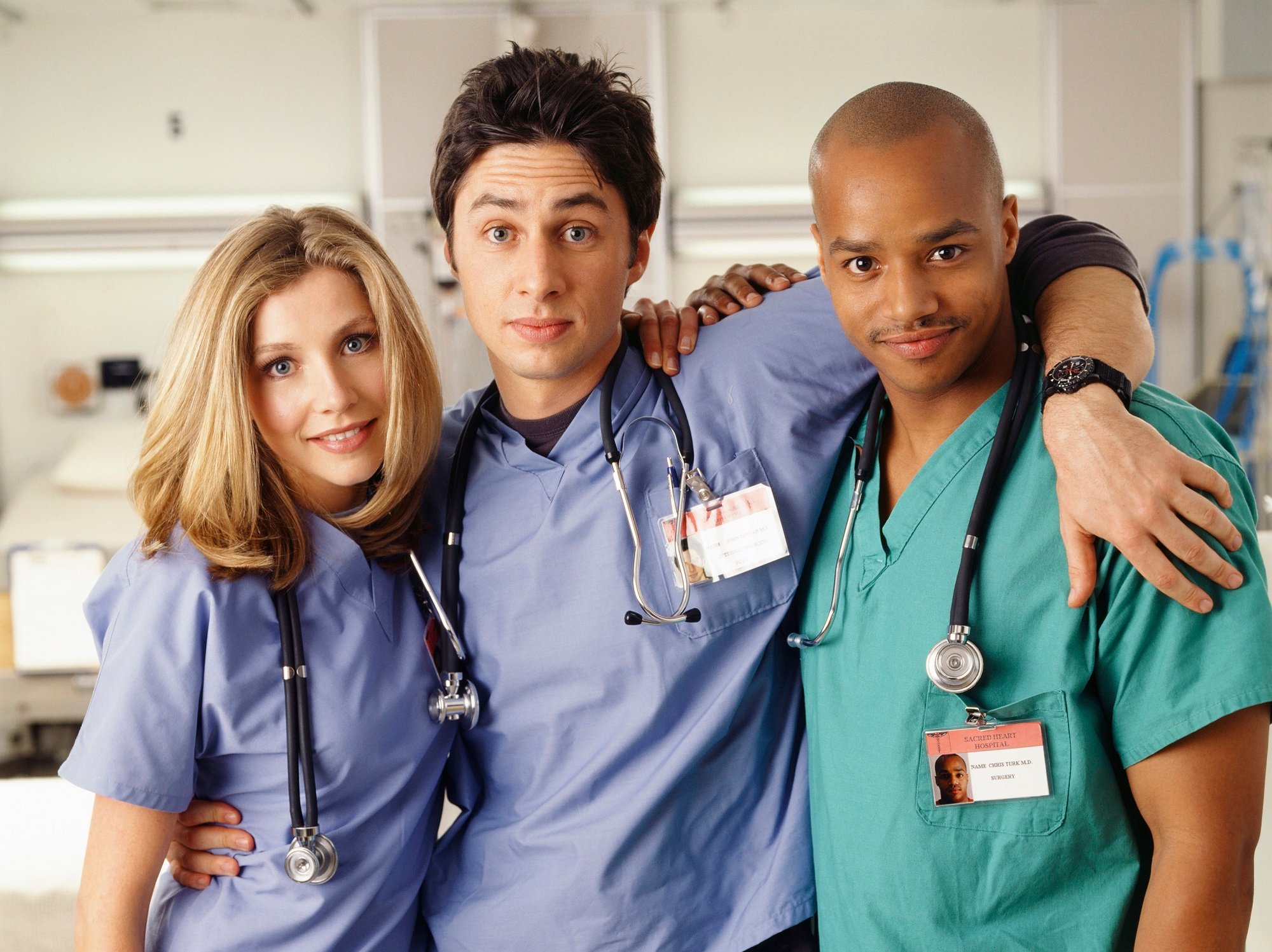 RELATED: Zach Braff Pulled At 'Scrubs' Fans' Heartstrings With This Simple Tweet
The three actors were among the core stars of the long-running network sitcom. Braff portrayed John "J.D." Dorian, who, alongside his best friend, Chris Turk (Faison), begins the series in his intern year as a doctor. Chalke played Elliot Reid, another young physician at Sacred Heart Hospital.
J.D. has a crush on Elliot from the first episode, but their timing is never quite right. Throughout the series, they have an on-again, off-again romance, which culminates in getting married between seasons 8 and 9. Chalke and Braff both appeared in a few season 9 episodes, while Faison was a regular cast member.
Chalke came on Braff and Faison's rewatch podcast
Chalke has been an occasional guest on Fake Doctors, Real Friends, Braff and Faison's Scrubs rewatch podcast. She returned to discuss the season 3 premiere, "My Own American Girl," during which her character gets a makeover. "I'm so glad you're here for this one because it's just an incredible Elliot episode," said Braff.
Braff and Faison went on to tell Chalke she "is funny as hell" on Scrubs. Though she found it hard to take the compliment, Chalke returned with one of her own, praising them for the podcast. "It's such a beautiful relief in the midst of all of this sh*t," she said, adding that she "laughed [her] a** off" at a previous episode.
They discussed a scene from a season 2 episode
Before they got to the episode in question, Faison and Braff mentioned a season 2 episode, "My Interpretation." "We just watched the episode with you in your naughty nurse outfit, making out with Donald, and that got us all riled up," said Braff, referring to a scene in which Turk has a sexy dream about Elliot.
Though Faison says, "we were so tight as friends that it was like…kissing my sister," and Chalke agreed, they noted that they "had good chemistry." Braff chimed with his feelings. "I can't lie and tell you I wasn't jealous," he said. "20 years later I'm like, 'Get your f*cking hands off my woman.'"
Chalke compared it to a scene from the 2008 film 'Chaos Theory'
The scene reminded Chalke of one she did in a movie, where Ryan Reynolds (who had previously guest-starred in Scrubs) was her love interest. "I think I got there to set, and my first scene was that scene with Ryan," she said of one in which she's in her underwear. "But I didn't know him well at all," Chalke added.
This led to a conversation about Reynolds' body. ("He was ripped," confirmed Chalke.) "I feel bad that you were coming from me being your love interest [on Scrubs] and then going to Ryan Reynolds with his abs and then coming back to my doughy physique," noted Braff of the timeline.