Why AHS Fans Think Season 10 of 'American Horror Story' Has Something to Do With the Ocean
It's never too early to start dreaming of Halloween and scary television shows. Thanks to a teaser from American Horror Story and FX, fans now have their first look into season 10 of this horror series, and a few ideas about the themes. Here are some theories surrounding the upcoming season of American Horror Story.
There are some returning fan-favorite cast members for 'American Horror Story' season 10
Scary movie and television show fans are set for the next few years, thanks to an announcement from FX and American Horror Story creator, Ryan Murphy. This original show will broadway for at least three more seasons.
"Ryan and Brad are the undisputed masters of horror TV, having created the anthological limited series with American Horror Story and sustaining its success for nearly a decade as FX's highest-rated series," FX's John Landgraf said in a statement. "We are grateful to them and Dana Walden and our studio partners for committing to another three years."
Now, fans have even more information about AHS's 10th season. This next horror story features Evan Peters, Sarah Paulson, Macaulay Culkin, Lily Rabe, Kathy Bates, Leslie Grossman, Billie Lourd, Adina Porter, Angelica Ross, and Finn Wittrock.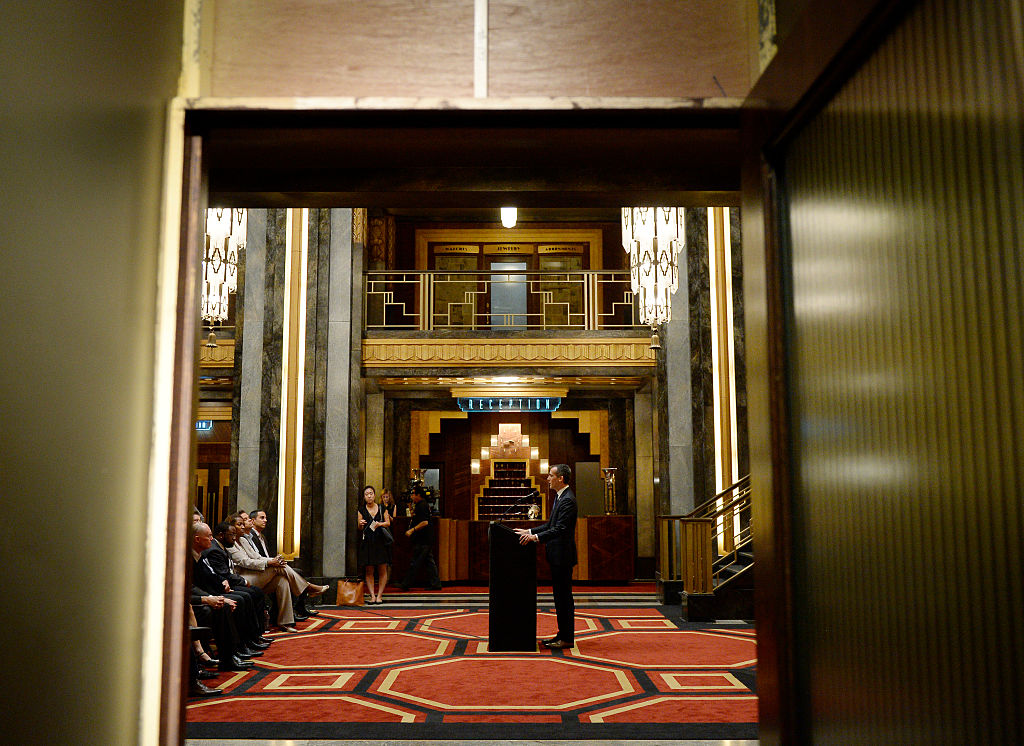 Renewed for multiple seasons, there's already a teaser for the upcoming season of this horror series
This news came as a surprise for some fans, as longtime cast members Evan Peters and Sarah Paulson were noticeably missing from season 9, AHS: 1984. This season also has a celebrity guest, Home Alone's Macaulay Culkin. (In the past, American Horror Story added Lady Gaga, Adam Levine, and Stevie Nicks to their cast list.)
FX first shared the announcement with a video clip posted to social media. In it, the news of each cast member appeared over a dreary beach scene. As a result, some fans started speculating about upcoming themes for AHS season 10. 
There are a few theories surrounding the upcoming season of 'American Horror Story'
Besides the cast list, not much is known about future episodes of this horror series. Reportedly, a big clue for the theme of season 10 appeared during AHS: 1984. That episode featured a lake and a few urban myths, like the Loch Ness monster.
"Where does the Loch Ness monster live? Why, Loch Ness of course. While we doubt that this particular creature will take a leading role in season 10, other potential cryptids linked to water include mermaids, and they're one of the few monsters we've yet to see across the show's 10 seasons. We say mermaids, but Cabin In The Woods fans will also be eager to see a merman, of course," Digital Spy writes.
Because a number of the original cast members return for this season, some suspect there could be returning characters during season 10. (For American Horror Story: Apocalypse, actors Sarah Paulson and Evan Peters reprised their role from Coven and Murder House respectively.) Fans will just have to wait to learn more about this upcoming season.
Season 10 of this horror show premieres during Fall 2020. Until then, some episodes of FX's American Horror Story are available for streaming on Netflix.