Will There Be a Season 2 of 'WandaVision' on Disney+?
Will this unusual couple finally find a place where they belong? With season 1 of WandaVision coming to a close during March 2021, some fans are wondering whether or not Disney+ will renew the Marvel original for a second season. Here's what we know.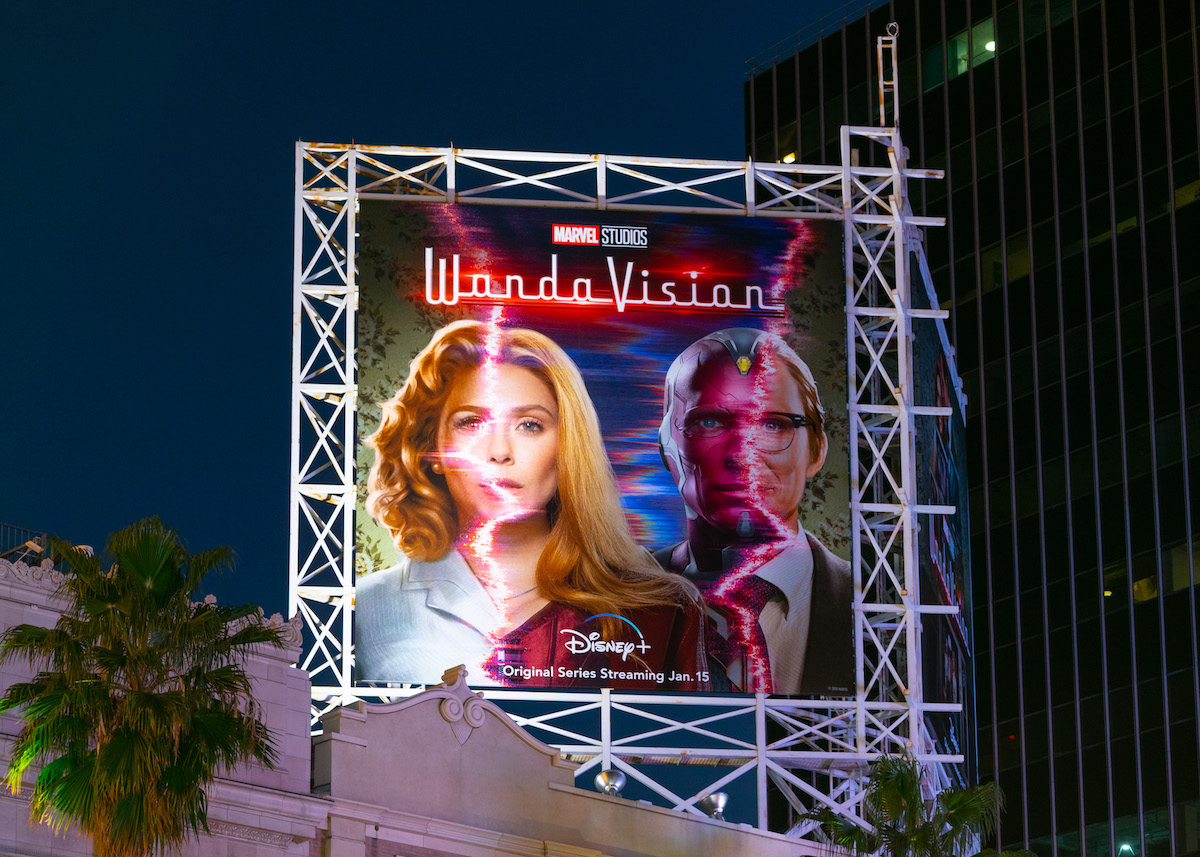 'WandaVision' premiered on Disney+ in January 2021
They are an unusual couple but, as they discovered during Avengers: Endgame, their relationship works. Following the events of the 2019 blockbuster, these two characters branched out on their own, trying to start a normal life in different moments in television history. 
"The show is like a blank slate for them," Olsen said during a Zoom interview with Elle. "Wanda and Vision's journey to this point is a story of pure, innocent love and deep connection with another person. It was also very traumatizing. Tragedy has always been their story. In our show, we kind of wipe that clean and start fresh."
The first episodes of this original series premiered on the streaming platform on January 2021 and featured Elizabeth Olsen and Paul Bettany as the title characters. Since then, new episodes premiered on a weekly basis, featuring new adventures of Scarlet Witch and Vision.
"They are just trying to fit in," Olsen continued of the Season 1 story. "They're trying to not be found out by their neighbors that they're super-powered beings." 
Will 'WandaVision' return to Disney+ for season 2?
There are nine episodes in season 1 of this series. However, as of January 2021, fans are still unsure if WandaVision will return to Disney+ for season 2. Marvel and Disney have not yet made an official announcement.
During an interview with Collider, Olsen said that WandaVision "could" possibly get renewed for a second season. Ultimately, though, the actor is unsure regarding the future of this Disney+ original. 
Another good sign is that other Disney+ shows have already been renewed for a second season (High School Musical: The Musical: The Series, Diary of a Future President) and a third season (Star Wars' The Mandalorian.) 
Based on Disney+'s history with making announcements, if WandaVision were to return for new episodes, fans would learn more in the coming months. Of course, production on some Disney+ originals has since been delayed due to the coronavirus (COVID-19) pandemic.
Other Marvel originals will premiere on Disney+ during 2021
WandaVision isn't the only Marvel-related project on Disney+. In 2021, the streaming platform will release The Falcon and the Winter Soldier, starring Sebastian Stan as Bucky Barnes, Anthony Mackie as Falcon, and Emily VanCamp as Sharon Carter. There's also Loki, which is scheduled to premiere during May 2021.
Until then, plenty of Marvel content is available for binge-watching on Disney+. That includes blockbuster movies like Captain America: The First Avenger and Avengers: Age of Ultron. To learn more about WandaVision and to watch the original Marvel series, visit the Disney+ website.